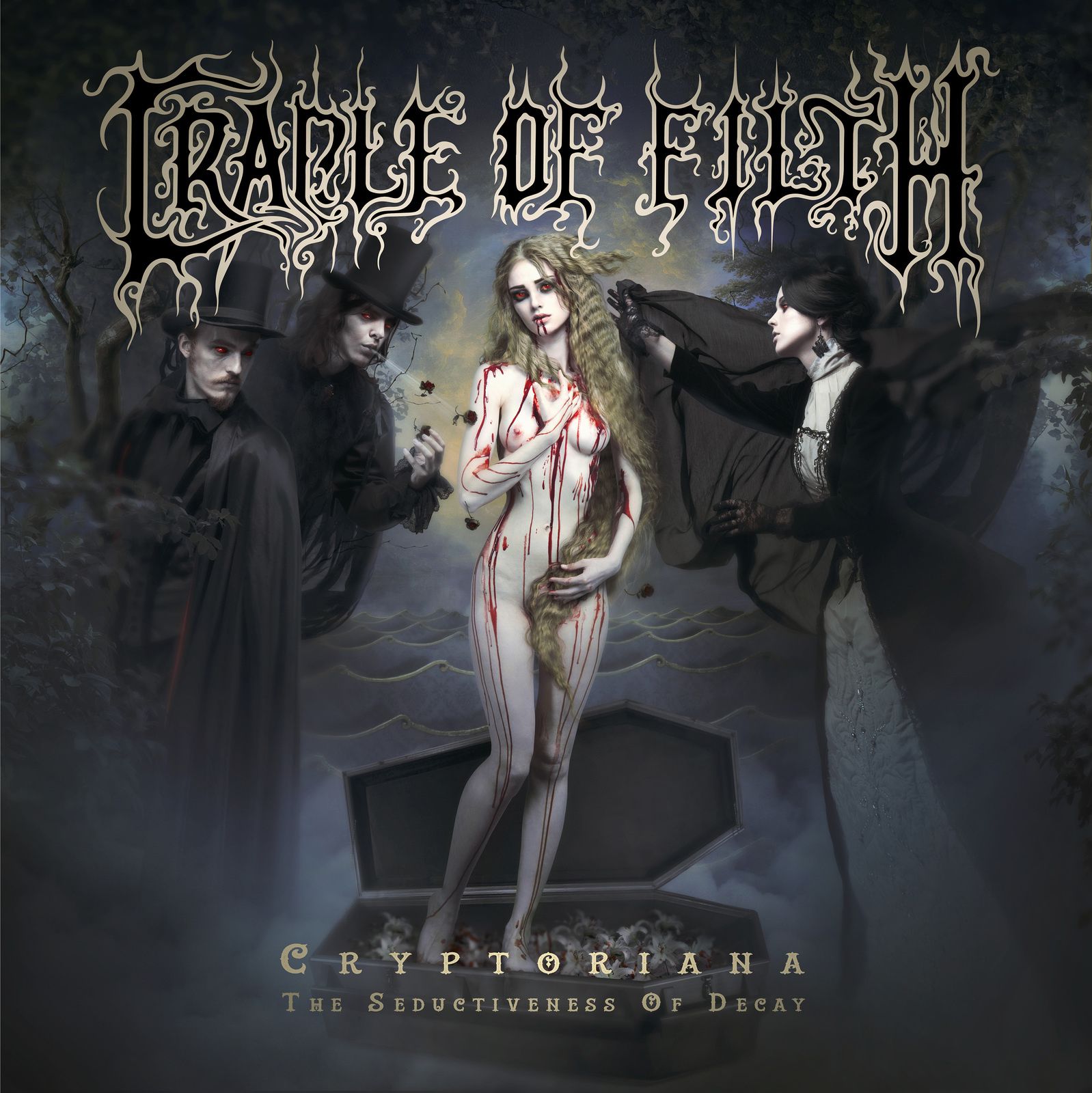 (9/10) I can't even explain 'why', but Cradle Of Filth never really went right to the top of my personal playlists. I had them on my metal radar and I liked to listen to them once in a while, but the pure excitement never hit me. Therefor I was curious when I heard about their newest output and I was blown away after having listened to it a few times.
Cradle Of Filth is mainly Dani Filth, being the only remaining founding member that's still active. The band basically became his band over time and it looks like him reaching less stormy water with Cradle Of Filth after some years of line-up changes and more average longplayers.
A turning point was the 2015 album "Hammer of the Witches" that was done again in a renewed line-up. It looks like chemistry within the band is right since then and there's all of a sudden a certain consistence when it comes to involved musicians which had a positive impact of what we get served on "Cryptoriana – The Seductiveness of Decay". With this longplayer, the band continues a winning streak that began in 2015. Eight new songs bring excellent metal to light (or should I better say to darkness?) Anyhow, this record is a remarkable one that reminds of the earlier times, days when classics like "Cruelty and the Beast" excited metal fans all over the planet.
The first thing that stands out is the powerful and dense sound of the album. Cradle Of Filth creates a rock solid black metal wall that's bombastic. The beauty though is the fact that the bombast never takes over too much. Guitars and a menacing rhythm section do the best to get into the forefront, adding a harsh touch to each of the songs. Cradle Of Filth makes use of all the elements and ingredients melodic Black Metal has to offer. Listen to the awesome "Wester Vespertine", a song that gives a good idea of the band's sound in the here and now. You find back the galloping guitars, a Dani Filth shrieking at his best, cinematic soundscapes embedded in the frames of black metal and female vocals that act as a perfect final touch to this great tune.
In general, Cradle Of Filth put pretty long tunes on the album, with some exceptions. The opener "Exquisite Torments Await" is two minutes spot-on track, before the melodic and racing fast "Heartbreak and Séance" starts an exciting journey told in seven steps of 6-8 minutes of length each. Another benefit that comes with this album is variation in pace and tempo. "Vengeful Spirit", as one example, starts acoustic and calm before it turns into a raging black metal anthem. But instead of walking on this road for seven minutes, Cradle Of Filth adds twists and breaks which help to keep the listener excited and curious.
I can definitely "Cryptoriana – The Seductiveness of Decay" since it's heavy, dark, melodic, harsh, bombastic, simple and many-faceted, all in one.
(9/10)
Tracklist:
Exquisite Torments Await
Heartbreak and Séance
Achingly Beautiful
Wester Vespertine
The Seductiveness of Decay
Vengeful Spirit
You Will Know the Lion by His Claw
Death and the Maiden
Label: Nuclear Blast
Genre: Melodic Black Metal
Release Date EU: September 22nd, 2017