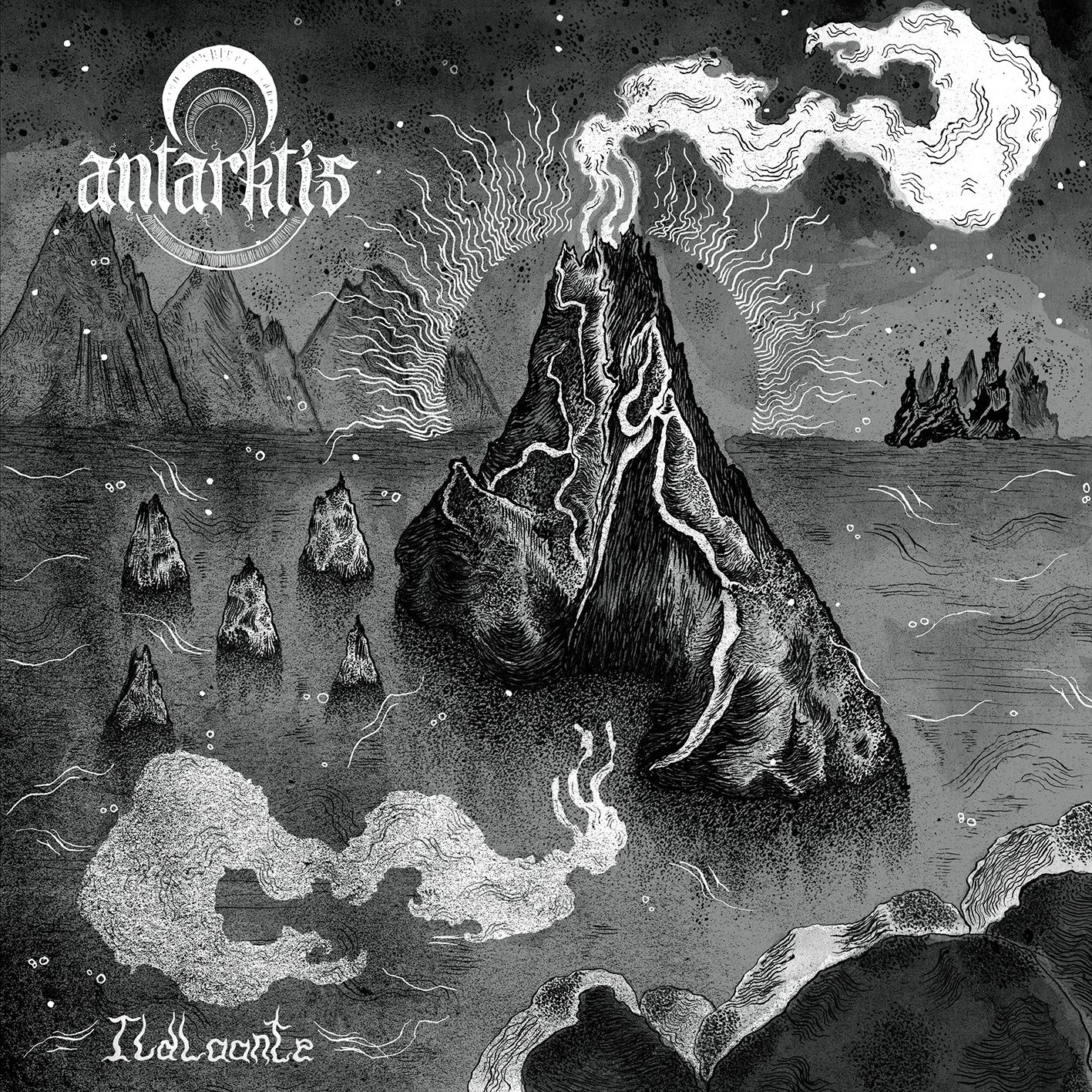 (8/10) The Antarctica is a place that comes with so much beauty, a place where nature evolves without being distracted, destroyed or manipulated by humans. It's a frozen paradise that reveals mind-blowing blue ice schemes being built out of thousands and thousands of tons of frozen water with the inclusion of oxygen.
But what seems to be the perfect place, except the temperature, has also a dark chapter to tell. The only few moments when humans interfered, left some dark marks in this amazing environment. There is the almost unreal place of Deception Island where were a grey and morbid mood tries to cover all the beautiful expressions. Whaling and sealing found at the end of the 19th century a safe harbour on this island and the mortal remnants can be still seen to date.
Why do I tell this long story? The reason is that I had to think about this personal experience while listening to "Ildlaante", the debut of Antarktis.
The four-piece band was founded already some years ago. It was In Mourning guitarist Bjorn Pettersson, together with Tobias Netzell (In Mourning, ex-October Tide), who begun writing a few songs that never saw the light of day earlier than 2017. In 2013, Antarktis' line-up was completed by Daniel Jansson and Jonas Martinsson joining and it took another three years before recordings to this album could begin.
"Ildlaante" is a dark and melancholic album. Antarktis' music is a mixture of post-rock, metal and sludge. This extreme sound is the base for six songs on the album, tracks that are heavy, mighty and blood-curdling. Wistful yelps are accompanied by slowly roaring guitars, bringing metal to its extreme. But that's just one part of the picture. Antarktis breaks this pattern by calmer and almost fragile sections. These are still coming with a gloomy and mournful undertone too while adding some other excitement to the entirety.
Antarktis album is, by purpose or not, perfectly reflecting the earlier scenary, rounded of by an artwork that fits into the picture too (actually it almost looks like a pencil drawing of Deception Island). If this album would have been released earlier in time, it would have been my soundtrack for the earlier described experience. It captures the mood of this unreal and mortal place in a perfect manner.
(8/10)
Tracklist:
Aurora
Svalbard
Notes from Underground
Ildlaante
Cape Meteor Pt 1
Cape Meteor Pt 2
Label: Agonia Records
Genre: Post Rock / Metal
Release Date EU: October 6th, 2017