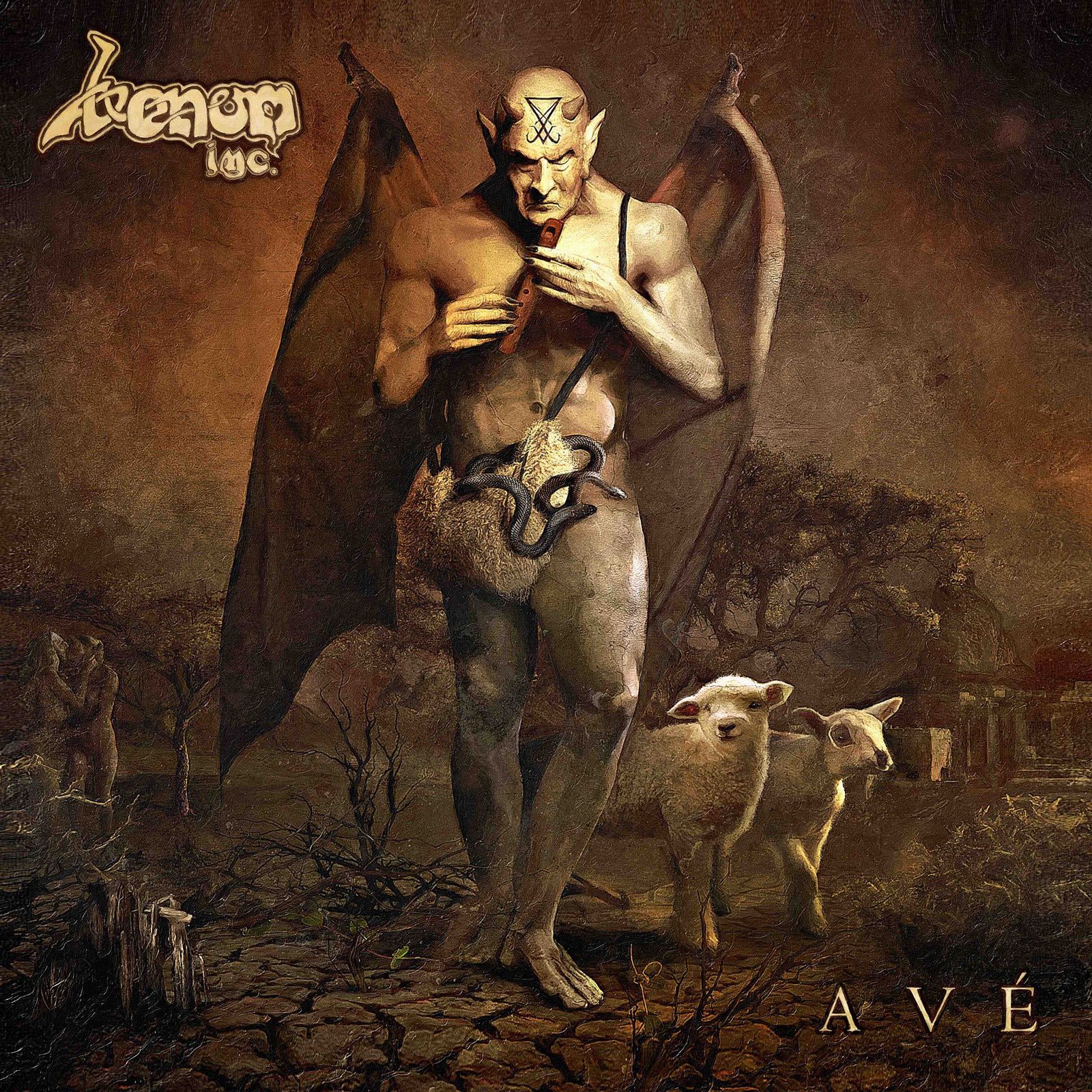 (8/10) To introduce Venom is like carrying sand to the beach. It's unnecessary since you all know the band and if not, you probably didn't reach my blog. But what I want to introduce to you is Venom Inc.
It was in 2015, during the Keep It True festival in Germany, when Tony Dolan (Demolition Man) got the offer the re-active the Venom "Prime Evil" spirit, an opportunity he didn't want to let go. In one or another way Venom Inc. can be also seen as next step for M-Pire Of Evil since next to Dolan it's also Venom-dinosaur Mantas who's part of the line-up together with his former band colleague Abanddon – both having a fundamental impact on classics like "Welcome to Hell" and "Black Metal". This trio started new refresh the Venom spirit which led to "Ave".
"Ave" is the title of Venom Inc.'s debut, an album that features eleven songs. Already at this stage of the review I must say that the album is a blast. Venom Inc.'s approach was to transfer the live energy onto the new album and the three guys succeed completely. "Ave" includes music that is intense and uncompromising. Rooted in thrash metal with some speed influences the longplayer might lead to severe neck problems due to headbanging.
Not only that the album comes with almost a dozen of great metal tracks, it also includes some real highlights that even stand out of the superb rest. My faves on this longplayer are "Time to Die" and "The Evil Dead". The first one comes with an enormous tempo and feels like a speed train. These four minutes combine thrash metal, speed metal and the punk roots to a merciless riff monster that you should have heard. "The Evil Dead" follows a kind of the same pattern while still being slightly different. It's again an uptempo number but, compared the "Time to Die", it includes more of a nasty Motorhead vibe. The following "Preacher Man" comes almost a counterpart to these fast tunes. Venom Inc. puts a foot on the break. With reduced speed the trio still comes across mighty and heavy. Different pace, same intensity. And last but not least there's the first single release "Dein Fleisch", a song that got a German title. Built on a moderate pace Venom Inc. created a song that is dark and creepy, introduced by the moaning souls of the lost.
"Ave" is a raw piece of music that comprises authentic, honest and brutal metal songs. Venom Inc. revitalizes the late eighties spirit with giving it a contemporary expression. Horns up.
(8/10)
Tracklist:
Ave Satanas
Forged In Hell
Metal We Bleed
Dein Fleisch
Blood Stained
Time to Die
The Evil Dead
Preacher Man
War
I Kneel To No God
Black N Roll
Label: Nuclear Blast
Genre: Thrash Metal
Release Date EU: August 11th, 2017