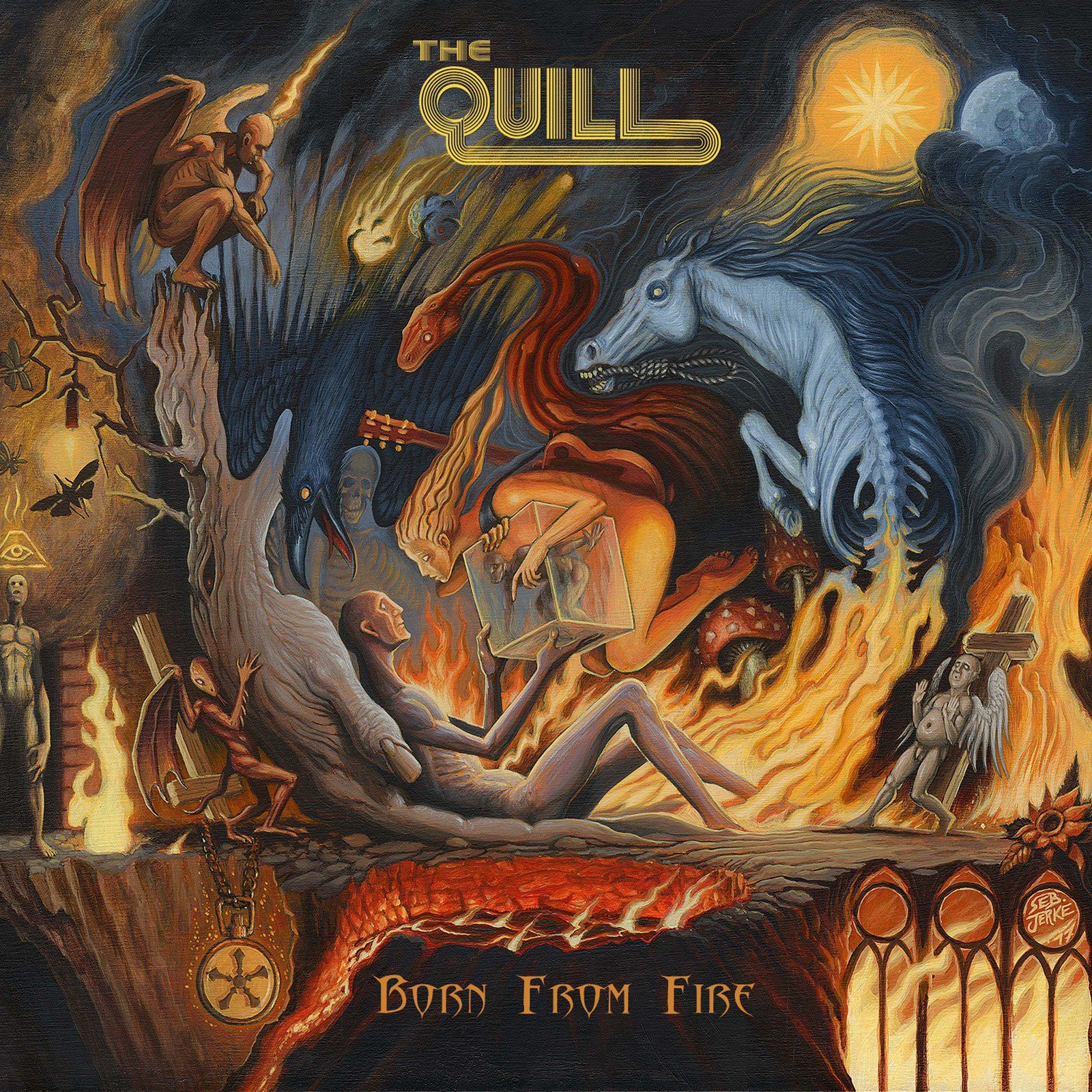 (8/10) Swedish rock and metal has, to a big part, a homebase in either Gothenburg or Stockholm. The Quill doesn't call any of these cities their home. The guys founded the band in Mönsterås which is smaller town at the Swedish East coast.
The guys aren't new and you've heard of them quite regularly. The quartet was founded back in 1990, after having been around four years under the flag of Quil. Things started to increase in speed during the mid 90's when stoner rock gained momentum with bands like Kyuss being the spearhead of this genre. In their wake other bands got into the spotlight too and The Quill was one of them.
The debut came up to surface in 1995 and six more longplayers lined up, with Tiger Blood", the latest record, being released in 2013. Four years later the next The Quill beauty delights fans of stoner rock as well as it's a treat for ears of heavy rock fans.
"Born From Fire" is the title of the eighth studio album and it features twelve entertaining songs that combine the best of stoner and heavy rock. Regardless if it's the mighty rockers like "Keep it Together", the Sabbath-like "Spirit and the Spark", the psychedelic "Set Free Black Crow" or the uptempo "Snake Charmer Woman", each of them gets out of the blocks very well and rocks in a spot-on manner. These songs outnumber and can easily compensate for the weaker "Revelation". Next to the well-done songwriting it's also the sound of the album that's powerful. Guitar and bass are forceful booming, which gives the album a warm and organic swing. It's hard to not get caught by this album.
(8/10)
Tracklist:
Stone Believer
Snake Charmer Woman
Ghosthorse
Keep it Together
Spirit and the Spark
Skull & Bones
Set Free Black Crow
Electric Sons
Hollow of Your Hand
Unchain Yourself
Revelation
Metamorphosis
Label: Metalville
Genre: Stoner Rock
Release Date EU: August 25th, 2017