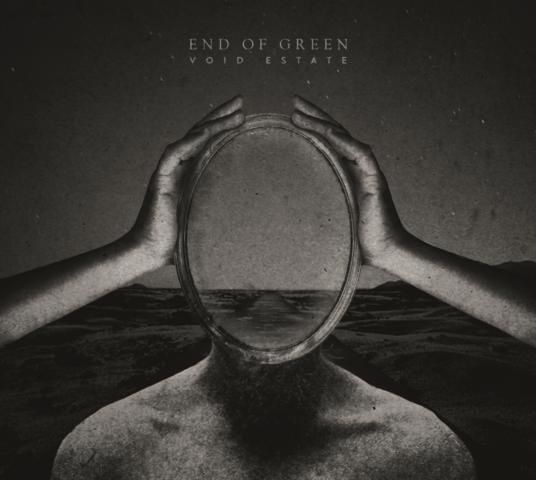 (9/10) Three years after End Of Green released their latest longplayer "The Painstream", Michelle Darkness and colleagues are back with a new record. "Void Estate" is the ninth disc of the Swabian dark rock outfit and it showcases the band in a top-notch condition.
Almost two months after having cherished the longest day of the year, End Of Green rings in the darker seasons with autumn and winter just waiting around the next corner. While still being in August and enjoying bright sunlight and warm temperatures it's "Void Estate" that prepares fans of intense rock music for what's supposed to come.
The new longplayer features eleven songs that get under one's skin. The album focuses on rock more than metal, with songs that include a dark intensity giving you the shivers.
Things start with the slow paced "Send in the Clowns" before the band shows with "Darkside of the Sun" their rougher edges. Still very melodic the tunes combines a bit of Paradise Lost and Type O'Negative without getting as extreme as these two bands. The first single release "The Door" follows and it's the catchy chorus that makes an impression from the beginning.
Via "Head Down" you'll reach "Crossroads". The up-tempo songs stand out a bit from the rest since it's a melodic and light-hearted number, in End Of Green terms. Each of the first five tracks is a winner and also the second half of the album comes with good stuff too. Based on a similar basic mood and pace the density of real hits is a bit less compared to the beginning, however, tracks like the wistful "Dressed in Black Again" and the sad "Mollodrome" includes an emotional depth that's very touching. These songs cover the sun behind shades of grey and instead of sunrays shining on the listener it's melancholy that covers your soul.
"Void Estate" is the most mature album of the Stuttgart-based quintet. End Of Green evolved their music and sound to a next level while still being 100% true to themselves. This album is THE soundtrack for the upcoming grey and dark autumn season. Enjoy this album- and the last sunrays.
(9/10)
Tracklist:
Send in the Clown
Darkside of the Sun
The Door
Head Down
Crossroads
The Unseen
Dressed in Black Again
Mollodrome
Worn and Torn
City of Broken Thoughts
Like a Stranger
Label: Napalm Records
Genre: Dark Rock
Release Date EU: August 18th, 2017