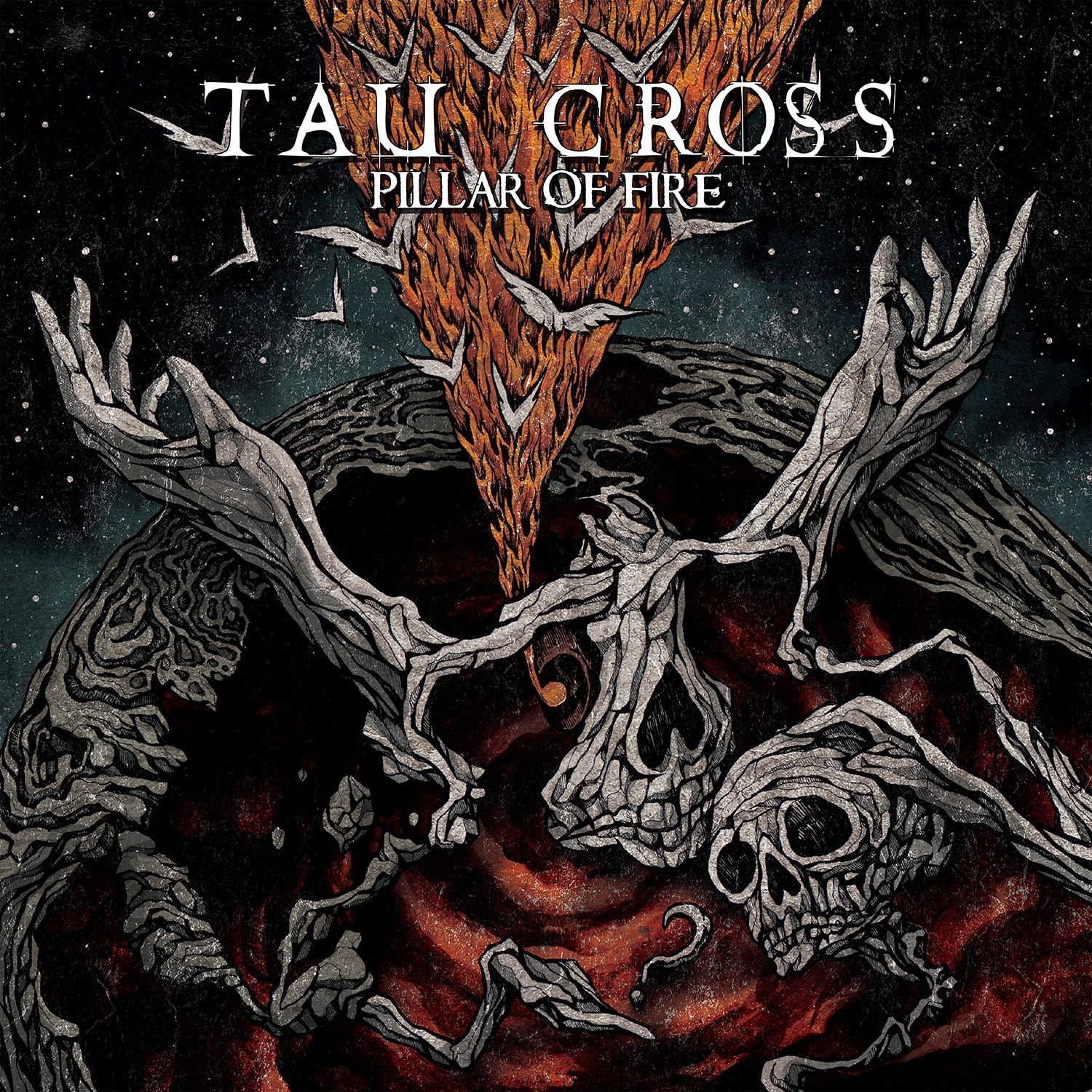 (9/10) It was two years ago when a band arouse attention with an album that featured jaw-dropping good songs. The name of this powerhouse is Tau Cross, a new collective of musicians with various backgrounds. Amebix frontman Rob Miller belongs to Tau Cross as well as Voivod drummer Michel Langevin being in on it. Next to these two guys it's Andy Lefton, Jon Misery, James Adams and Tom Radlo completing the line-up that worked on the bands sophomore longplayer "Pillar of Fire".
The debut, simply named "Tau Cross", was already a blast that increased expectations when it comes to the second longplayer. After having listened to the new album several times I can tell you that all expectations have been easily fulfilled. Tau Cross picks up where they left with the debut.
Anarchic metal meets punk meets hardrock, that's what the debut was about and that's what you get served with the new record. "Pillar of Fire" features eleven songs that are edgy, spot-on and raw. "Raising the Golem" is the first chapter of this exciting release and it starts dark and mysterious. After a few seconds the intro turns into the actual song which is a well-chosen opener. It comes with a hypnotic beat and the hoarse vocals by Miller are already a trademark in itself. This opener does the job, being an appetizer for more … and you get more.
As mentioned earlier in this review, Tau Cross' spectrum of songs is a wide one. "On the Water" states this in a perfect way. The tune is almost an homage to the mighty Motorhead. It's not only the vocals that reminds of the iconic trio, it's the way how the song's built up. Another highlight is the title track that starts acoustic and calm. This beginning brought Sisters Of Mercy and Fields Of The Nephilim to my mind. It's a gloomy and melancholic number that stays in this mood from beginning till end. It's a special song that stands out from the rest and therefor is the perfect name-giver for the album.
Another song I would like to stand still for a minute is "Killing the King" with its Killing Joke vibe included. I like the merciless drums in the beginning of this harsh and partly mystic song.
"Pillar of Fire" is the highly anticipated second Tau Cross longplayer and it fully lives up to expectation. These guys are rightly top rated and also get well-deserved nine points from MHMB.
(9/10)
Tracklist:
Raising Golem
Bread and Circuses
On The Water
Deep State
Pillar of Fire
Killing the King
A White Horse
The Big House
RFID
Seven Wheels
What Is a Man
Label: Relapse Records
Genre: Alternative Metal
Release Date EU: July 21st, 2017