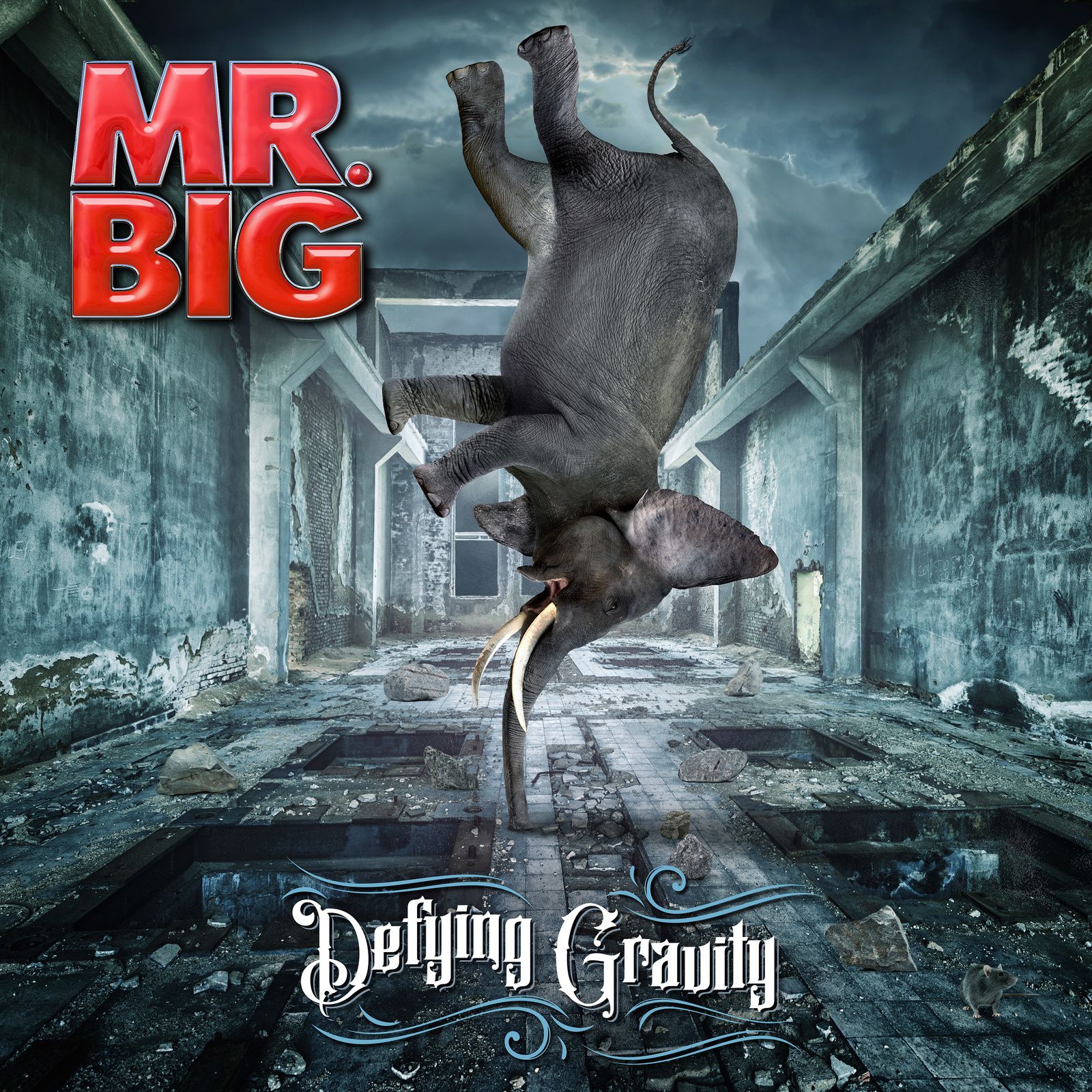 (9/10) Two weeks ago it was Riverdogs that released their well-crafted new longplayer "California", followed now be another dinosaur in rock – Mr. Big. Eric Martin, Billy Sheehan, Pat Torpey and Paul Gilbert did it again. Three years after having shipped the first copies of "...the Stories We Could Tell" to the record stores, a new longplayer follows. Unfortunately Torpey couldn't do all songs for the album due to the recent diagnosis of Parkinson's disease but he's is still a crucial part of the band with Matt Starr filling in for him when needed. That's true team-spirit. Next to the musicians it's Kevin Elson who added to the good old Mr.Big spirit to "Defying Gravity". He was already at the helm when it comes to the first three longplayers, providing also in 2017 the sound that's needed for this kind of music.
"Defying Gravity" is Mr. Big's ninth studio album and it features eleven new songs, all in the typical Mr. Big fashion. The quartet set some standards with their first two longplayers and everything the band released afterwards could easily live up to these standards. Mr. Big fine-tuned their sound over time, leading to this fantastic release that was recorded in just six days. This means that the album doesn't come with a lot of bells and whistles. "Defying Gravity" was recorded by the guys, playing together in the studio which gives the album this warm and organic vibe.
I don't know if the huge success of "To Be With you" was a blessing or curse. A lot of people reduce the band to this multiseller single release, but Mr. Big is far more than this acoustic ballad. No doubt, also the new longplayer has some calmer moments. "Damn I'm in Love Again" and "Nothing Bad (Bout Feeling Good)" will be the tunes during a live show with the venue is lit by many lighters (or smartphones these days) and there's nothing wrong with it. These (half-)ballads are great songs, done by excellent musicians with the latter being even a real highlight on the album.
However, the majority of tunes on this release rocks pretty hard. "1992" is one of these cool track combining Gilberts furious shredding guitar parts with a catchy melody. Or listen to the three stage rocket in the beginning of the album that helps to get things off the ground. "Open Your Eyes", the title track and "Everybody Needs a Little Trouble" are the perfect start into an entertaining rock album.
"Defying Gravity" might not turn the rocking world upside down but it raises the bar for all the other bands in hardrock and melodic rock. This album shows what's possible if great musicians work on songs without having the ego as a centerpiece. Musical competence meets excellent songwriting meets passion meets team-spirit, that's what "Defying Gravity" is about. Excellent stuff.
(9/10)
Tracklist:
Open Your Eyes
Defying Gravity
Everybody Needs a Little Trouble
Damn I'm in Love Again
Mean to Me
Nothing Bad (Bout Feeling Good)
Forever and Back
She's All Coming Back to me Now
1992
Nothing at all
Be Kind
Label: Frontiers Music
Genre: Hardrock
Release Date EU: July 21st, 2017