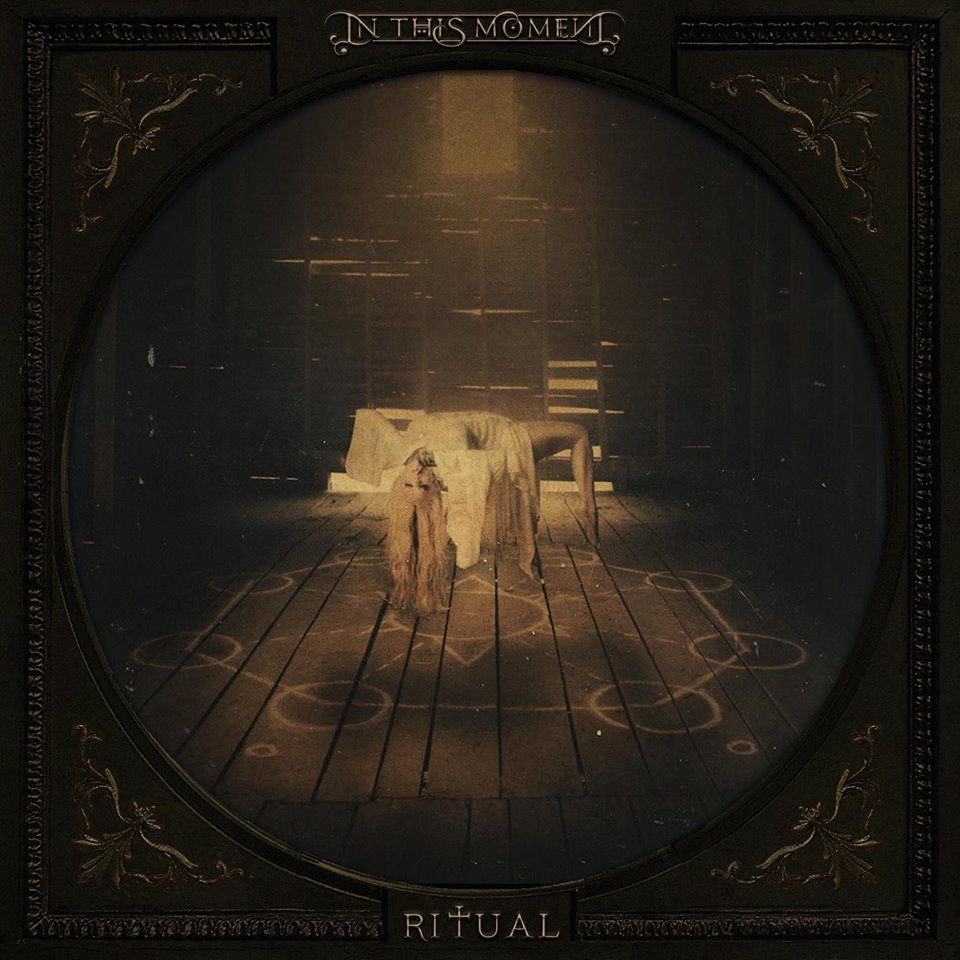 (8/10) After having release "Black Widow" former metalcore outfit In This Moment made another step away from their musical roots and continue their transformation towards modern metal. "Ritual" is the bands newest strike and features twelve new songs, delivering a running time of almost an hour.
"Ritual" is the band's sixth studio album and it became a very dark one. "Black Widow" showed the band with some more electronic sound elements which have been reduced for the new longplayer. By doing this "Ritual" became more organic and real compared to the predecessor.
Things kick-off with an intro named "Salvation", a first sphere-maker for what comes next on the album. "Oh Lord" is the real opener and it reminds me of a gloomy Drain-song. The tune includes a hypnotizing rhythm with Brink's vocals as the icing on this modern metal cake. Marilyn Manson was at least partly a source of inspiration for "Joan of Arc", combine with a catchy chorus that gives the number an bit of another twist. Still, things go together very well.
Even though the electronic elements are pushed more to the back, "Riual" includes this nuance as well. "Witching Hour" is the name of the track that's the catchiest one on the album.
Next to these tracks there are two songs that sound familiar. In This Moment placed with "Black Wedding" a song on the album that is more than inspired by the Billy Idol smash hit "White Wedding". The chorus is almost the same with slightly different lyrics which are 'question and answer' dialogue. For doing this Maria Brink needed a counterpart which she found with Judas Priest frontman Rob Halford. This setup work pretty well and gives the Billy Idol classic a new appeal - gloomier with the same punch as the original.
What comes with the record too is a cover version of Phil Collins' "In the Air Tonight". In This Moment obviously is very impressed by this tune and so am I. The interpretation on "Ritual" works quite well, giving the tune also a much darker expression. There's nothing wrong with this cover version, even though it doesn't really add something to the album. Maybe it's a key to some more radio airplay with releasing the song as a next single, but this is just speculation from my side.
To sum up: I wasn't the biggest fan of the highly successful "Black Widow" and therefor I was more doubtful when it comes to this album. However, I have to say that In This Moment made a big step forward, delivering a record that is strong, intense and powerful. I will invest some time in a couple of extra listening sessions,
(8/10)
Tracklist:
Salvation
Oh Lord
Black Wedding
In the Air Tonight
Joan of Arc
River of Fire
Witching Hour
Half God Half Devil
No Me Importa
Lay Your Gun Down
Label: Roadrunner Records
Genre: Dark Modern Metal
Release Date EU: July 21st, 2017