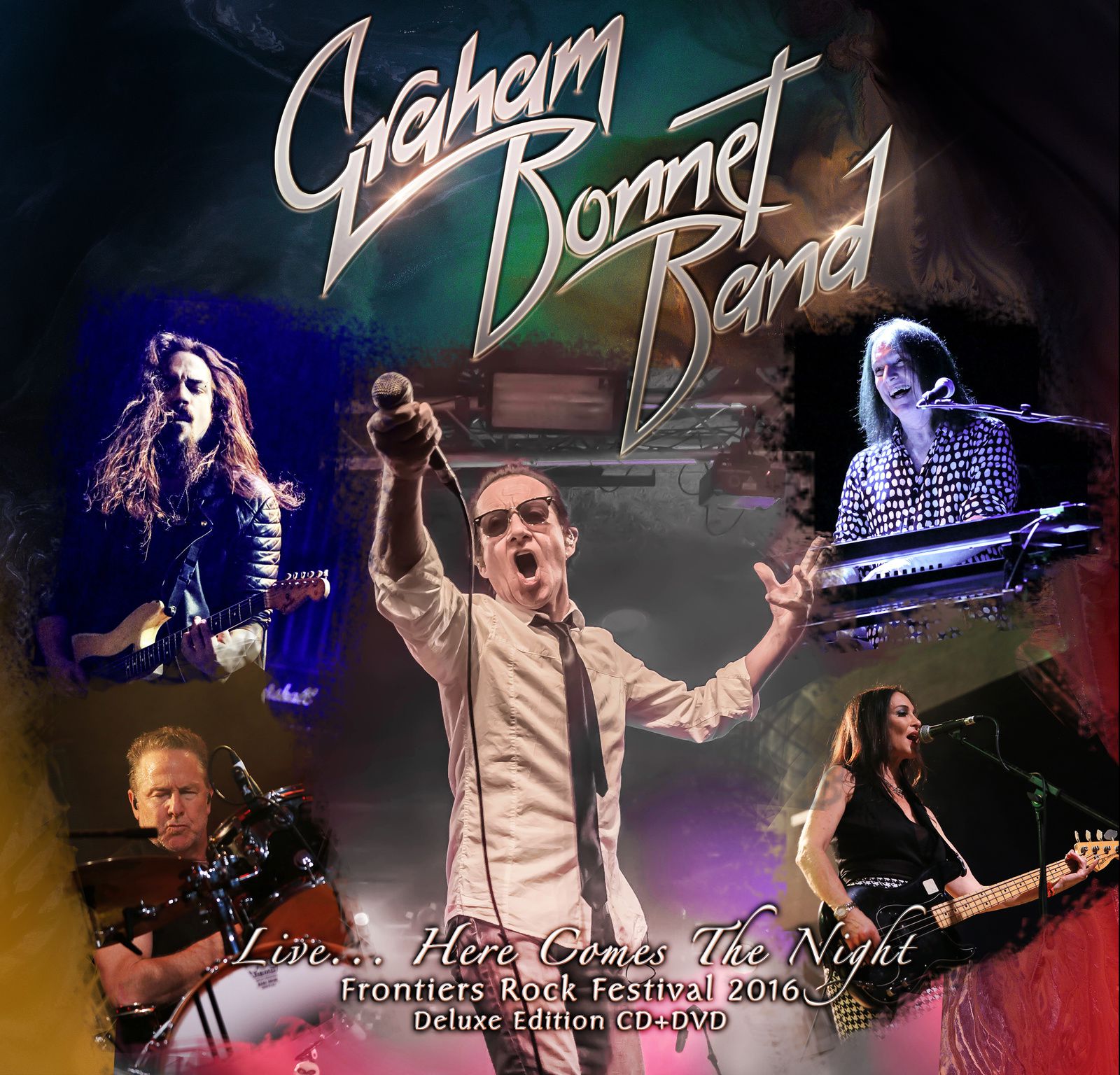 (*/10) Here comes Graham Bonnet part 2. After having released an album with Ezoo a few weeks ago it's again Frontiers Music that comes up with another Graham Bonnet release. This time it's a live album, featuring a show the singer did in 2016 at the Frontiers Music Rock Festival III in Trezzo, Italy.
Bonnet was supported by Beth-Ami Heavenstone (b), Conrado Pesinato (g) and the legendary Marc Zonder on drums. The show, and therefor also the live release, was a trip through Bonnet's rich musical history. Most of the tunes played that day came from bands he was part of in the past. Alacatrazz, Rainbow and Michael Schenker Group material built the backbone with some own songs and Impellittri's "Stand in Line" that have been added to the setlist too. Last but not least there's the Russ Ballard cover "Since You Been Gone" which was already successfully covered by Rainbow. In total "Live…Here Comes the Night" includes 15 songs that feel like a journey through 80's melodic metal and hardrock. Bonnet's voice is far better than what we got to hear with Ezoo and since the songs are classics anyhow, things can't go wrong with this live release.
"Live … Here Comes the Night" is a well-produced live album that comes with classical rock songs which are played, recorded and produced in a good manner. This album is a starting point for taking a trip down the memory lane.
(*/10)
Tracklist:
Eyes of the World
All Night Long
S.O.S.
Stand in Line
God Blessed Video
Will you be Home Tonight
Jet to Jet
Night Games
Suffer Me
Dancer
Desert Song
Island in the Sun
Since You Been Gone
Assault Attack
Lost in Hollywood
Label: Frontiers Music
Genre: Hardrock
Release Date EU: July 7th, 2017