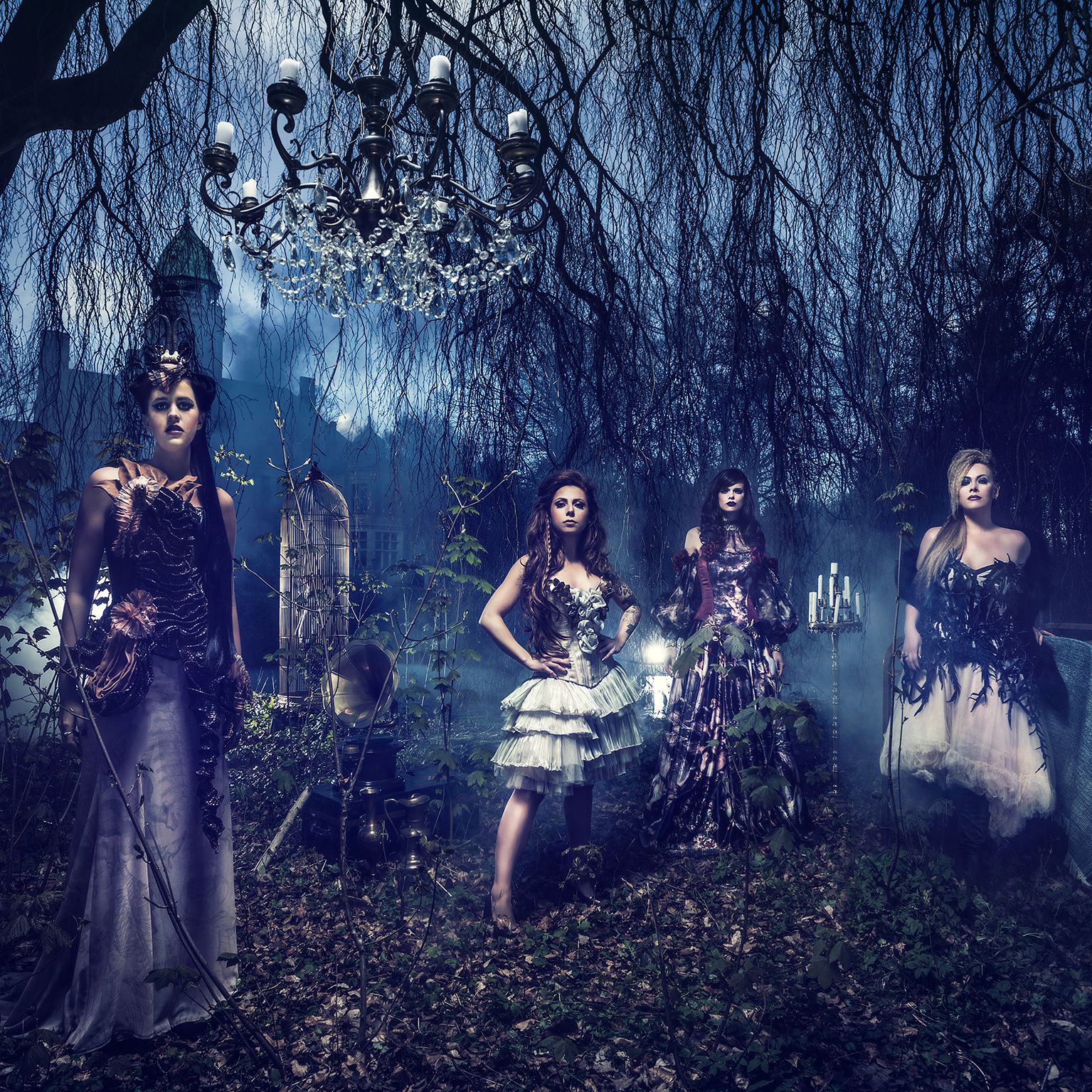 (
8/10
) Basically all the ingredients for an album like "Rhapsodies in Black" are well known and still, this album offers fascinating songs that each of you heard earlier in their original set-up. Exit Eden is a new project, that's female-fronted. The difference is that four singers with different background and nationality united under the banner of Eden Exit, releasing an album that features eleven stunning cover versions of pop songs.
Amanda Somerville, Anna Brunner, Marina La Torraca and Clementine Delauney combined forces, and voices, leading to an exciting longplayer that couldn't have been done much better. The first positive fact is that each of the four singers come with an excellent voice and a lot of experience when it comes to rock and metal music. Secondly these voices go together in an perfect fashion, meaning that they harmonize very well. This gives each of the the eleven tunes a thrilling add-on that's not known from the originals. Last but not least it's the re-arrangement of well-known chart hits that turned them into a smashing rock number with a more than solid punch.
The choice of songs is well thought through, covering various eras and styles of pop and rock music. One of my favorites is the closer of the album. These four ladies turn the Visage classic "Fade to Grey" into a dark rock song that is at least as good as the original. The song stands for the general approach of this longplayer. Exit Eden doesn't stick too much to the original. These four ladies take them as an inspiration by giving the songs a new expression while still keeping the spirit of the originals. Another good example for the mentioned is the cover version of Bryan Adams' smash hit "Heaven". The Exit Eden interpretation adds an extra level of power to this classic without going too far away from the roots. Well done.
What's a real pearl on "Rhapsodies in Black" is Rihanna's "Unfaithful". If you think that a metamorphosis into a rocking metal track is a mission impossible, you're wrong. Exit Eden shifts this mega seller towards a rock anthem that sounds like a combination of Apocalyptica and Rammstein with the inclusion of female vocals, giving the tune a bombastic Nightwish touch.
"Rhapsodies in Black" is a stunning longplayer showing that cover versions, if done in an inspiring and creative way, are more than nice fillers for the B-side of a single release only. I can recommend this album to fans of powerful rock music and female-fronted metal.
Tracklist:
Question of Time
Unfaithful
Impossible
Frozen
Heaven
Firework
Skyfall
Total Eclipse
Paparazzi
Fade to Grey
Label: Napalm Records
Genre: Female-Fronted Metal