Was it the Icelandic football team last year gaining many people's sympathy by their unusual and straightforward team approach, it is Icelandic rock music that adds quality to this years summer. Sólstafir recently released their new album "Berdreyminn" which stands for another cornerstone in post rock, coming with a deepened intensity you can't escape from. The quartet is on tour in June this year playing some of the bigger festivals plus a few club shows. One of the latter took place in De Helling, Utrecht on a hot and sunny June night and it felt like the Icelanders bringing a fresh breeze to Holland, even though the temperature in the venue also reached sauna level rather quickly.
Rotterdam-based alternative metal outfit Gold kicked off this event, as they also did a couple of days earlier in Breda. The sextet entered the stage for their home-game show and instead of starting directly into their set, everybody stood still, listening to a two minutes intro from tape. This was an unusual beginning since you could assume that you want to use every minute of a support slot for playing your songs. These came to surface after the prelude faded away in the room. A guitar riff broke the silence, making some girls jump in the front row. Gold played a 45 minutes set of post-rock songs. The base for Gold's music are heavy riffs and a grooving rhythm section. Three guitars enabled the band to create a massive wall of sound with almost everybody on stage headbanging throughout the entire set. These guys are really committed to what they are doing. A counter part to this robust riff orgy was the expressional 'dance' of singer Milena. Almost esoteric moves have been out of context, not really getting in line with the rest of the massive performance. The same goes also for the hypnotic vocal lines with a melancholic Weltschmerz embedded that started to get annoying the further the set went on. This was my perception but I also have to say that I heard quite some people being impressed by the show. At the end I must say that the guys know and love what they are doing and if you like it or not stays on an individual level. However, it would be good to let lose of the cookie cutter approach and add more twists to the songs. This could make things far more exciting.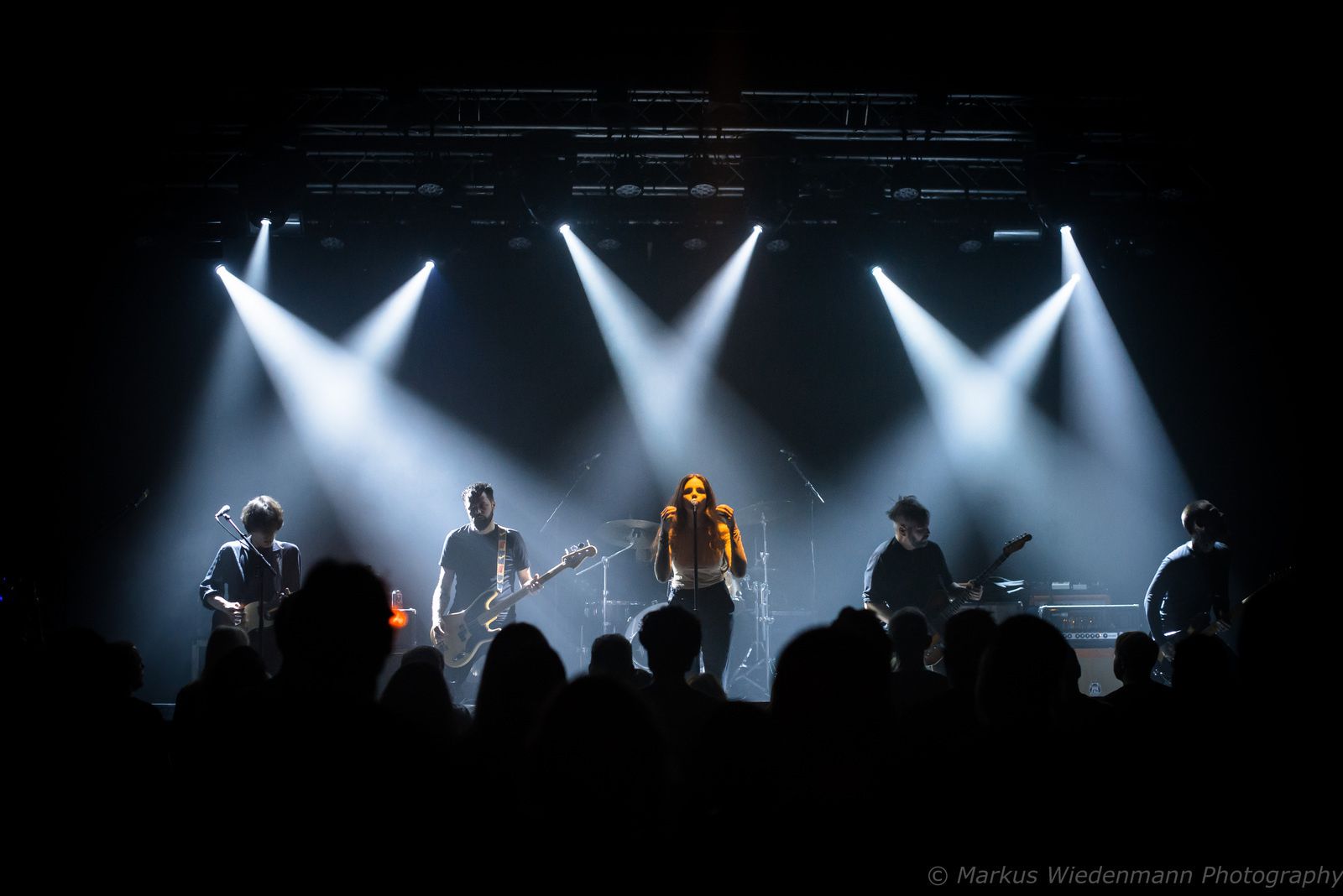 After a warm applause slowly disappeared, followed by a quick re-arrangement of the scenery, it was shooting stars Sólstafir who started a 100 minutes journey through post rock in an Icelandic ambience. The latest records of the quartet have jaw-dropping good ones, showcasing a band that combines emotional depth with mighty rock and metal sounds. These songs include everything, from vulnerable moments to heavy riff infernos. All this together lead to a spectacular show that didn't use any gimmicks or effects. The music, together with a simple but effective light show, was enough to make this performance to one of the best ones I have seen this year.
Sólstafir fans witnessed a show that was built on a well-chosen setlist, covering mainly songs from the last two albums, enriched by classic like "Goddess of the Age". The ten minutes masterpiece was the phenomenal closer, introduced as the last song, but fortunately a very long one. Sólstafir hit bulls-eye that night. Their songs are magic and so is their show.
One thing was annoying though and it has nothing to do with the band(s). For me it's still not understandable why people constantly have to talk during a concert. If you want to chat with your friends, fine - do this at the bar. Especially during the calmer parts of Sólstafir's set, these chatterboxes have been a real distraction, leading to a moment when frontman Aðalbjörn Tryggvason introduced the sad background of "Necrologue" with people in the crowd still keeping on talking. Fortunately, as a matter of heart, he clearly states that these people should shut-up now, an announcement that was very much welcomed by the real fans. Later on it was the sound engineer who did the same to some other 'fans' and hopefully people understand that a concert is about music and no communication platform or chat room.
Anyhow, with these short moments a distraction it was an awesome Sólstafir show. These four guys are perfectionistas being capable to transfer the entire finesse of their records live on stage. Sólstafir gigs are emotional, heavy, mighty, fragile, powerful, refreshing, melancholic and hopeful. The quartet uses the entire spectrum of sounds, giving you the shivers - Icelandic magic that splashes over to the European mainland. I'm looking already forward to see the guys again. Horns up.
Setlist:
Silfur-Refur
Ótta
Love is the Devil (and I am in Love)
She Destroys Again
Náttmál
Īsafold
Necrologue
Pale Rider
Fjara
Goddess of the Age
Location: De Helling, Utrecht, The Netherlands
Date: June 17th, 2017