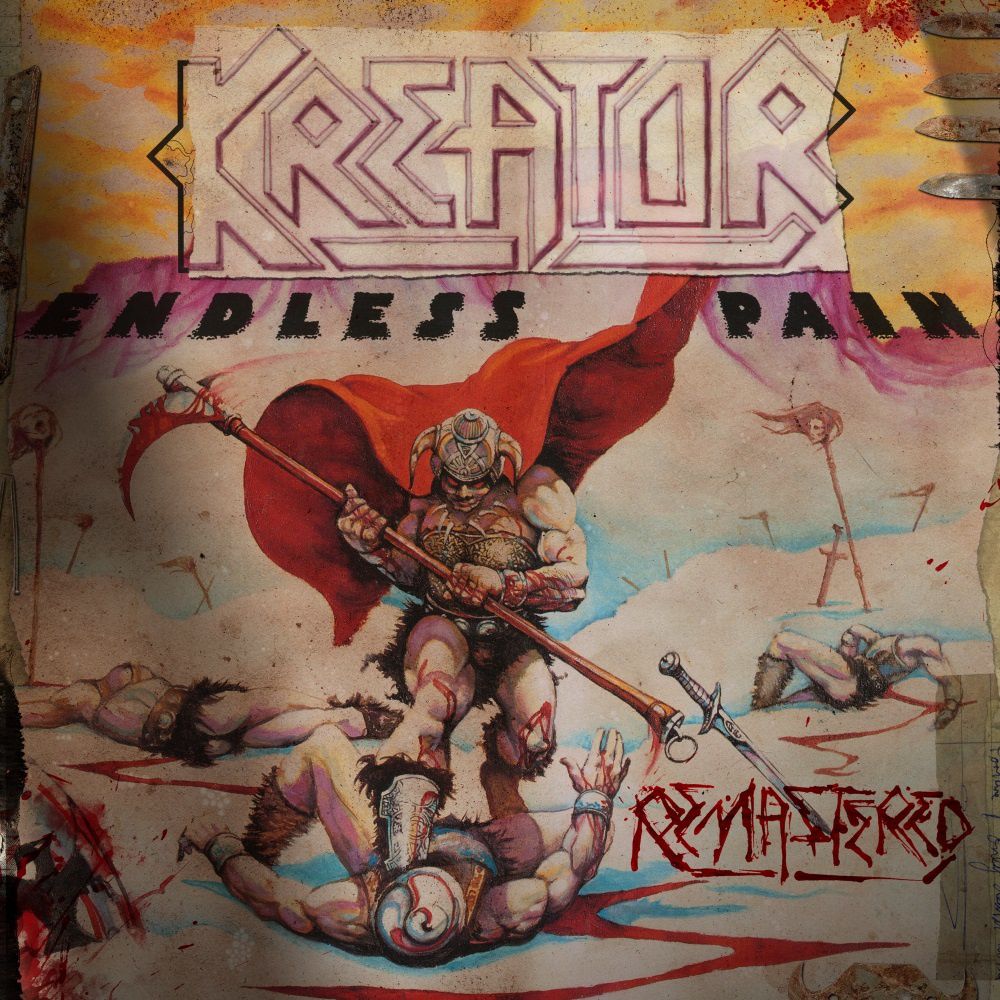 (7/10) (9/10) (9/10) (8/10) To also repeat in this review the history of Noise Records would feel like a broken record. Many of my other posts around 'Noise Lebt!' address this topic but one thing I want to say here too. Today's metal would be different without this label from Berlin, Germany.
Next to many other bands, Noise Records also gave some guys from Essen, Germany a home and a platform to spread their heavy music all over Europe, and beyond. Indeed, we are talking about Kreator, the spearhead of German thrash metal.
Since more than 30 years Kreator adds new chapters to their success story with the latest tour being another triumphant trip, bringing their thrash metal anthems on stage in many countries all over the globe. With all this momentum it's good to stand still and even go back in time. The foundation was laid 35 years ago in Essen when a bunch of youngsters decided to start a metal band. After some demo years it was Noise Records that contracted the band, giving Kreator the chance to release their raw and frenzied debut named "Endless Pain". Release date was in October 1985 and a worldwide winning streak was not even something to think about at that time. The debut was rough-edged and savage, leading to high appreciation in the underground. The impact on influencing upcoming death- and black-metal bands can't be denied, however "Endless Pain" was the springboard for Kreator's international career, an album that still delivers songs like "Endless Pain" and "Flag of Hate" to current setlists.
Next to the re-mastered album itself the current version includes the "Blitzkrieg Demo" as well as it brings "End of the World Demo" in a CD version into your home.
(7/10)
Tracklist "Endless Pain"
Endless Pain
Total Death
Storm of the Beast
Tormentor
Son of Evil
Flag of Hate
Cry War
Bonebreaker
Living in Fear
Dying Victims
Satan's Day ("Blitzkrieg" Demo)
Messenger from Burning Hell ("Blitzkrieg" Demo)
Armies of Hell ("End Of the World" Demo)
Tormentor ("End of the World" Demo)
Cry War ("End Of the World" Demo)
Bonebreaker ("End Of the World" Demo)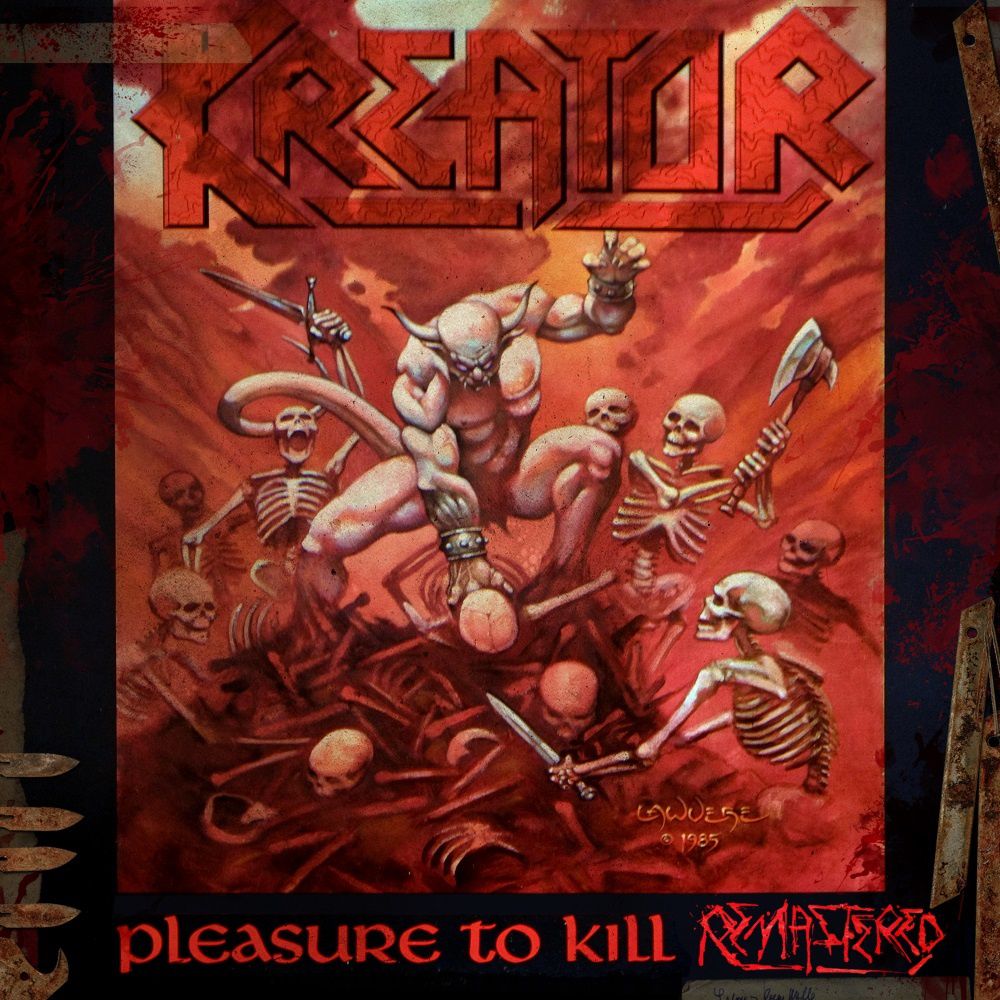 (9/10) After such a great start into metal it was important to keep the fire burning. Therefor the band work intensively on their sophomore record "Pleasure to Kill". This longplayer stands for Kreator's break-through and it was my entry-point when it comes to the band from Essen. The quartet improved their sound and their capabilities, leading to classics like "Pleasure to Kill", "Choir of the Damned" and "Ripping Corpse". The band raised the bar, adding more technical finesse to their music. Kreator made their way and stood up to other thrash metal cornerstone releases such as Metallica's "Master of Puppets" and Slayer's "Reign in Blood", keeping the Kreator vibe alive up to date.
Like with the other re-issues also this version comes with an extra which is the "Flag of Hate" EP. This disc was meant to bridge the waiting time for fans between the debut and "Pleasure to Kill". In this sense fans get a complete overview of what Mille and band brought into the record shops during the late 80's.
(9/10)
Tracklist "Pleasure to Kill"
Choir of the Damned
Ripping Corpse
Death Is Your Saviour
Pleasure to Kill
Riot of Violence
The Pestilence
Carrion
Command of the Blade
Under The Guillotine
Flag of Hate ("Flag of Hate" EP)
Take Their Lives ("Flag of Hate" EP)
Awakening of the Gods ("Flag of Hate" EP)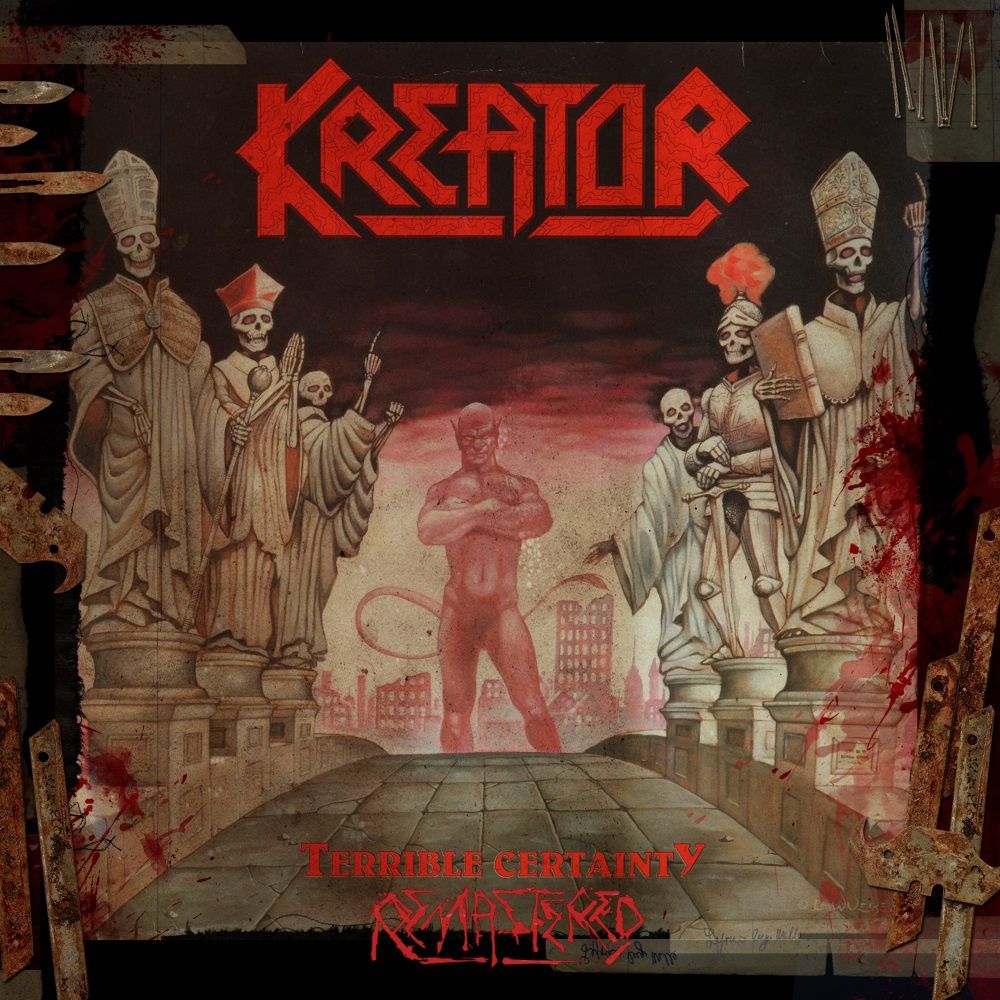 (9/10) Swinging such a hot bat acted as a motivator for starting the work on the third record which premiered in 1987. This longplayer also included a line-up adjustment since it was the first one done as a quartet. With Jörge Trebziatowski a second guitarist joined the horde, opening a gate to a wider variation of Kreator's sound. Originally meant to be entitled "Blind Faith" the band initiated a last minute change to "Terrible Certainty", an album title that is very well-known all over the planet.
The extra goodie on this re-issue is the "Out of the Dark ... Into the Light" live release from 1988. Kreator recorded a show at the legendary Dynamo club in Eindhoven, The Netherlands, featuring eight songs including highlights like "Terrible Certainty" and "Riot of Violence". Kreator concerts are blast of energy that should be experienced by watching a show, but it is this live album that gives a first idea of what you can expect - in case you haven't seen the four-piece from Essen live on stage.
(9/10)
Tracklist "Terrible Certainty"
Blind Faith
Storming with Menace
Terrible Certainty
As the World Burns
Toxic Trace
No Escape
One of Us
Behind the Mirror
Impossible to Cure ("Out Of the Dark…Into the Light" EP)
Lambs to the Slaughter ("Out Of the Dark…Into the Light" EP)
Terrible Certainty (live)
Riot of Violence (live)
Awakening of the Gods (live)
Flag of Hate (live)
Love Us or Hate Us (live)
Behind The Mirror (live)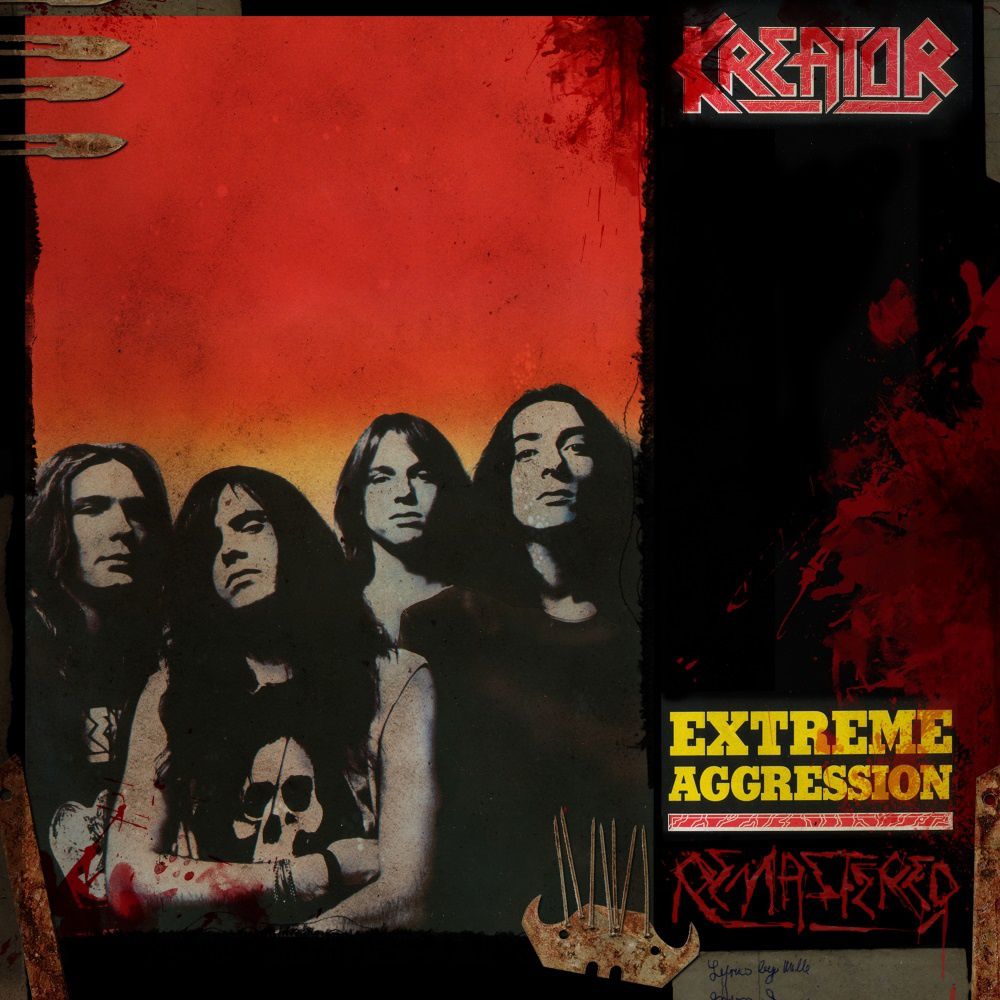 (8/10) The first three longplayers haven been a winning streak for the German thrash outfit and it was a logical consequence that Mille & Co. have been hungry for more. The band had, and still has, a continuously growing fan base that wants to get new stuff on their plate. "Extreme Aggression" delivered what metalheads all over the place expected in the late 80's - another extremely strong thrash metal milestone. The longplayer presented Kreator at a next level with a sound that became a bit colder and clinic. Each of the songs is still a savage piece of music but the album in its entirety is more streamlined compared to the predecessors. However "Extreme Aggression" was the pinnacle of Kreator's rise and it wasn't a too big of a surprise that Kreator entered the German Top 100 charts.
What comes with this disc is the entire "Live in East Berlin" recording from 1990. This live recording showcases Kreator on another peak in their career. While songs and songwriting improved over the last years, it the intensity of a Kreator show that stayed and survived up to date. Mille and Co.always deliver at least 100% and the word 'compromise' doesn't even seem to exist when it comes to these merciless live shows - as this one that's the treat on this re-release.
In addition to all said, each of the four CDs comes with a well-done booklet including liner-notes, lyrics and many photos from the earlier days of the band. This re-issue series is far more than just a re-release. These four classics are a remastered summary of landmarks when it comes to European thrash metal. Each of these discs is a 'must' have' and should be a part of every serious metal collection, even if you call the original releases your own.
(8/10)
Tracklist "Extreme Aggression"
Extreme Aggression
No Reason to Exist
Love Us or Hate Us
Stream Of Consciousness
Some Pain Will Last
Betrayer
Don't Trust
Bringer of Torture
Fatal Energy
Some Pain Will Last (Live in East Berlin 1990)
Extreme Aggression (Live in East Berlin 1990)
Under The Guillotine (Live in East Berlin 1990)
Toxic Trace (Live in East Berlin 1990)
Bringer of Torture (Live in East Berlin 1990)
Pleasure to Kill (Live in East Berlin 1990)
Flag of Hate (Live in East Berlin 1990)
Terrible Certainty (Live in East Berlin 1990)
Riot of Violence (Live in East Berlin 1990)
Love Us or Hate Us (Live in East Berlin 1990)
Behind The Mirror (Live in East Berlin 1990)
Betrayer (Live in East Berlin 1990)
Awakening Of the Gods (Live in East Berlin 1990)
Tormentor (Live in East Berlin 1990)
All four albums:
Label: BMG/Noise
Genre: Thrash Metal
Release Date EU: June9th, 2017