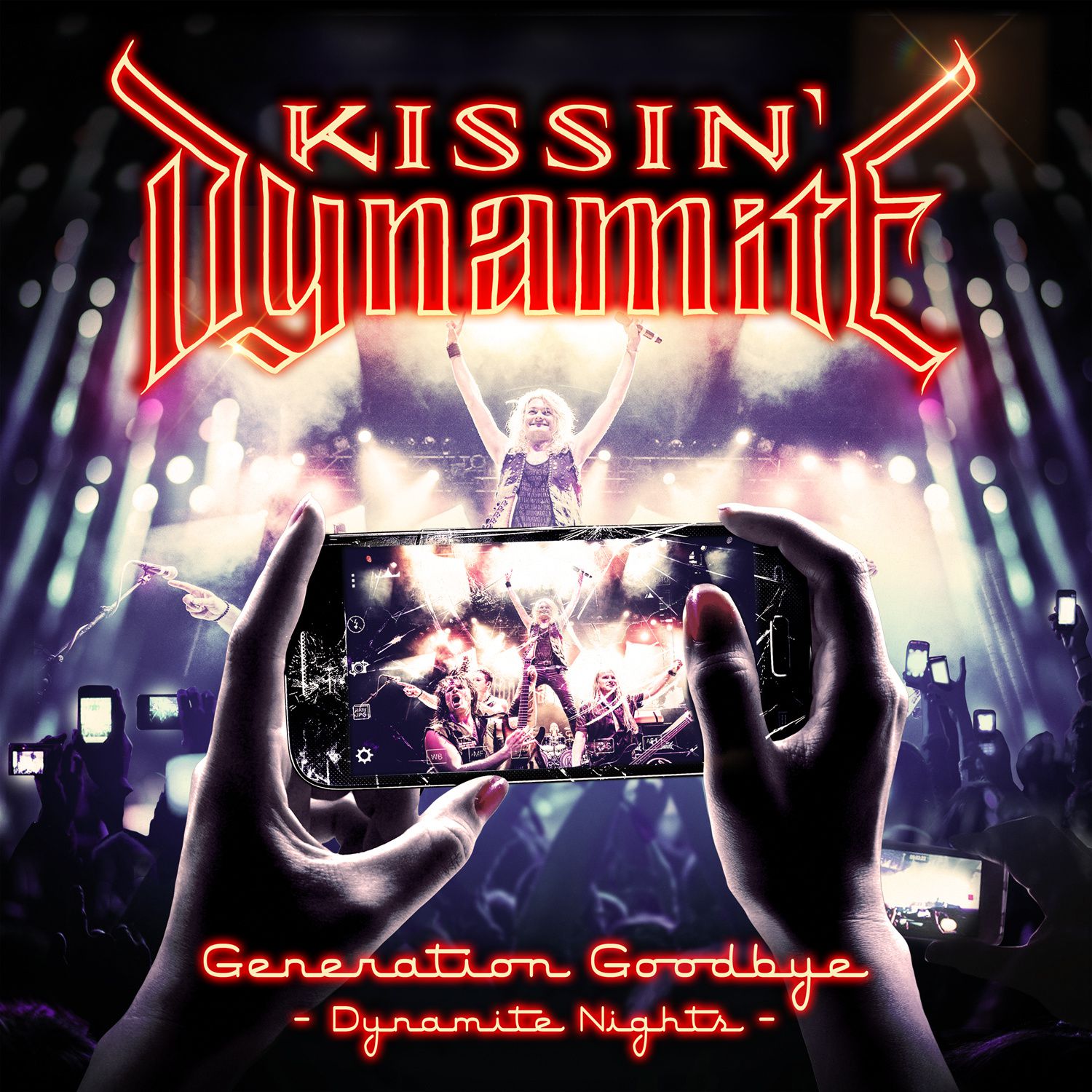 (8/10) Not only that the summer period is the time of the year that's filled with festivals and open airs, it also feels like quite some bands releasing live albums as we speak.
Swabian power outfit Kissin' Dynamite is one of them, having their first live album in the starting blocks. The Youngsters, even though they are in the meantime in their mid 20's, can look back on a longer history in metal. These guys started as kids and I guess that nobody could see the rise of Kissin' Dynamite, maybe with one exception. German metal dinosaur Udo Dirkschneider supported the band already at an early stage, what at least brought a bit more media attention to their first records than usual.
Kissin' Dynamite is around since ten years and what's more logical than celebrating this anniversary with a live show, preferably in a home game environment. This show took place beginning of December last year when the quintet played a show at the sold-out LKA Longhorn in Stuttgart. It goes without saying that this gig became a euphoric metal show with fans getting wild and crazy. Playing this concert was more a metal party than just a show – a real anniversary party.
Kissin' Dynamite can draw on a rich amount of songs, being released on five longplayers and spread out over the last decade. The setlist covered all these phases with the unfortunate fact that the focus was on the latest longplayers. Not that these records contain bad songs. "Hashtag Your Life" and "She's a Killer' are well-crafted melodic metal songs that were celebrated by an excited crowd. However, for me the first two longplayers feature the best stuff the band wrote and fortunately at least Priest-inspired metal hymns like "Made in Swabia" made it one the setlist.
All in all we can conclude that "Goodbye Generation – Dynamite Nights" is a good live album (also be released as DVD/BluRay) showcasing a young and hungry band with fans sharing the same passion. It also comes with an excellent sound and the fact that you get 25 songs means quantity and quality - all in one.
"Stuttgart. Es war ein wunderschöner Abend..."
(8/10)
Tracklist:
Intro
Goodbye Generation
Money, Sex & Power
DNA
Highlight Zone
Running Free
Love Me Hate Me
If Clocks Were Running Backwards
She's a Killer
Deadly
She Came She Saw
Somebody to Hate
Operation Supernova
Only the Good Die Young
Out in the Rain
Against the World
Masterpiece
Supersonic Killer
Sex is War
Hashtag Your Life
Steel of Swabia
Ticket to Paradise
Six Feet Under
I Will Be King
Flying Colours
Label: AFM Records
Genre: Heavy Metal
Release Date EU: July 14th, 2017