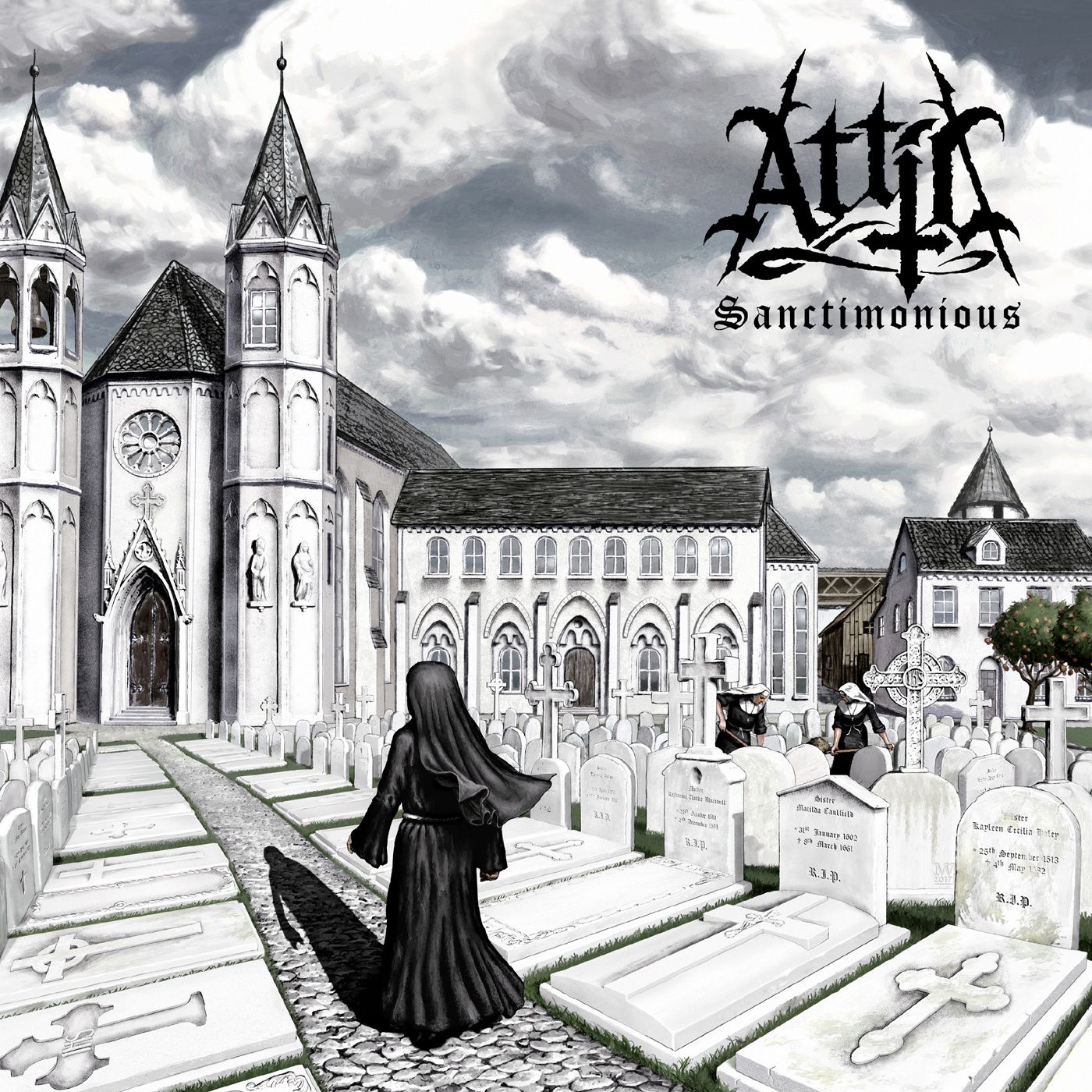 (9/10) It was a while ago when I received an album done by a band I haven't heard of before. The name of this metal gang was Attic, five young guys from North Rhine-Westphalia, Germany whose debut hit the record stores and added quite some excitement to the metal scene. "The Invocation" was the title of this remarkable longplayer that felt like the reincarnation of King Diamond and Merciful Fate. It also was the time when bands like Portrait brought back the falsetto vocals to metal with well-crafted records. But it was this five-piece band from Germany who delivered a terrific debut and listening to it was a mind-blowing experience – if you like falsetto vocals.
Over the last years things became a bit more quiet again when it comes to Attic. 2017 is when the silence gets broken by the anticipated sophomore longplayer entitled "Sanctimonious". Thirteen songs and more than an hour of pure metal is what comes with the new longplayer and it feels as if it would have been yesterday that the debut hit the shelves. The new longplayer opens with "Sanctimonious", an almost seamless continuation of where they ended with "The Invocation".
Attic's main characteristic is the vocals, done by Meister Cagliostro. High pitch screams, normal vocal parts and extreme falsetto moments are in constant interaction, giving each of the songs an extra dimension. It's almost like a play with different characters rather than 'only' singing. Next to the singing it's the twin guitars by Katte and Rob contributing with dynamic riffs and furious leads.
The first part of this 63 minutes long metal mess is the organ intro "Sanctimonious – Iudicium Dei" which is followed by the fast-paced title track. "A Serpent in the Pulpit" comes with melodic leads and a more moderate pace before speed rules with "Penalized". These songs capture everybody's heart in no time.
Right in time an interlude breaks the pattern before "Sinless" takes over in an uncompromising fashion. One of the best songs on the album comes with a German title. "Die Engelmacherin" belongs to the pearls on this disc, combining all trademarks with an excellent songwriting. Via another one minute interlude it's "The Hound of Heaven" that is pure traditional metal. I could continue that way, mentioning all the tracks, but it's far better to listen to these anthems in metal. However, there is one more song I want to stand still for a second since it's slightly different. "Dark Hosanna" is a calmer but still very intensive number. It gains weight along the way but still stays in a slower pace and slowly crawls into your mind. The progressive structure that's embedded adds an extra layer to this tune. "Dark Hosanna" is a real hymn on "Sanctimonious".
"Sanctimonious" is Attic's sophomore album and it's a jaw-dropping good one. 'The King' gets older but fortunately there's the next generation right in the starting blocks, highly motivated and euphoric. Attic inhales traditional metal with each breath they take and they embed the gained energy into each of the songs on "Sanctimonious". This longplayer is in its entirety one big 'wow' effect.
(9/10)
Tracklist:
Sanctimonious – Iudicium Dei
Sanctimonious
The Serpent in the Pulpit
Penalized
Scrupulosity
Sinless
Die Engelmacherin
A Quest for Blood
The Hound of Heaven
On Choir Stalls
Dark Hosanna
Born from Sin
There in no God
Label: Van Records

Genre: Heavy Metal

Release Date EU:  August 18th, 2017