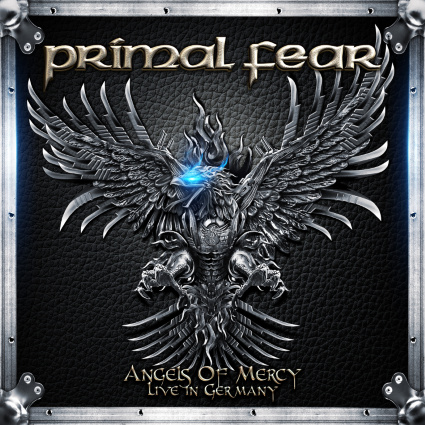 (8/10) German power metal outfit Primal Fear belongs to the Champions League of European metal. It was in the beginning of 12016 when the quintet released their latest strike "Rulebreaker" which was followed by an extensive tour through Europe before embarking to oversea shows in North America, Japan and Australia. One of the shows on this tour was a homegame for Primal Fear, playing a concert in Stuttgart. Primal Fear recorded this show for CD and BluRay/DVD. Base for this review is the audio version. This release is a premier for this German powerhouse since the band never released a live BluRay/DVD earlier in time. Already from this point of view it's a treat for fans who waited for so many years for getting a Primal Fear show right into their living room.
What else to report when it comes to "Angels of Mercy - Live in Germany". The setlist is an excellent choice, including the best Primal Fear's long history in metal with a focus on the new material, captured on an album with a sound that is powerful, authentic and real. Last but not least fans have been loud and enthusiastic as it should be at a homegame.
All in all the metal world can welcome another Primal Fear live album and a DVD as a premier in the band's discography. Good stuff to turn your home into a heavy metal madhouse.
(8/10)
Tracklist:
Countdown to Insanity
Final Embrace
In Metal We Trust
Angel in Black
Rulebreaker
Sign of Fear
Seven Seals
Angels of Mercy
The End is Near
Rollercoaster
The Sky is Burning
Nuclear Fire
When Death Comes Knocking
Metal is Forever
Fighting the Darkness
Label: Frontiers Music
Genre: Heavy Metal
Release Date EU: June 2nd, 2017