On March 10th, Evocation will celebrate their return to Death Metal with their stunning new longplayer "The Shadow Archetype"! The album is a confession to their Swedish Death Metal roots while adding bits and pieces of roaring Thrash Metal to their addictive heavy sound!
Evocation have now released the 2nd single out of their upcoming album. Surf over to the website of Deaf Forever magazine to check out 'The Coroner' at: deaf-forever.de

Comments guitarist Marko Palmen: "'The Coroner' is in my eyes a classic Swedish Death Metal track in the sense that it incorporates a lot of fast 2-beat verses alongside some cool double bass drum parts. What makes this track stand out in comparison with the rest of the album and perhaps also other Death Metal tracks is that it's tuned down to flat-A (flat-B tuning on the rest of the album). The down tuning of the guitars and the BOSS HM-2 pedal buzzsaw tone makes the riffs on 'The Coroner' sound as if they were forged by Lucifer himself in hell… The track also features in my opinion the best guitar solo on the entire album. Simon really managed to capture the tracks feeling with his melancholic guitar solo. This is definitely one of my favourite tracks on 'The Shadow Archetype'!"
Here comes the tracklist:
Into Ruins

Condemned to the Grave

Modus Operandi

Children of Stone

The Coroner

The Shadow Archetype

Blind Obedience

Survival of the Sickest

Sulphur and Blood

I

mperium Fall

Dark Day Sunrise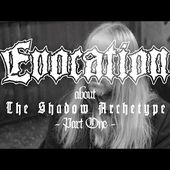 Evocation - About "The Shadow Archetype" - Part I
Buy Here: http://www.metalblade.com/evocation | Subscribe: http://www.youtube.com/subscription_center?add_user=metalbladerecords Evocation guitarist Marko Palmén discusses the making of "The Shadow