"inFinite" is the title of the upcoming Deep Purple album. The successor of "NOW What?!" will hit the shelves on April 7 via earMUSIC.
The first song, "Time for Bedlam", is already unveiled and the same goes for the artwork of the new record. Prior to the album release "Time for Bedlam" will be also published on February 3rd as a limited EP that, in addition, contains unreleased songs and tunes that didn't make it on the longplayer.
Next to all mentioned Deep Purple will be also on tour in 2017 and HERE are the dates.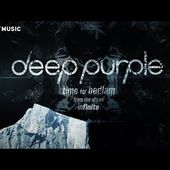 Deep Purple "Time For Bedlam" Official Lyric Video from the new album "inFinite"
Pre-order the new album "inFinite" now on iTunes & download the first song "Time For Bedlam", now! Click here: http://smarturl.it/inFinite2017_iTunes Deep Purple reveal title, release date and first
https://www.youtube.com/watch?v=IfmXD90VWsg&feature=youtu.be