Power metal dinosaurs Armored Saint posted a live video for the song "Aftermath". The song's originally from the "Delirious Nomad" album, the video was filmed live in Aschaffenburg, Germany and it was directed by Oliver Barth.
The song is also part of the upcoming live release "Carpe Noctum" with a release date that is February 24 (digitally on December 16th)
The tracklist looks like this:
1. Win Hands Down (Live)
2. March of the Saint (Live)
3. Stricken by Fate (Live)
4. Last Train Home (Live)
5. Mess (Live)
6. Aftermath (Live)
7. Left Hook from Right Field (Live)
8. Reign of Fire (Live)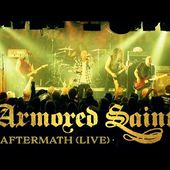 Armored Saint "Aftermath" (OFFICIAL LIVE VIDEO)
Buy Here: http://www.metalblade.com/armoredsaint Armored Saint "Aftermath" live from the album "Carpe Noctum (Live)". Filmed live in Aschaffenburg, Germany. Directed by Oliver Barth. Subscribe: ...