Stockholm-based rock outfit Imperial State Electric has a new longplayer in the record stores. "All Through the Night" is the title of the newest release and ISE main man Nicke Andersson talks about the album, touring plans and his passion for music in general.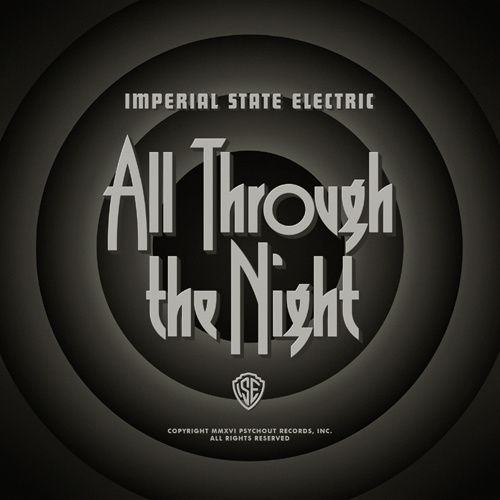 Markus' Heavy Music Blog: ISE is releasing the new album as we speak. I guess it's a pretty exciting moment - or does it become almost a kind of routine?
Nicke Andersson: Yes, it's pretty exciting. Perhaps not as much as your very first album but still exciting.
MHMB: I think that "All Through the Night" became another cool ISE release, even though some songs come with a bit of a new expression. "Break It Down" is one of those, a tune that sounds like a mix of country rock and 70s glam rock. What inspired you guys to do such a number?
Nicke: I can't say I hear any glam stuff in that song, but that's cool. I've been listening to a bit of country over the years now and I think whatever you listen to and enjoy is bound to come out your in songwriting at one point or another. It wasn't like I sat down and told myself to write a country song. It just happened.
MHMB: You share the vocals on "Break It Down" with Linn Segolson, which, I think, works perfectly. How easy or difficult was it for the two of you to do this duet?
Nicke: Thanks! I would say it was fairly easy. Easier for Linn since she's a way better singer than I am. I had already done my part when she came to the studio, so we didn't do it together.
MHMB: ISE is still ISE, but there's also some development in the band's sound. Was this done on purpose or did it just happen during the songwriting process?
Nicke: The only purpose for me is to try to write decent songs. Like I said, everything you listen to will probably seep through somehow. I can't force myself to write in a certain way or style. If I do it will sound forced. I pick up a guitar, start strumming and humming and usually something comes out of it.
MHMB: Can you tell us a bit about the songwriting process? Have you done it differently this time?
Nicke: No, it's pretty much the same way as before. I write songs all the time so when it's time to record an album we decide together which songs to record.
MHMB: The new album will be also released on vinyl. I could imagine that based on the ISE influences from the 70s a vinyl version is important for you since it strengthens the warm sound expression. Is this correct and what do you think about the ongoing vinyl boom?
Nicke: I like the vinyl format, yes. That's what I grew up with and it sounds better when done right. The fact that people buy more records on vinyl now is of course fantastic.
MHMB: The album is titled "All Through the Night". How did you guys come up with such a name? I guess you all love the night.
Nicke: A lot of interesting things take place in the night. More so than during the day. I can't speak for the other guys but yes, I like the night.
MHMB: The release party for the new album was in Berlin? Why was it there and e.g. not in Stockholm?
Nicke: We just wanted to try something different and Berlin has always been good to us and we like the city so when someone had the idea we just said why not. It turned out really good too.
MHMB: Talking about live shows, is there a tour planned already to promote the new album? Can the fans look forward to seeing you guys on stage?
Nicke: We're starting in Scandinavia now and we'll head for the rest of Europe in early 2017.
MHMB: Nicke, you started basically with death metal as part of Entombed and you are, to my knowledge, still part of Death Breath too. The rumours say that you guys are working on a new Death Breath album. Is this true and can you tell the fans already something more about it?
Nicke: We've had the music ready for the new Death Breath for years. We just have to find the time to write lyrics and put down some vocals. The album cover is actually ready to go. I'll say what I say every year - next year. It's gonna kick ass.
MHMB: ISE's classic rock and Swedish death metal are of course two totally different styles. Do you need these different outlets for all your creativity or what's the exciting part of such a wide range of styles?
Nicke: To me good music is good music. I don't care if it's Sacrifice, Sex Pistols or Sam Cooke. I do however believe in keeping some styles and genres separate and that's why I've done a few different things over the years. If I like something I hear I wanna have a go at it too.
MHMB: Nicke, is there something you want to share with the fans?
Nicke: All metal must rock!
MHMB: Thank you very much for spending some time with Markus' Heavy Music Blog and I hope to see you guys on tour very soon.
Nicke: Thank you too!
Thanks to Eron Witzel for support.