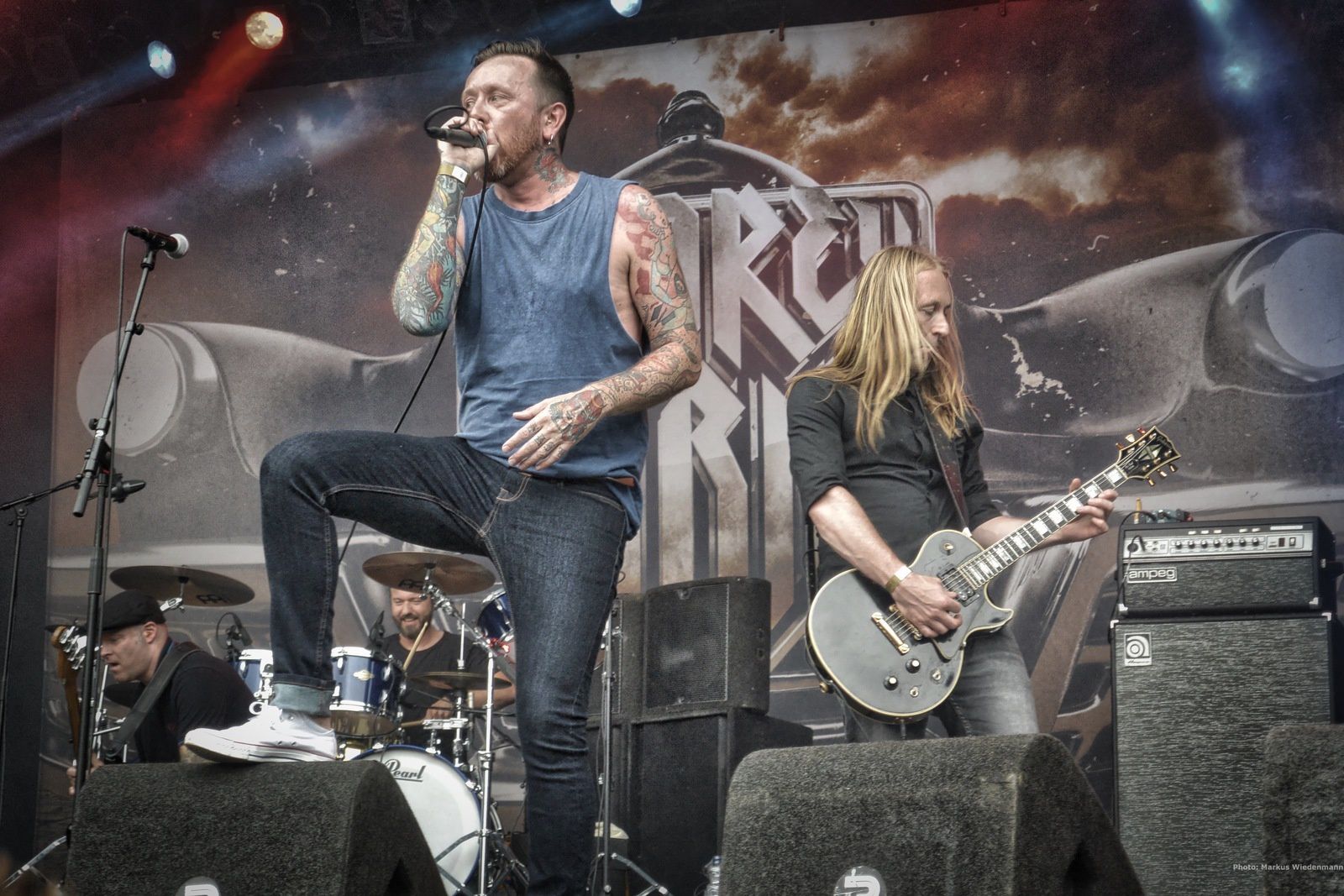 Markus' Heavy Music Blog: We are here at the Dynamo Metal Fest in Eindhoven. When you hear these two words 'Dynamo' and 'Eindhoven', what comes to mind?
Toschie: There is a club here in Eindhoven called Dynamo and we played that club Of course, I have also heard about this festival way back.
Arve: I think it was much bigger in the past?
MHMB: True. It was much bigger and had a revival last year with this new location.
Arve: OK. So we heard about it in the past but today was the first time that we played this festival.
MHMB: Audrey Horne went on stage pretty early today as the second band. How was that?
Toschie: Yeah, it was special, but there were a lot of people that early. When we do bigger festivals, for example in France or Germany, we are sometimes early too and sometimes late on the billing list. Especially for the early shows we are always nervous in the sense of 'will there be anyone out there?'. But it's always really packed, also the early shows. If you would do this in Norway, being the second band on a festival, no one would be there. People often come for the last three to four bands and hang around on the festival camp for the rest of the day. You hear people say "show starts, let's go there".
Arve: I think that this is also one of the good things with a one-day festival. People show up and going for the whole festival. I mean, if you go for 3 or 4 days, people start to get tired and you might want to sleep longer.
MHMB: Today we have nine bands and the festival is, as you said Arve, a one-day event. I have the feeling that those huge festivals have become a kind of general entertainment event while a smaller festival like this one is more focused on the music. How do you see this as a band?
Arve: Let's say, for us it's different. As you said, this one is better for the music, because people are really focussed on the music. I haven't had a walk around here yet, but I guess there is not that much more to do here than listen to the music. And we like this focus on the music, which is definitely a good thing for us. But I also think that if the festival is for more than one day, people also need something else to entertain themselves than only music.
MHMB: The last time I saw Audrey Horne live was in the Baroeg in Rotterdam, which is a rather small venue. How is it to be on such a big stage like the one here at Dynamo?
Arve: I actually love both. On smaller stages you can get far more intimate with the audience and you can connect far better. The bigger stage instead provides more space to move. So, both have good things with it.
Toschie: They are two different things. I personally, I get more of a kick out of club shows. Festival shows are cool in the sense that you have a lot of room and you have the chance to play for a bigger audience, which is always beneficial. The first time we played Helfest made Audrey Horne more popular in France. So many people saw us, most of them for the first time, and we got a huge response from France which gave us the opportunity to play a club show tour in France. So, being on the main stage of a festival is like perfect marketing for a band.
Arve: Another thing is that at smaller venues you are creating the atmosphere and the energy together with the audience, while on bigger stages you more or less have to do it between ourselves. However, both are fun.
MHMB: If I look on the billing of today, you guys stand out a bit. Between all the power metal, death metal,... you guys are into classic rock with Audrey Horne.
Toschie: I love to be the dark horse. I remember when we first started to play metal festivals I felt sort of out of place. I felt almost like I don't belong here. But then, after I while, I noticed that fans are actually listening to us. In between all the brutal metal we serve something 'sexy' with our music and people like it. It's almost like sitting around a table of half empty beer bottles and somebody puts down a bottle of champagne - that's us. An interesting thing that I noticed in Europe in general is that most festivals are themed, like a traditional metal festival, a black metal festival and so on. In Norway things are different. There they take very different music which leads to billings that include Behemoth and R.E.M. playing at the same festival. That's something very normal in Norway. Just before I came here, I was in the more northern parts of Norway to visit family. They had a festival up there where they had bands doing German-like Schlager music following Danko Jones. That is also one of the reasons why people don't go to a show at the festival too early. It is more a happening where you go to have a drink with your buddies and maybe watch a show of a band later.
MHMB: Let's have a bit of a look into the future. You guys will play a few shows in Norway during the summer, but the main question is: when will there be a new Audrey Horne album?
Toschie: Yes, that's right. We will do some festivals in Norway and I think this is pretty much it, what we will do live this year.
Arve: The next Audrey Horne album is actually our biggest focus at the moment. Right now we are writing new songs.
Toschie: So we need some time at the moment. We will be in the rehearsal room and in Arve's studio for the pre-production. Hopefully in January/February 2017 we'll start recording the new album.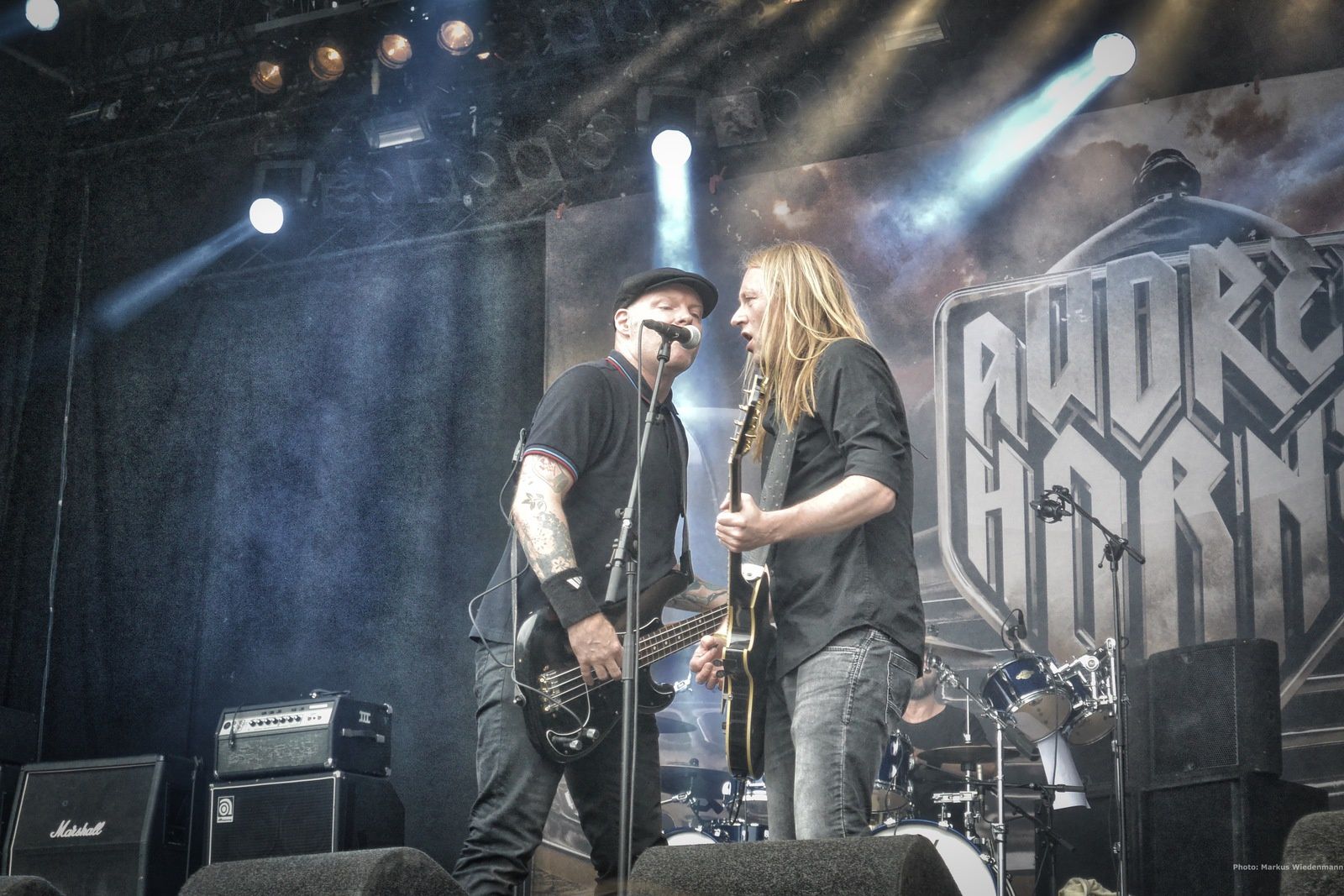 MHMB: Can you tell us already a bit about how the new album will sound?
Arve: To be honest, we don't really know yet. We have been writing for a while and we have a bunch of ideas. Some are more like classic hard rock as on the last two albums while some other stuff is slightly different. We haven't put it together yet and it still can go in all directions.
MHMB: A totally different question. You guys are from Bergen which is probably the most important metal town in Norway. What is the secret of Bergen producing so many good rock and metal bands? It can't only be the rain, or?
Arve: I actually think that it has a lot to do with rain. You can't do many things outdoors due to the weather so you do indoor stuff, like playing music.
Toschie: I also think it has a lot to do with the size of the city. In Oslo you have, for example, the garage rock bands that stick to themselves and you have the black metal bands sticking to themselves and so on. Bergen instead isn't a big city nor is it a small village. So when we go out we hang around with musicians from the jazz scene, from the indie rock scene, from the black metal scene and so on. We have friends in all kind of genres which makes it easy for people to get influenced by each other. Based on that there are a lot of crossover things happening in Bergen, something that makes music far more interesting and innovative.
MHMB: That was all my questions. Thanks guys for spending some time with Markus' Heavy Music Blog.
Arve and Toschie: Thanks for having us.