Holland has quite some metal festivals and also many really good clubs and venues for music, but the unofficial capitol of metal in The Netherlands is and stays Eindhoven. The legendary Dynamo Open Airs are known all over the world and bands like Testament recorded live discs recorded during one of those shows.
The festival had some ups and downs over time. What started in 1986 in a smaller scale on the parking lot of the Dynamo Club became huge. In 1995 it has been more than 100.000 visitors that visited the Dynamo Open Air, a time when the famous Wacken festival was still in the early stages of development. What followed was trouble with locations, finding new ones and organizing the festival at new sites almost every year. In the meantime the official name is Dynamo Metal Fest and it came back to Eindhoven. As last year, when the Ijsbaan hosted the festival for the first time, it was again this great location that has been the scenary for this open air, with a metallic offer that was as diverse as we can expect it from such a one day show. From classic rock (Audrey Horne) to mean death metal a la Obituary, the DMF offered something for every fan's taste.
When I arrived at the location the first act left the stage already, but what I've heard was that Dutch Extremities did a pretty good job as being the first act on stage.
The second slot was reserved for Audrey Horne. These guys had to enter the stage quite early and it was frontman Toschie that welcomed everybody with a nice 'Good Morning'. However, time doesn't matter if the show is good. I can tell you, that Audrey Horne delivered. Norway is hot and this has nothing to do with global warming. Ice Dahl and band mates delivered a show that was outstanding and full of positive energy. In case of not having been awake yet, Audrey Horne definitely rouse you with their music. And that also a big stage can't keep Toschie away from jumping into the audience is also pretty clear from now on. OK, he climbed off the stage, crossed the fence and for all of a sudden performing in the middle of enthusiastic fans. This was an amazing moment and a great start into the day.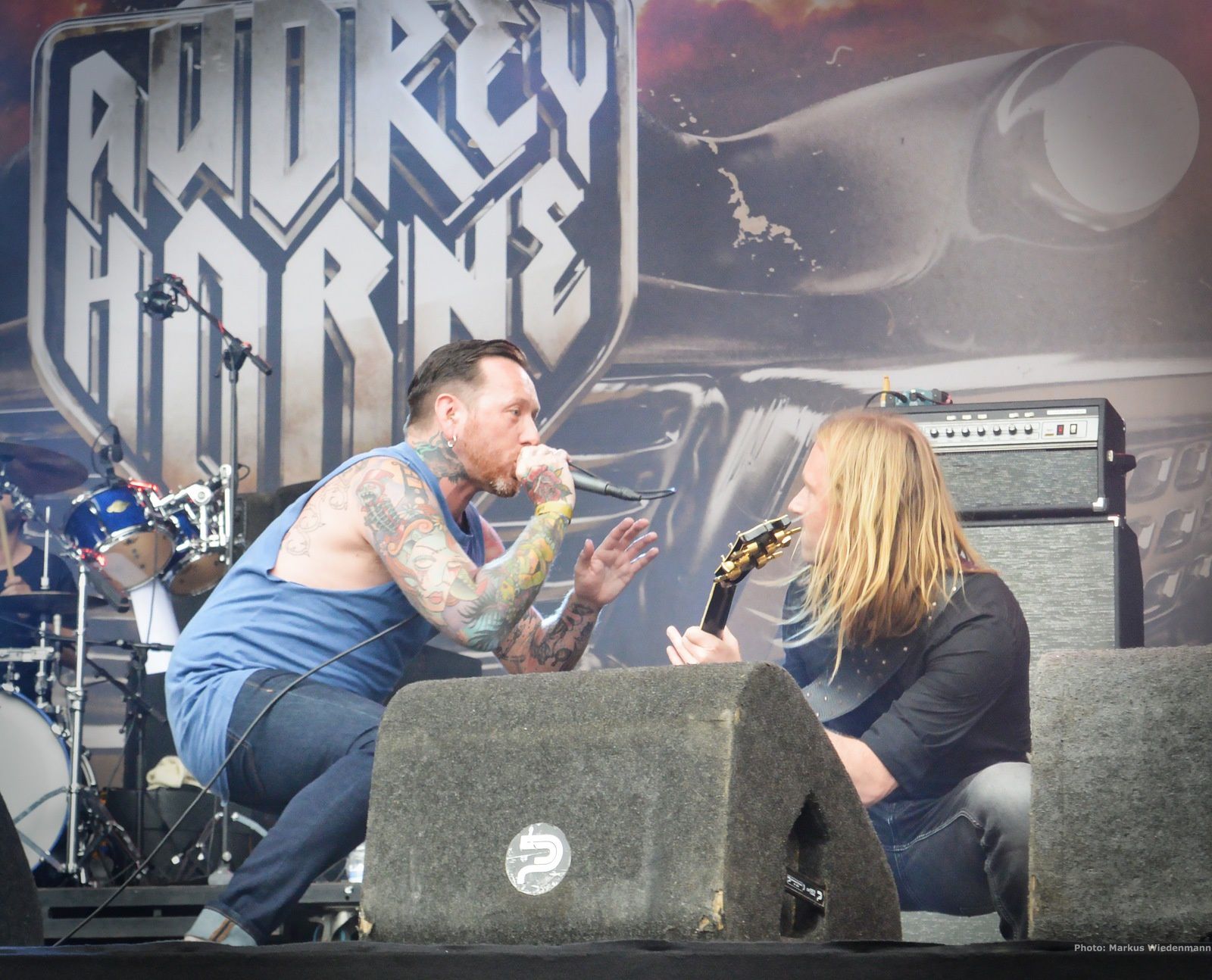 Dutch Textures have been next. It was kind of home game for the guys from Tilburg, which is a few kilometers away from Eindhoven. The sextet delivered a kind of counterpart to Audrey Horne. Their progressive metalcore that switches between shouts and clean vocals earned a lot of positive feedback from the crowd. Texture put the new album "Phenotyp" into focus and prepared the Dynamo Metal Fest crowd for the next highlights.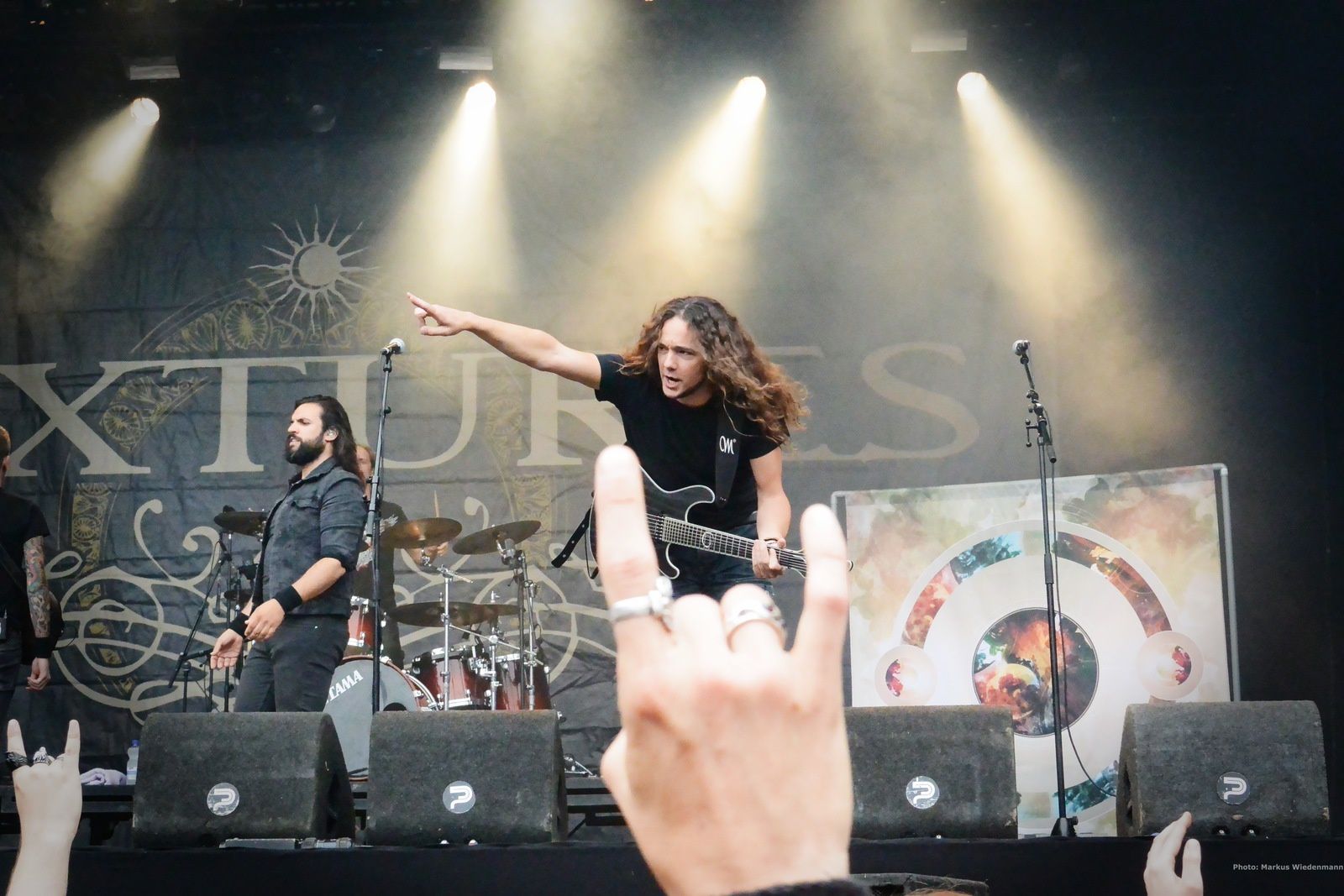 One of those great moments was, when oldschool Florida death metal filled the stadium. Obituary took over the stage and they didn't came to take any prisoners. The Florida-five piece stepped in for Life Of Agony (see earlier posts) and smashed down everything. Their extremely down-tuned guitar sound and their grooving death metal anthems have been one of the highlight today and each note was celebrated by fans. From the opener "Redneck Stomp" to the closer "Slowly we Rot" Obituary delivered a metal feast that put a spell on many fans that day. Even though I like Life Of Agony I wonder if they would have gotten the same overwhelming resonance from the audience. This death metal machine is still on fire.
So, we had classic rock, prog metalcore and death metal so far. How about some power metal? That's what everybody thought. But to the bigger surprise it wasn't Powerwolf celeberating a metal mass. It was actually Sacred Reich who entered the stage and served a thrash menu that was outstanding. I have to admit that it was the first time that I have seen them live. I know, it's a shame since I do have their records, however, Phil Rind and his gang ignited a thrash firework that brought back the good old eighties. Awesome classics with a good sound, that's what festival needs and that is what Sacred Reich brought on stage. "Ignorance", "Surf Nicaragua" and the Sabbath cover of "War Pigs" are true winners that guarantee severe neck problems due to intensive headbanging.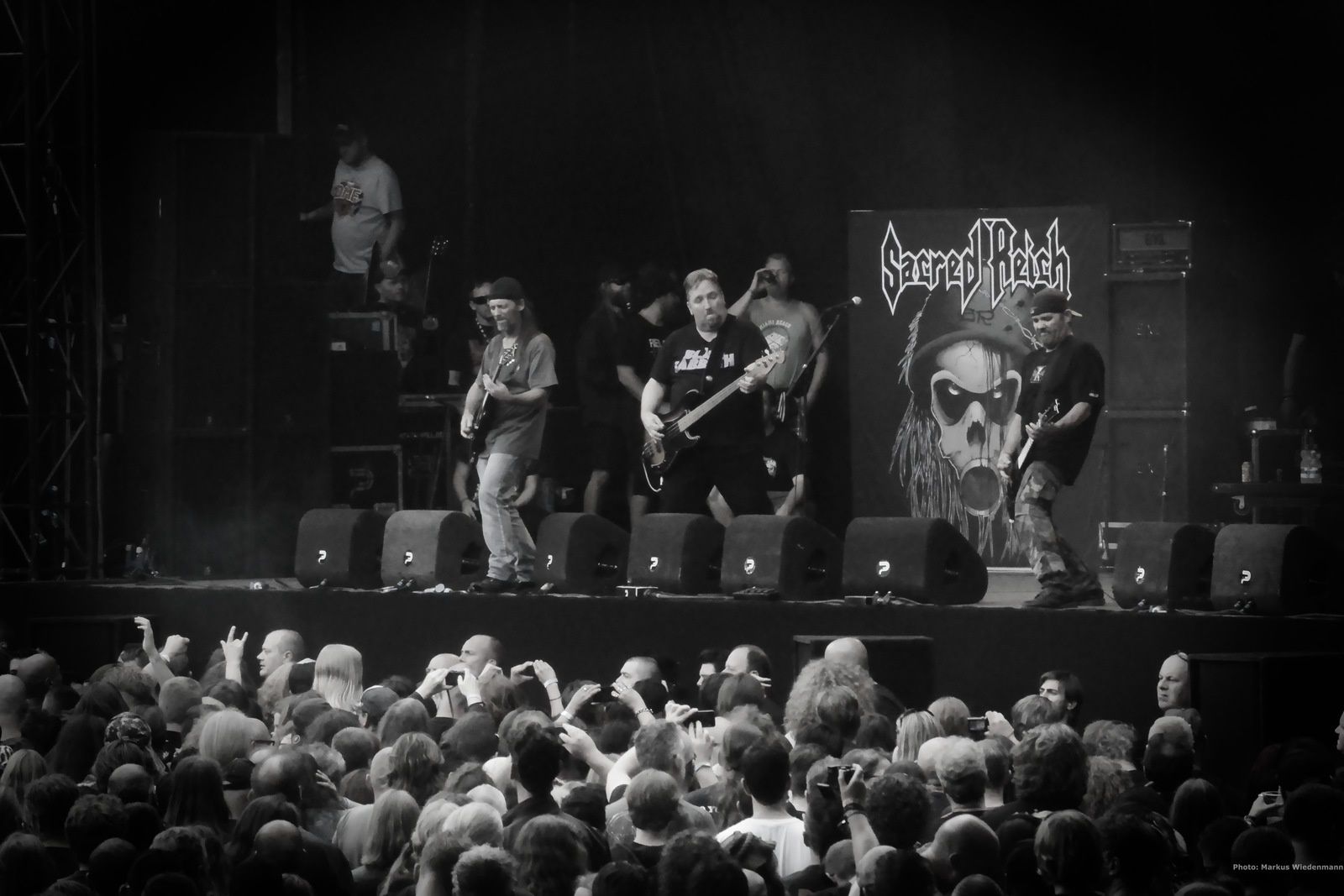 Sunday came closer and now it was the right timing for the metal mass, celebrated by German Powerwolf. Their melodic songs with these sing-a-long parts are just made for bigger crowds. People liked what they got to hear and the six-piece band brought over the fans to their side from the first played note - and that some fans purely came for the 'wolf pack' was pretty obvious, seeing some white and black masked faces in the crowd. Powerwolf's sound has a common denominator that brings everybody into a good party mood. Songs like "Blessed and Possessed" and "Amen & Attack" are made for the stage - the bigger the better. Funny sidenote though, the mass happened during daylight which felt like Dracula seeing sunlight, anyhow even this couldn't stop the great performance of Powerwolf that belonged to the winners of this day.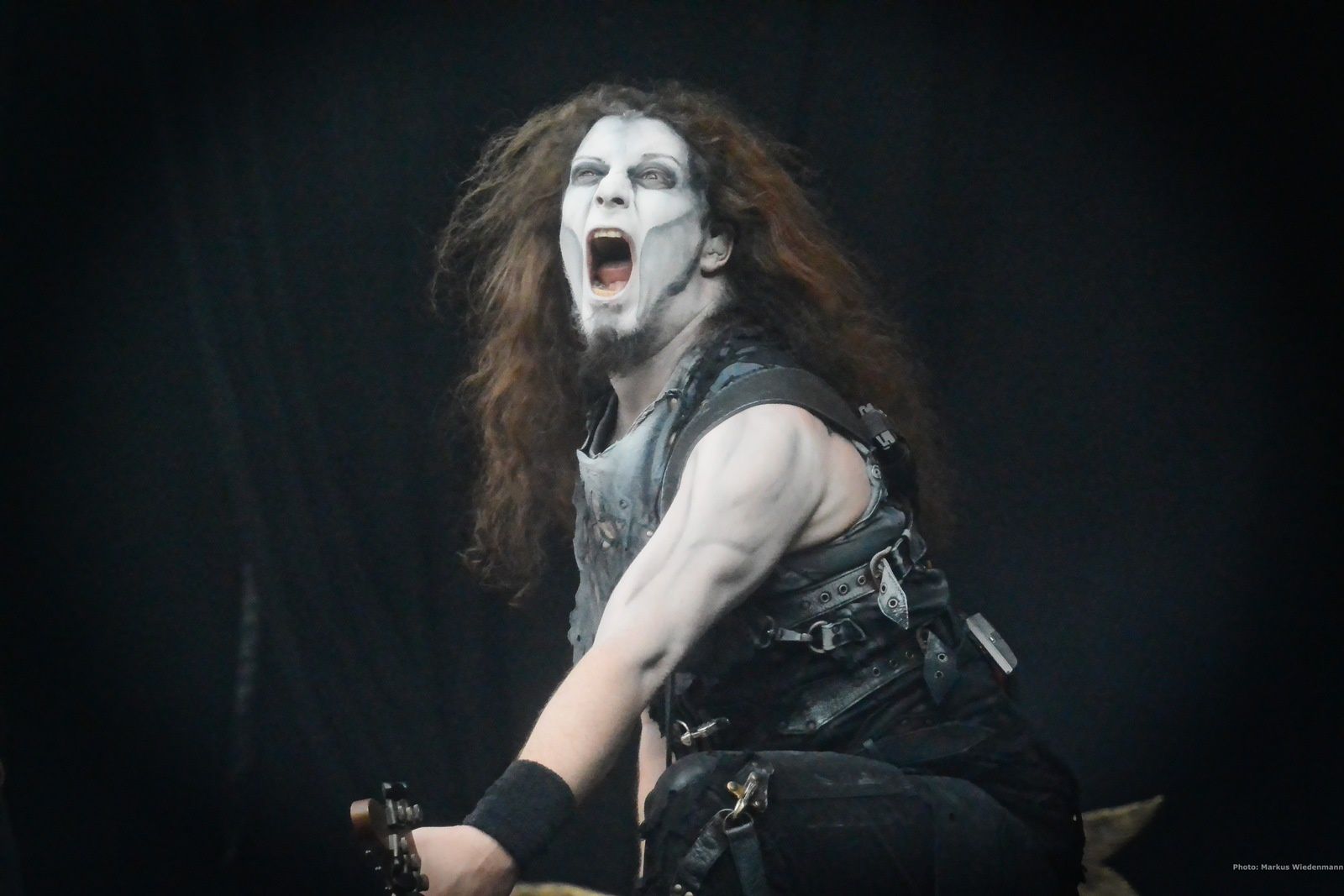 OK, the metal mass was read but what would a mass be without Metal Church. Kurdt Vanderhoof and gang have been next on the billing and Metal Church was one of the bands I was most curious about. Regained strength, an excellent new album called "XI" and a singer being back in the band, that belongs to one of the best metal sirens in the world. The announcement of Mike Howe returning to Metal Church was the moment when the metal world went crazy. The frontman that had three great albums with the band focussed on his private life for many years, being totally out of music business. This was a loss for many years, but now he's back. Metal Church returned to Eindhoven to celebrate a 60 minutes metal feast and they for sure belonged to the to 3 three bands that day. Focussing on the three albums of the 'Howe era' as well as on stuff from the new record made each metalhead to a happy person. "Badlands" and "Fake Healer", man, these songs are classics, enriched by some highlights from the first two Metal Church longplayers. "Beyond the Black" was loudly sung by half of the crowd, a moment that was a real musical blast. Metal Church are back and they came to stay. The reunion with Howe gave each band member an extra push, energy that you can hear on the latest longplayer and feel during live shows. Horns up.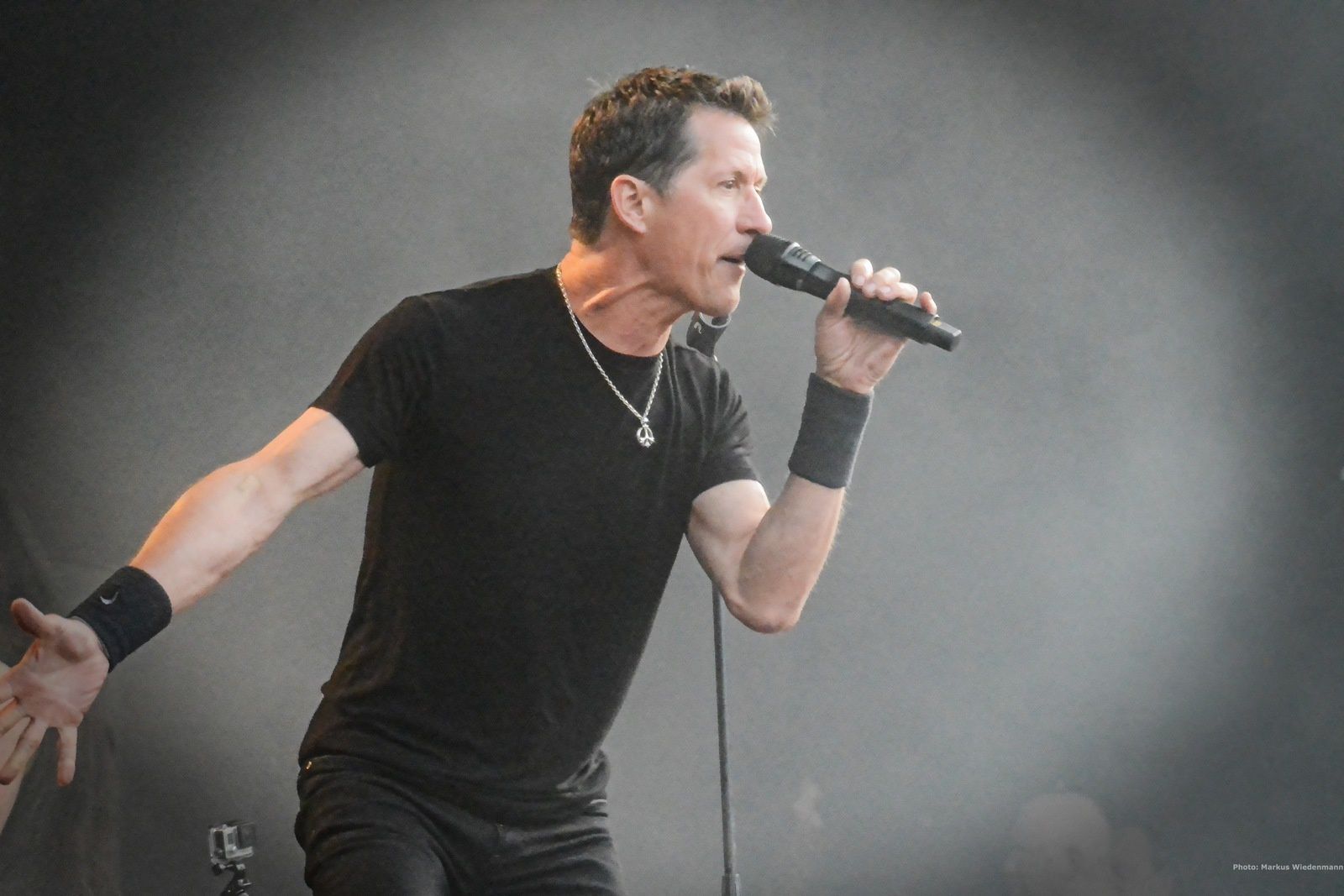 Sometimes heaven and hell are just 30 minutes away. After having had the mass and the church we are moving further towards the South of heaven. Swedish death metal was something we haven't had today and we got it now. Cult growlers At The Gates had the second last slot before Anthrax was supposed to round of this fantastic metal day. So far there have just good shows, something that continued with the Swedish five-piece from Gothenburg. At The Gates enflamed a 60 minutes inferno that squeezed out some more energy of the fans. Circle pits started, Tompa was growling himself hthrought the entire set, running from left to right, from front to back. No doubt, these guys know how it works. Smashers such as "Nausea" plus songs from the letest album "At War With Reality" have been hammered into the crowd and they got many horns and banging heads back. I was impressed by the intesity of their show. Having a couple of good releases is one thing, bringing it with such an immense power on stage is another ballgame. Homerun for At The Gates.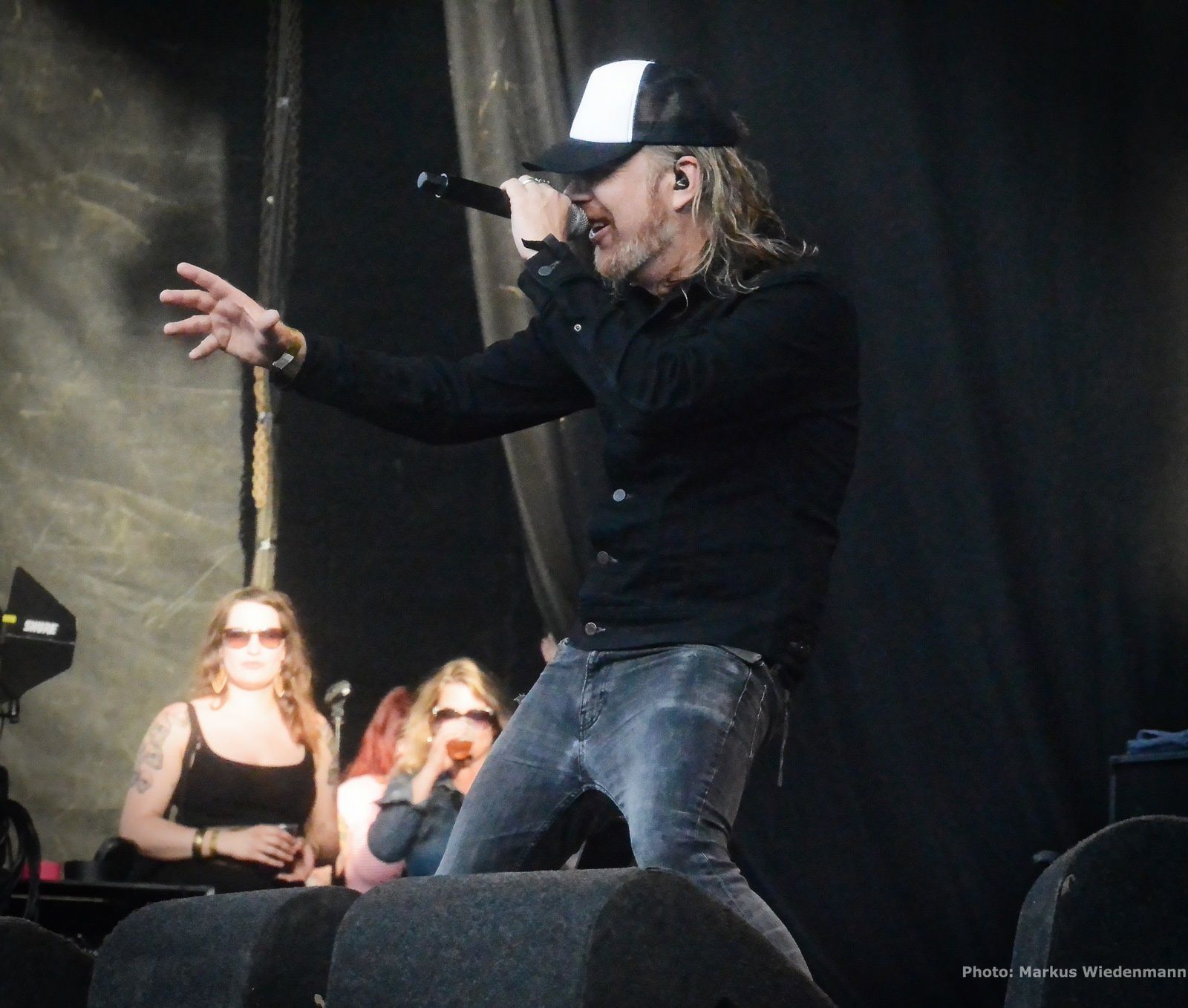 Talking about baseball, the Yankees don't have their best season this years, but for another New York based bunch of guys it's the next Indian summer. Anthrax got the role as being the headiner for this years Dynamo Metal Fest. They hit a few more homeruns that night and brought it home. Having had a playing time of 75 minutes and excellent new songs plus the old smashers meant, that nothing could go wrong. Eindhoven was covered in dusk when the NY-quintet entered the stage, something that gave Anthrax the benefit of having a full lightshow turned on. Scott Ian and band mates start with a new song. "You Gotta Believe" marked the beginning of an energetic headliner show that pulled out the last energy of the crowd. Anthrax was in a great mood and shape. It felt like the guys being totally re-vitalized. They powered through the entire set and as we know from Scott and the guys, standing still is not what they want and is not what you get. The stage couldn't be wide enough, the guys have been everywhere, constantly on motion and headbanging as crazy. It's amazing, but not a surprise, that these guys could keep on going for the last three decades. Especially when they played the old stuff like "Indians" and "Caught in a Mosh" it felt like time stood still while "Madhouse" turned Eindhoven into suchlike. It was great to see Anthrax being back at the Dynamo after 23 years (note: it was in 1993 when the played the Dynamo in Eindhoven the last time) and they have been more than a worthy headliner of metallic day out in Eindhoven.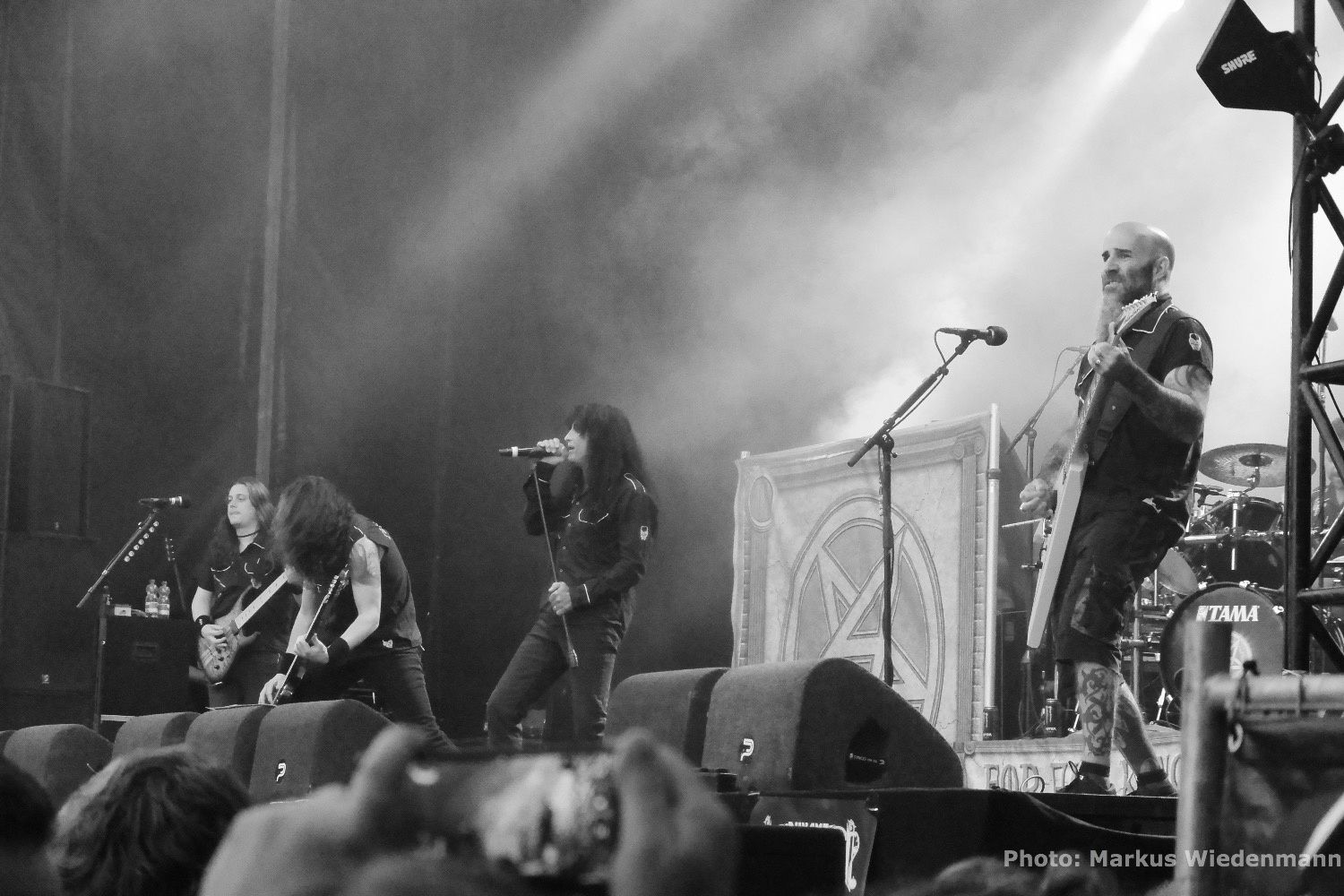 I liked this years Dynamo Metal Fest since it focussed on music. It's nine bands compared to 100+ bands on other huge open airs, each of the nine groups was great, the mix of genres was well chosen, the billing felt hand-picked and last but not least the weather God had mercy with the Dynamo team too. 24 degrees and overcast, no sun, no rain - what else could you ask for. I'm already looking forward to next year's fest when Testament returns to Eindhoven, 30 years after having played the festival for the first time, captured on the "Live at Eindhoven" EP. Horns up, good night and till 2017.
Date: June 16, 2016
Location: Ijssportcentrum, Eindhoven, The Netherlands