The Guardian published a post that talks about Metallica, releasing a live album recorded in the Bataclan club. The show has been part of a promotion activity for the band's "St. Anger" album. All proceeds will go to the victims of the November 13th attacks.
April 16th is mentioned as mentioned as being the release day and the album will feature nine songs.
The name of the record will be "Liberte, Egalite, Fraternite, Metallica! - Live at Le Bataclan". See more details below.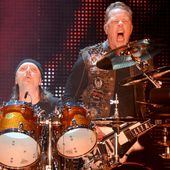 Metallica to release Bataclan album for Paris attack victims' charity
Heavy metal group Metallica have announced a live album recorded at the Bataclan in Paris, with proceeds going to victims of the 13 November 2015 attacks at the club. Related: Eagles of Death Metal
http://www.theguardian.com/music/2016/feb/25/metallica-to-release-bataclan-album-for-paris-attack-victims-charity