"Tears I Will Be" is the first track that Lords Of Black reveals. The band is the brainschild of singer Ronnie Romero, sixstringer Tony Hernando and drummer Andy C.
The album will be released via Frontiers Music later this year.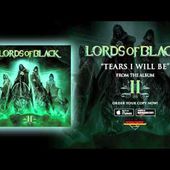 Lords Of Black "Tears I Will Be"
Order the new album "II" NOW: Amazon: http://radi.al/LordsofBlackAmazon / iTunes: http://radi.al/LordsofBlackiTunes Subscribe - http://www.youtube.com/subscription_c... Frontiers Facebook - ...
https://www.youtube.com/watch?v=avB8Hpmcqdw&feature=youtu.be