Something new from New York-based prog metal specialists of Dream Theater. The band revealed a new song, taken from the upcoming "The Astonishing" release. The track is called "Moment of Betrayal" which is a six minutes long prog highlight.
"The Astonishing" will be released in Europe on January 29th and comes via Raodrunner Records. Stay tuned. The review will be online soon.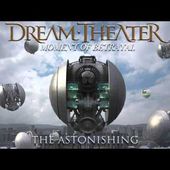 Dream Theater - Moment Of Betrayal (Audio)
Dream Theater's audio for 'Moment Of Betrayal' from their upcoming album The Astonishing. Coming out January 29th on Roadrunner Records Pre-order THE ASTONISHING at: iTunes: ...