Swabian metal command Brainstorm released their newest album "Scary Creatures" a few days ago. This well-crafted metal release got some support by an official release show the band performed in Giengen, Germany. A few kilometers away from their hometown the gig was more than just a release show. It was the first headliner show of Brainstorm since many many years attracting many fans and friends of the band.
Markus Heavy Music Blog had the chance to talk to guitarist and founding member Torsten Ihlenfeld about "Scary Creatures", the release show and the upcoming tour with Primal Fear.
Markus Heavy Music Blog: Hi Torsten, good to see you. How are you doing, a few hours before the Brainstorm CD release show will start?
Torsten Ihlenfeld: I'm good, thanks. It feels great to go on stage and present the new material.
MHMB: "Scary Creatures" is the name of the new album. Where does it come from and what does it mean?
Torsten: The name is based on what keeps us busy right now. There are lots of things going on at the moment on this planet. We monitored the current global situation, but also considered things from history, to illustrate how bad some leaders in politics and religion have been and still are. This is the idea behind 'scary creatures'.
MHMB: So you could say that the album refers to 'scary creatures' in reality. It's more than just made up creepy stories.
Torsten: Yes, you could say so. Next to the global issues there are also the personal 'little monsters' in each of us which we embedded in the lyrics as well.
MHMB: Is there a connection between the different songs? Is it a kind of concept or are the 'scary creatures' more an overall theme?
Torsten: No, "Scary Creatures" isn't a concept album. The songs reflect different stories which have been written by Andy (B. Franck). But the earlier described background is the glue that keeps the songs together.
MHMB: For "Firesoul" you needed almost 3 years and you did "Scary Creatures" in only half of the time. What have you guys done differently in order to be faster this time?
Torsten: We immediately started to work on it (Torsten laughs). But seriously, we worked on "Firesoul" for around 2,5 years. Compared to working on "Firesoul" we had this time the chance to start working on new songs directly after we came back from touring. We tried to transfer the enthusiasm from touring into writing new songs. We wanted to include this energy into the new tunes and I think we succeeded very well. So the songwriting process itself wasn't that much shorter.
MHMB: If we talk about "Firesoul" and "Scary Creatures", where do you guys see the differences between the two?
Torsten: Actually I don't think that there is that much of a difference between the two records, even though some people might want to see those. For us, "Scary Creatures" is a logical successor of "Firesoul". We weren't aiming for doing things much different. Brainstorm is a band that never looks too much left or right. We do things in a way that we as a band are happy with the result. You know, during the songwriting and recording you can't ask anybody anyhow when it comes to the new material and when the album is released, people can share if they like it or not. But at that moment in time it's too late for changes anyhow. That's why we need to be satisfied with what we are doing and that's where our focus is.
MHMB: When I have heard "Scary Creatures" the first time I thought it's a bit more bombastic and a bit harder than "Firesoul".
Torsten: Yes and no. In general the album isn't really much harder but in a way it's more focussed. If you take for example the title track and also "We are…" then you find a few more additional bombastic elements in those tunes.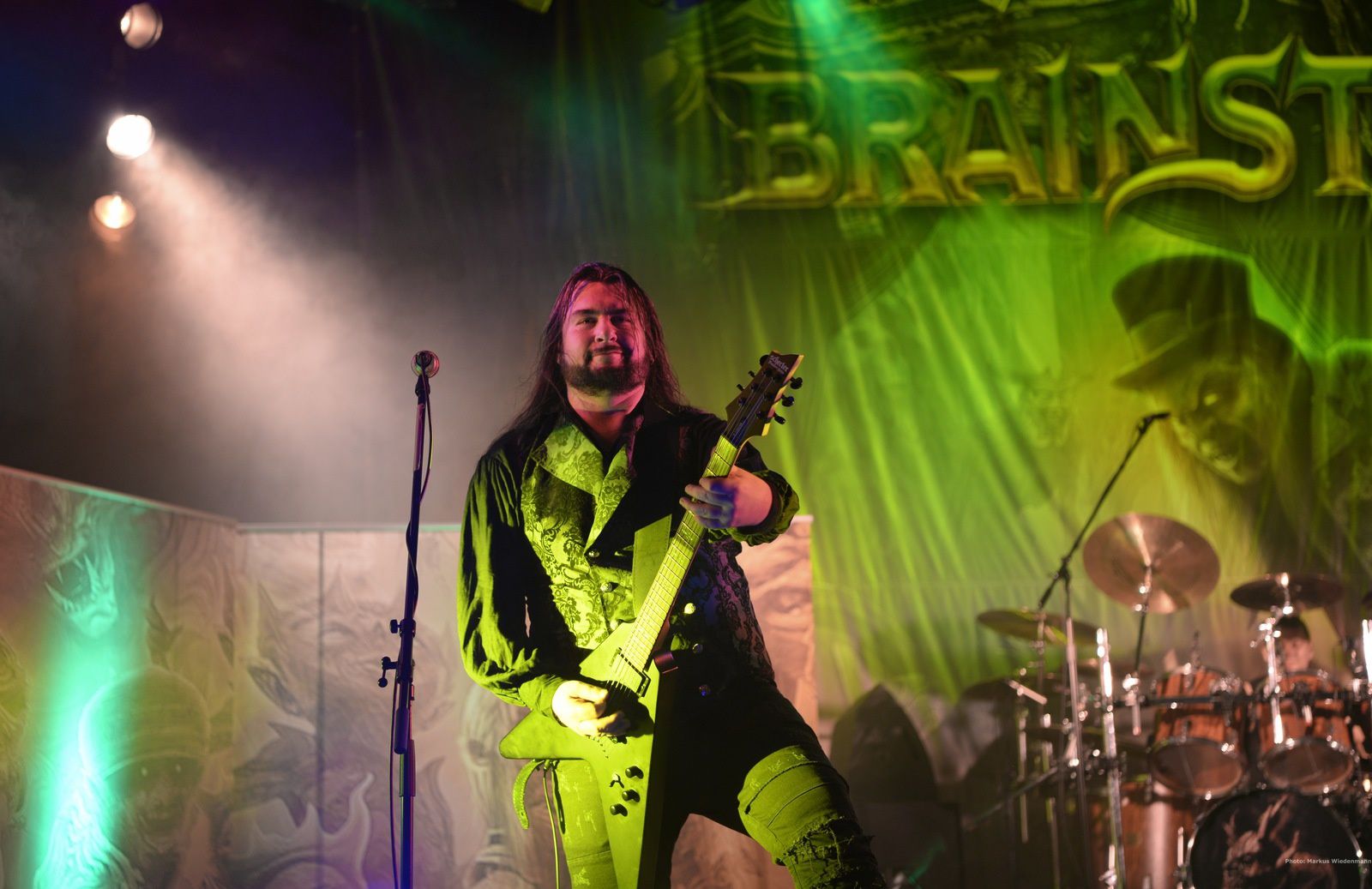 MHMB: "We are…" includes a kids choir which is something new for Brainstorm. Do you want to share with us who those kids are?
Torsten: Of course. It's our own kids that are singing on "We are…". It took some time for them to get used to the studio and they also have been really nervous. But in the end I must say that we had a lot of fun all together … and they are super proud of having been part of the album.
MHMB: The first video was made for "The World to See". What was the idea behind choosing this track for a video?
Torsten: We agreed very rapidly that this song will be the opener of "Scary Creatures" and we wanted to shoot a video for this track. For us, the opener of an album is a kind of statement for the rest of the record and I that's why we have chosen "The World to See" as being the first video.
MHMB: You decided to go big with this video. You captured the theatre feeling of the album cover and I guess you guys spend also some time for masques and make-up.
Torsten: Indeed. It took really long when it comes to mask and make-up. The moment we received the storybook I thought that this doesn't work. But things worked out. We have been 15 people and we had only one day for recording the video. The main reason for such a short timeframe is the fact that we recorded in the only, at least in parts original, erotic theatre in Europe. We found the location by searching the web, looking for a theatre that at least partly reflects the album cover. We found this theatre in Gotha and thought, that this will be the place. So we gave it a try and contacted the people there. Actually, we haven't thought that the guys will allow a metal band to do a video shooting at this place. But we got a 'go' and they have been really nice people. In the morning they explained everything to us in a great way, from the original stage flooring to the oldschool stage setting with ropes and strings. In order to not damage the old original flooring we even had to put tennis balls on the camera tripod and so on. But again, all the effort was worth it and the result look very cool.
MHMB: "Scary Creatures" will also be released in golden vinyl. Are you guys personally into vinyl too?
Torsten: Vinyl becomes more and more a kind of standard which I really like. I even have a record player in my office and it's just a total different ballgame if you have an album cover of a vinyl.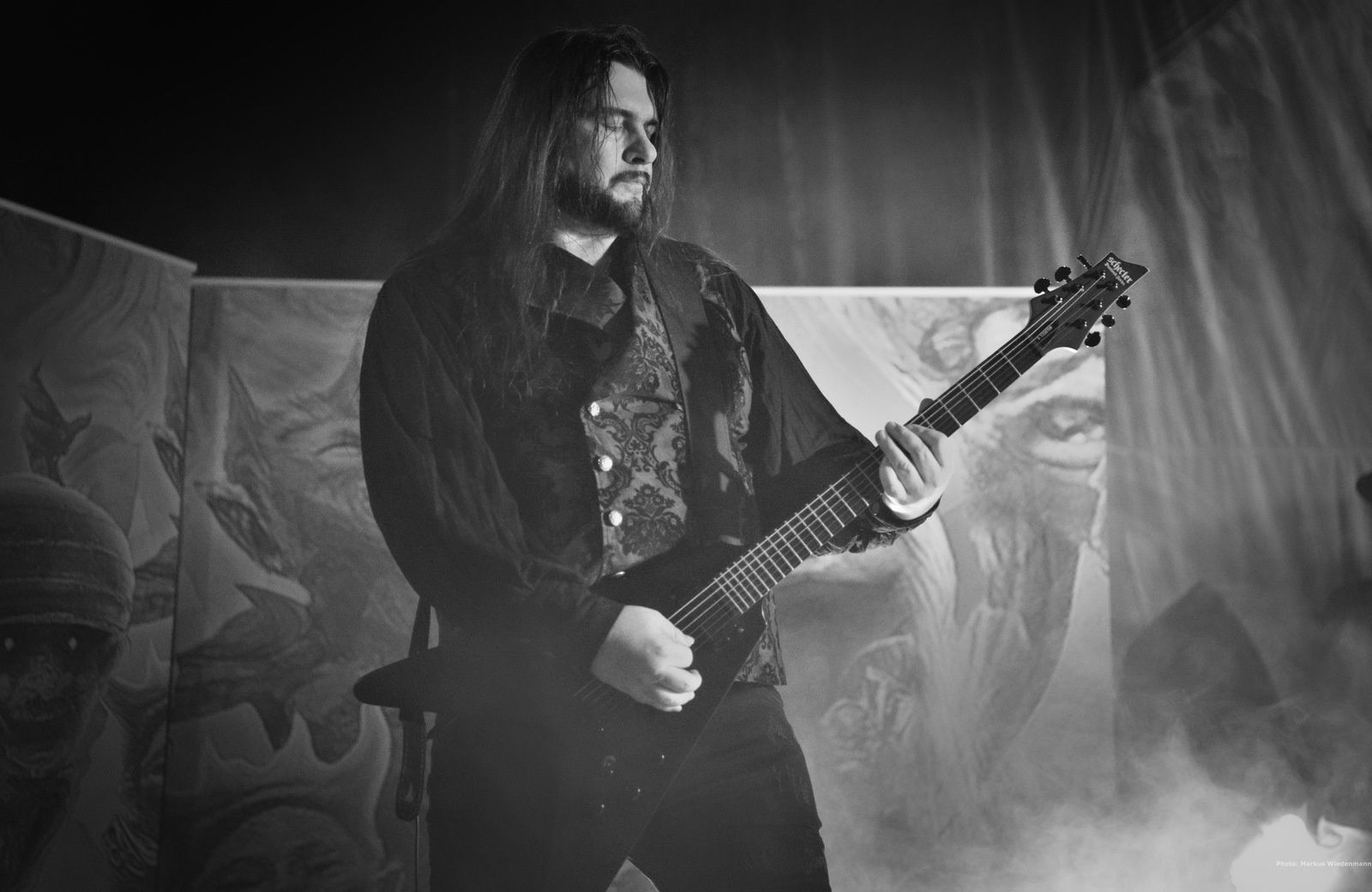 MHMB: This time the release show takes place in Giengen, while the last time, Brainstorm played four release shows all over Germany. Why this time only one concert?
Torsten: The main reason for having had four shows the last time was, because there was quite some time between the album release and the official tour. This is different with "Scary Creatures". The release date is mid January and the tour starts in February which is a perfect flow. That's also one of the reasons why we are in Giengen. A nice side effect is that tonight we will perform the first headliner show in the Heidenheim area since 1989. So good to be back.
MHMB: Will you perform the entire "Scary Creatures" album?
Torsten: No, we have decided to go for four song. It worked with the "Firesoul" album to play the record from beginning to end and we took the effort to do something different at that time, but normally you can't rehearse all the songs for such a show. This time it's a mix of the new stuff and some old Brainstorm classics. I think, all in all, we'll play around 100 minutes of pure Brainstorm tonight.
MHMB: You mentioned the tour already, again with Primal Fear. Seems you guys are pretty good buddies.
Torsten: Yes, we know each other very well. It's the third time after 2009 and 2012 that we will be on tour together. We are co-headliner in this tour and we will have roundabout 60 minutes for our set, sharing the same backline and the same stage setup. That's one of the benefits if you know each other. You know what you can expect, and you know with whom you share the nightliner.
MHMB: Will there be also special release show merchandise this time? Last time there was a special package, just for those four shows.
Torsten: No, this time we will not have such a special package. This is mainly due to the fact that fans abroad, who can't join a release show, don't have a fair chance to get such a package. This time we have a special logo shirt which we sell today and during the tour - as long as there is stock available. What stayed though is the way of a sustainable production of the shirts because this is something important to us.
MHMB: Torsten, thanks spending some time with MHMB and I wish all of us a great show tonight.
Torsten: Thanks for having me.