North Carolina death thrashers Suppresive Fire will rlease their debut called "Bedlam" on January 14th, 2016. Interesting stuff for fans of Kreator, Exodus and Sodom.
Tracklist:
1. Ceasefire
2. The Hellwraith
3. Coup d'état
4. They Flesh Consumed
5. Bayonet Penetration
6. Nazi Face Melter
7. Pyrophoric Blood
8. Ironsights
9. Crucify the Kings
10. Holy Masochism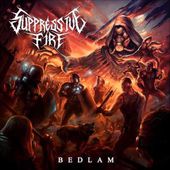 Suppressive Fire - "The Hellwraith"
New single from SUPPRESSIVE FIRE's upcoming album 'Bedlam' (January 14, 2016) https://suppressivefire.bandcamp.com/ www.facebook.com/suppressivefire North Carolina Death Thrashers SUPPRESSIVE FIRE ...