Something new from FDA Rekotz. The label, that is known for excellent death metal releases and when you read the band's name, Demon Incarnate, you expect another one coming up soon.
But this time it's not about deep growls. Demon Incarnate stands for doom based classic rock that has a lot in common with bands like Black Sabbath, Lucifer and Blues Pills.
Even though it feels like another band in this genre the song is worth to listen to.
Here is the tracklist:
01 - Grinder
02 - Bird Of Prey
03 - Embers Glow
04 - Demonized
05 - The Prophecy
06 - Lifeless Eyes
07 - Black Horizon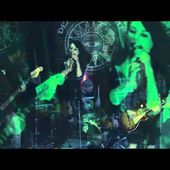 DEMON INCARNATE - Demonized (OFFICIAL VIDEO)
FDA REKOTZ is proud to present the debut of DEMON INCARNATE, dark and atmospheric Hard Rock with a big Metal flavor. The self-titled debut album combines classic Rock, Doom and Blues elegantly into
https://www.youtube.com/watch?v=LIjpIJFSREI&feature=youtu.be