German prog metal band Vanden Plas will soon release part 2 of the 'Netherworld' saga. "Chronicles of the Immortals" Netherworlds II" will be published on November 6 and another song of the upcoming album is already revealed on YouTube. "Godmaker's Temptation" is the name of the track that is another great composition. Check it out.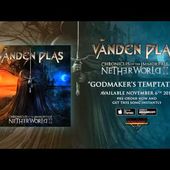 Vanden Plas - Godmaker's Temptation (Official Audio)
Taken from the album "Chronicles Of The Immortals: Netherworld II". Get your copy from: Amazon (CD & MP3): http://radi.al/VandenPlasAmazon iTunes: http://radi.al/VandenPlasiTunes Frontiers - ...
https://www.youtube.com/watch?v=gKPeel6mURI&feature=youtu.be