Hamburg's death metal institution Endseeker signed with FDA Rekotz and here comes the new video for a song called "Attention war". The song is taken from the upcoming disc "Corrosion revelation". Released date will be in November 2015.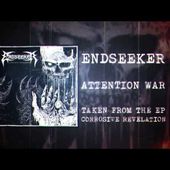 ENDSEEKER - Attention War (OFFICIAL VIDEO)
FDA Rekotz is proud to announce the signing of Hamburg's classic Death Metal act ENDSEEKER. Their first recorded livesign from the crypt named "Corrosive Revelation" will be released November 13t...