After 18 years Faith No More will release their new album called "Sol Invictus" on May 15. Already now the record is available as stream on npr.org or via the bands Facebook side link. Check it out and share your thoughts...
One Week. Until then you can stream "Sol ...
One Week. Until then you can stream "Sol Invictus" on some of our favorite websites around the world by clicking here! http://smarturl.it/SolInvictusPreview?IQid=facebook
https://www.facebook.com/faithnomore/photos/a.479883298414.268692.16942753414/10153286795443415/?type=1&theater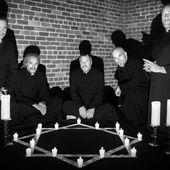 First Listen: Faith No More, 'Sol Invictus'
From a music fan's point of view, was there any real need for Faith No More to get back together after nearly 20 years away? The band's cast of eclectic rock 'n' roll innovators had a good run ...
http://www.npr.org/2015/05/10/404672919/first-listen-faith-no-more-sol-invictus