Status Quo will release a new CD/DVD/Blu-Ray in April. It is called "Aquostic! Live at the Roundhouse" and was taped in ... the Roundhouse in London. The recording was a joined effort of the BBC and earMUSIC and the release will contain 25 songs. The title already says that it was an acoustic set they iconic band played, supported by additional strings and background singers. Here is already a first teaser and the tracklist.
Tracklist:
1. And It's Better Now
2. Break The Rules
3. Again And Again
4.Paper Plane
5. Mystery Song
6. Little Lady
7. Rock 'n' Roll
8. Caroline
9. What You're Proposing
10. Softer Ride
11. Down Down
12. Pictures Of Matchstick Men
13. Down The Dustpipe
14. All The Reasons
15. Reasons For Living
16. Rollin' Home
17. Don't Drive My Car
18. Claudie
19. Rain
20. Marguerita Time
21. Na Na Na
22. Whatever You Want
23. Rockin' All Over The World / Encore /
24. Rock 'til You Drop
25. Burning Bridges (On And Off And On Again)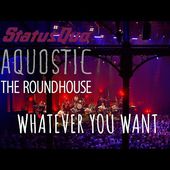 Status Quo 'WHATEVER YOU WANT' from "Aquostic! Live At The Roundhouse" OUT APRIL 10th
'Aquostic! Live At The Roundhouse' out 10th April, 2015! Preorder you copy now: CD: http://smarturl.it/SQ_Roundhouse_CD LP: http://smarturl.it/SQ_Roundhouse_...
Source: YouTube