Right in time for the tour start Moonspell posted a new video. "Extinct" is the name of the song that is the title track from the newest longplayer of the band from Southern Europe. Cool song.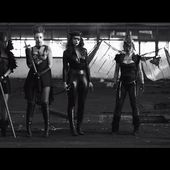 MOONSPELL - Extinct (Official Video) | Napalm Records
Order "Extinct" now: http://shop.napalmrecords.com US customers: http://www.napalmrecordsamerica.com/store/moonspell Digital: http://smarturl.it/ExtinctDL EMP: http://emp.me/x9G Release Dates: ...
Source: YouTube