Singer Scott Weiland, known from Velvet Revolver and Stone Temple Pilots, has a new album coming up soon. "Blaster" will be the name of the disc and the first song is posted as a video. Here comes the link: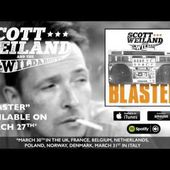 Scott Weiland And The Wildabouts 'White Lightning/Circles' - BLASTER OUT MARCH 27th
Order the album now: CD: smarturl.it/ScottWeiland_CD iTunes: smarturl.it/ScottWeiland_iTunes Scott Weiland, "one of rock's most dynamic front men" (Spin Mag), and his band the Wildabouts, will ...
Source: YouTube