It was quite a while very silent around Scanner. A couple of weeks ago the German power metal band released their new album and in the meantime they have also their newest video clip up and running. It's made for the title track "The judgement" and here it is: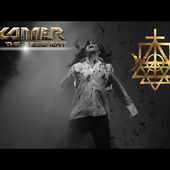 SCANNER "The Judgement" (OFFICIAL MUSIC VIDEO)
SCANNER "The Judgement" video to the "THE JUDGEMENT" taken from the New SCANNER album "The Judgement" MASSACRE RECORDS OUT NOW - release date January, 23rd, 2015 Physical * Amazon (CD) " ...
Source: YouTube