Brazilian metal band Angra released their newest album "Secret garden" in January this year. The record is the first one since four years and belongs to the best ones the band released so far. Markus' Heavy Music Blog wanted to get more insights about the current release and what happened in the last four years. Enjoy reading...
Markus' Heavy Music Blog: It was four years ago when Angra released their last studio album. What happened in the meantime?
Rafael Bittencourt: We had a line up change. Edu Falaschi our lead singer left the band. We had to reorganize everything inside the band so we could come back to business. By the time Edu left the band, we did not have any manager or a record company here in Brazil. So it was hard for us to work as a band without having a structure. We had to think of how to restructure Angra; who should be the new singer, try out a few concerts with Fabio and so on. We experimented with other ideas and other possibilities and it took us a while to end up in this line up.
MHMB: You have with "Secret garden" a new album in the pipeline. How would you describe the new long player?
Rafael: It is a long player that we are very proud of. I think we could experiment with new stuff but also show a lot of our roots which are speed metal or melodic metal with some Brazilian stuff and classic stuff. I think it shows very well where we came from and what we like to present for the future too.
MHMB: How would you describe the main differences between the new album and "Aqua" from 2010?
Rafael: The original concept when we started to do those albums is basically the same. We like to combine the things that we have been doing throughout the years with new experiments that we want to bring in individually. Like, if I had one idea that came out of Latin percussion or if Kiko brings an African rhythm or whatever experimentation, we try to frame it into speed metal somehow. But the thing is, now we felt way more confident by the time we were writing "Secret Garden". We felt more experienced, more peaceful because we had less problems to solve inside the band. In the meantime we have a manager, so we were supported by the record company. We have been worked with Fabio on a tour throughout the world and people have been very positive on his performance. Our fans have been very excited of the idea to have him in the band. So there was a very positive atmosphere that we did not have so much during the making of "Aqua".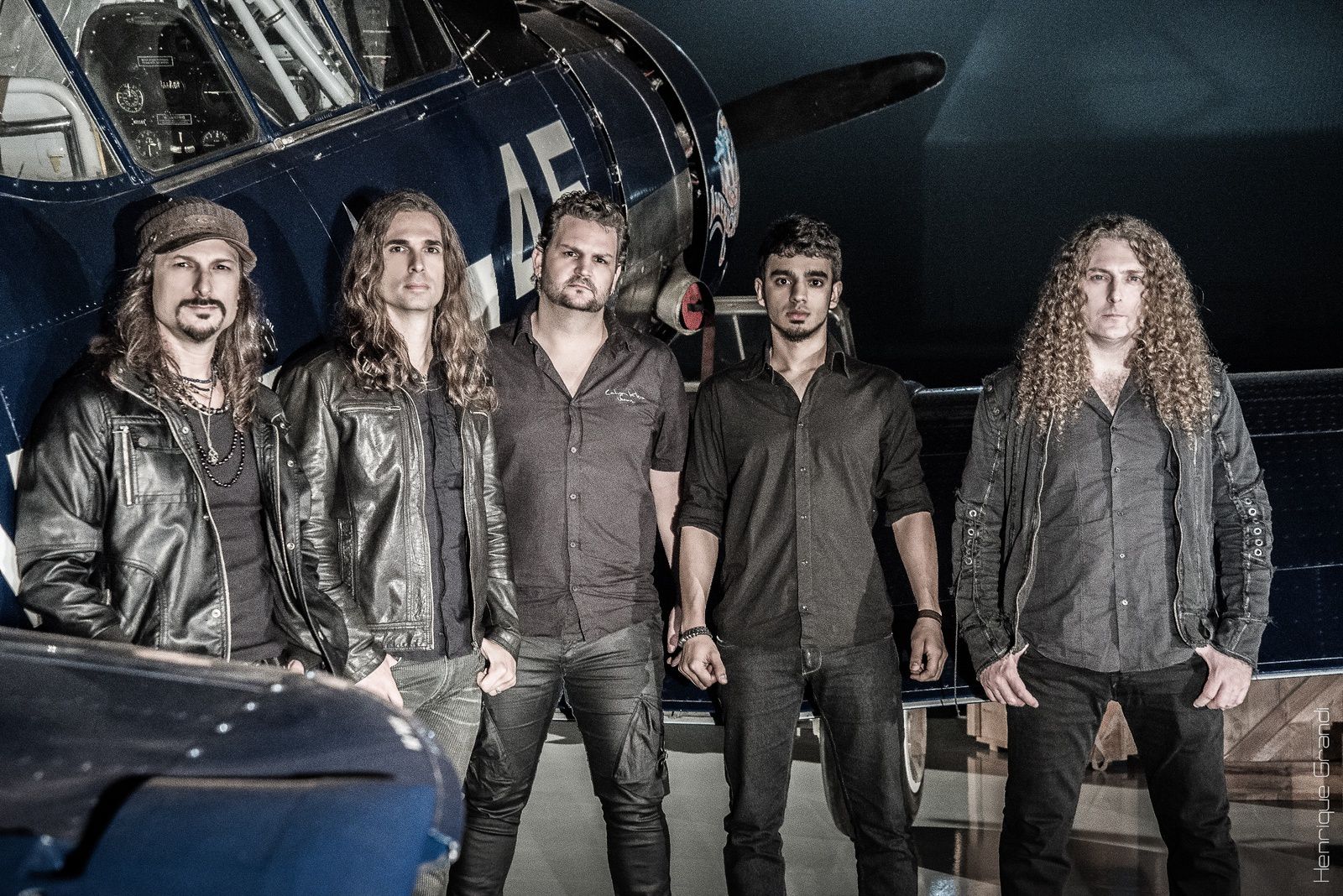 MHMB: Angra is known for also including the Brazilian influences on their sound. Does this also come back on "Secret garden" too?
Rafael: I think so, yeah. We have always tried to do it in a more original way or in a different way. And every time a new producer comes he will always think on how to blend it in a way that it will sound natural and not forced. The Brazilian percussions are certainly there on "Secret Garden". And other new elements of rhythms are all around.
MHMB: The new album got the name "Secret garden". How did you came up with the name and what is the thought behind the name? Is there a deeper meaning?
Rafael: It came out of a song written by Maria, Kiko's wife, which was originally called 'Secret Place'. I changed it to "Secret Garden". What I wanted to say is, that despite ups and downs in Angra's history, we have this secret place where we have our inspiration really untouched. Because I really think it is hard for us being a Brazilian band in Brazil, being South American and having to fly everyone to other countries every time we have to go on tour. We have many difficulties here. But I think that there is the Secret Garden where we visit sometimes to get ideas from. That is the basic idea.
MHMB:"Secret garden" is a conceptual album. Can you tell us more about the story?
Rafael: The story is about whether the spirit manifestations are really happening on different dimensions like angels, spirits or whatever. Or are they just a creation of our minds like a psychological response to our fears, our fear of death and so on. The story is about this scientist who is involved in a car accident. He goes into a coma after the accident, he wakes up, his wife is dead, he feels very guilty so he has to rethink all his beliefs.
MHMB: The new album is produced by Jens Bogren who is known for working with thrash/death metal bands like Kreator and Arch Enemy. How did this effect the sound of the new album?
Rafael: We wanted a very punchy sound. We know that being a symphonic metal band that usually the producers do not want to charge too much, to load our amps too much in order to create a more baroque or more flute-like sound. We wanted to come back with a heavier sound. I have always pictured our sound, even though we have flutes and violins, we have always pictured it a little bit heavier than the results we had previously. Now it became a bit heavier, a bit more progressive, too. By the way, Jens Bogren has also worked with many progressive bands like Pain Of Salvation, Opeth. Opeth gets very progressive sometimes. It was very good in the end. Jens Bogren was a very, very good decision that we had bringing him to the team.
MHMB: The album comes with eleven songs. Can you tell us more about the songwriting process? Have the ideas developed over the last four years or was it a one time songwriting activity?
Rafael: Both. We had some ideas that we kept for a long time and then we came together to create new ideas and also to restructure some songs. Sometimes for example we had a very nice chorus that needs a verse or a bridge. We had like 30 parts of songs that we had to really tweak here and there and to complete by also pushing many ideas out of the game. We ended up with 20 songs, then 15 songs and then eleven songs.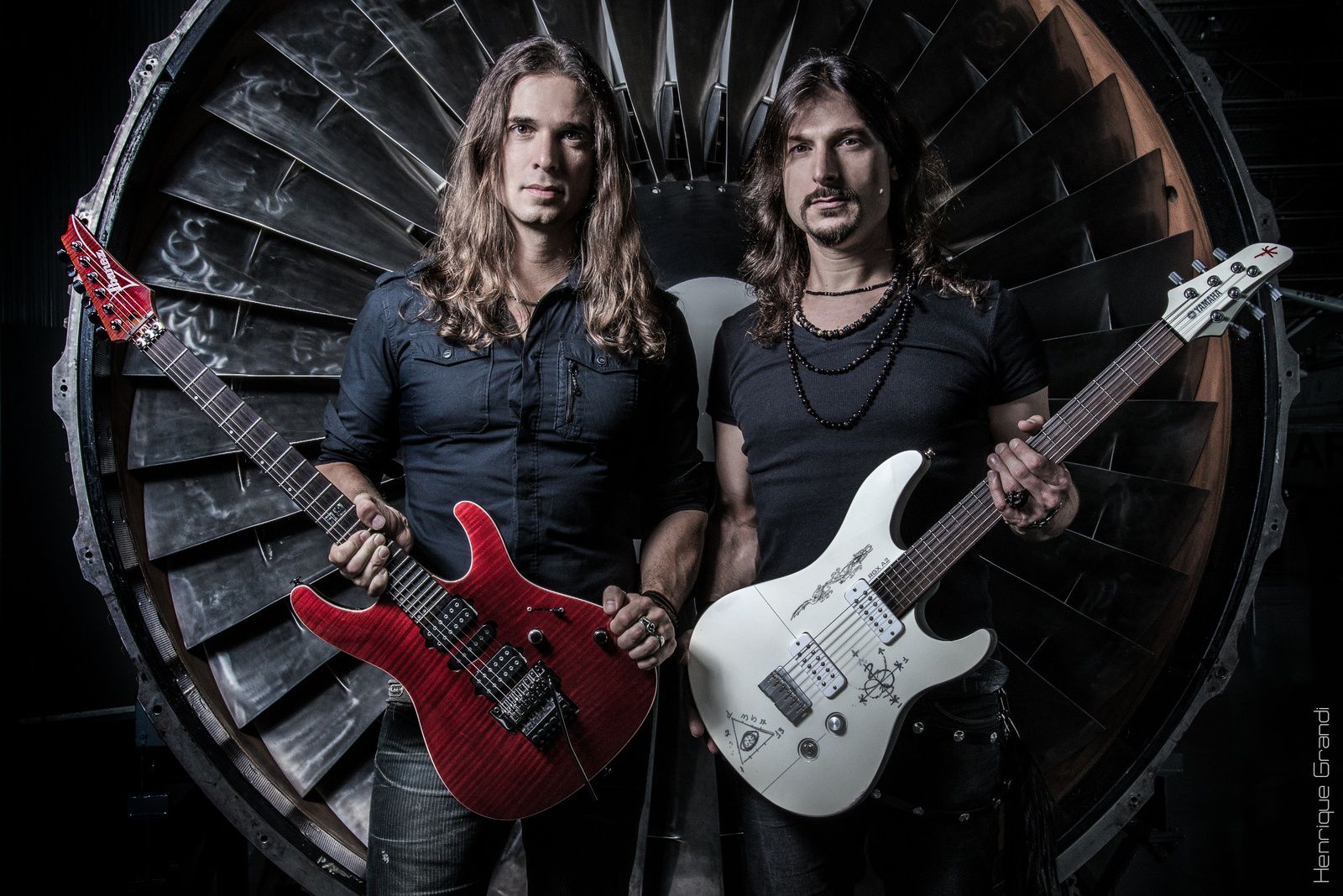 MHMB:"Secret garden" is the first studio album with you doing the lead vocals. How would you describe your impact on the new tracks?
Rafael: Fabio is in his best performance. I know a lot of his previous performances and I think this is his best one so far. We gave him a lot of freedom to experiment with a more aggressive kind of vocals, lower ranges, a lot of interpretation and more dramatic interpretations. I think it blended perfectly with Angra. So do the fans. The feedback and the fans reactions are really positive, accepting this new period of the band that we are so proud of a lot.
MHMB: If I know it right Fabio was planned as an interim solution as singer for Angra. But since he's now part of the band since 2012 the question comes up if he is in the meantime a constant member of Angra?
Rafael: Fabio never wanted to sign a contract with us because he never wanted to be delegated to play with us. I think that is a very, very cool thing. It has been working so far. We planned two concerts on a cruise and it worked. We planned a short tour in Brazil; it worked. So we planned a few festivals in Japan; it worked. We planned a DVD; it worked. And now, we planned this CD and it has been working perfectly. So as far as we like to work together and as far as we get the positive response, we will keep working together. I think it is very healthy to work in such terms that we do not feel obligated. Still we have lots of plans. We have plans to do a long tour this year and for recording another album. It is going to be a live album with an orchestra in the end of this year. Fabio has said 'yes' to all of these appointments with us. As long as we like, as long as the fans like, as long as we feel like doing stuff together we will do it with no specific obligation from any side.
MHMB: Rafael, you're doing some lead vocals too. How are those divided between him and Fabio?
Rafael: It was also a natural thing. We did not want to frustrate the fans and their expectations; so first of all we wanted to bring what the fans like. They appreciate very epic, melodic, symphonic songs with a very virtuous kind of singer doing it. But still we wanted to present the fans some surprises. Like Bruno Valverde, the drummer, who is a surprise for the fans. Some progressive parts and some heavier sounds are a surprise for the fans too. It is like a plus. The same goes for having me singing a few tracks. It made me very honored to share those vocals with Fabio and with Doro because this way I can also find other jobs here in Brazil since it is always hard to be touring with Angra all the time. This is another reason.
MHMB: Aa you said already, Angra has with Bruno Valverde a new quite young drummer in the line-up too. I could imagine that he gave the band an addition power push. Or?
Rafael: You are right. Bruno has given us a big push. Technically because he is a very dedicated and disciplined guy, always exploring, always bringing very modern stuff, very up-to-date ideas. That put us also to practice and clean the sound, to clean the way we play everything. It was a great combination and a good result having Bruno with us.
MHMB: Simone Simons has a guest appearance on "Secret garden" as well as Doro Pesch who is supporting on "Crushing room". What was the idea behind those guest contributions and why have you invited those two metal ladies?
Rafael: "Secret Garden" ended up being like a metal opera kind of record because of the story behind it and the songs which are very different from each other. We have many, many different musical atmospheres. I wanted to have a little bit of that metal opera kind of album. So we added Doro and Simone doing it to have those female voices and also to add a little bit of life to the characters. There is the scientist's wife and then the angels, there are many different characters in the story. It was cool to have these different voices to really represent them. It is also cool to have a very young metal diva like Simone Simons and also Doro who is already an all-time diva who we always love to hear with a very passionate timber.
MHMB:"Synchronicity II" is a The Police song that you covered for the new album. The Police isn't really known for metal music, even though they are icons in rock music. Why have you guys chosen this song?
Rafael: It was exactly to show our fans that we do not only combine metal influences into our music. On our first album we had one song from Kate Bush, "Wuthering Heights", which was not from a metal artist. We wanted to redo it. We wanted to have a cover song from an artist that was outside of the metal scene. That was the basic idea. And we wanted to show the people how we convert our ideas into the Angra sound. So people know the original song and when they listen they will get a little bit of an idea how we transformed those into our own style.
MHMB: So far there some shows planned for Japan. What are the plans for a more extended "Secret garden" tour?
Rafael: We have some plans for Japan. We want to book some other concerts in Taiwan maybe, or China. We maybe extend the Japan tour. We will play ProgPower in the US and we want to find other gigs around that date in the US. We have many dates booked for Latin America and Brazil. We have a festival in Italy in August or September. We want to find other dates around that, too. Things are happening very fast for us. We came back from four years of working hard to come back to business.
MHMB: Will you come to Europe in 2015? Can you tell us already more about it?
Rafael: There is one gig confirmed in Italy as I said. We want to book other dates, maybe other festivals in the summertime in Europe hopefully. But nothing confirmed yet.
MHMB: You guys are in the meantime 23 years in business. How do you keep yourself motivated?
Rafael: It is always hard to keep motivated but we have this dream that we pursue which is making our living out of music, out of what we love and showing it to other people in the world. And every time we get a positive response like now for our record we get a glimpse of motivation, we get the fire going again. Summarizing, it is the love and the passion why we do music.
MHMB: Is there something you want to share with the readers and fans?
Rafael: Thank you all for all these years of support, thanks for reading this interview to this point. Hopefully we will see you on tour. Hopefully we will be in Europe to play the songs from Secret Garden to you. Be in touch, visit our site angra.net and our Facebook.com/angraofficial.
MHMB: Rafeael, thanks for having you in the interview?
Rafael: I thank you for this opportunity. Thanks for helping all the metal bands in the business. Bye.