Sweden's hard rockers from Eclipse posted a new video. "I don't wanna say I'm sorry" is taken from the new album "Armageddonized". Here you go...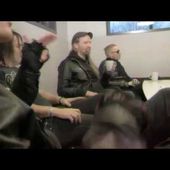 Eclipse - I Don't Wanna Say I'm Sorry (Official / New Studio Album / 2015)
Order the new album "Armageddonize" here: Amazon: http://geni.us/EclipseAmazononize Subscribe - http://www.youtube.com/subscription_center?add_user=FrontiersRecords Frontiers Facebook - ...
https://www.youtube.com/watch?v=nQLbd0JyDEo&feature=youtu.be