Introducing Udo Dirkschneider is like carrying sand to the beach. The charismatic singer from his band U.D.O. celebrated already big successes in his career. The man in the camouflage outfit has been the frontman from German metal dinosaur Accept and was part of metal anthems like "Fast as a shark", "Restless & wild" and "Metal heart". Udo started later on with his own band and released quite some albums with U.D.O..
In the meantime the successor of "Steelhammer" is ready and will be released in January 2015. So a good moment to talk with the iconic singer about the new record "Decadent". Markus' Heavy Music Blog had the chance to get more insights regarding the album. Even with a not perfect phone connection it was an interesting talk with Udo, who was in a very good mood. Read here some interesting insights about "Decadent".
Markus' Heavy Music Blog: Hi Udo, how are you? You're in Hamburg right now right?
Udo Dirkschneider: Yes I am. Everything's OK here in the fresh Northern parts of Germany.
MHMB: I can imagine that things feel pretty good at the moment since U.D.O. has a new album ready to be released.
Udo: Yes, that feels pretty good. So far it was of course only the media that heard the new songs. The reactions have been quite positive and I haven't talked to someone who didn't like the new record. That means that I'm in a really good mood right now. Things going well.
MHMB: I can confirm this. I like the new album quite a lot.
Udo: Of course you give each time the best you can. "Steelhammer" was already received very well by the fans. "Decadent" is a continuation of this journey, but it is slightly more melodic, but also harder. This is mainly based on the situation that we have written the songs this time all together as a band. This has led to some more influences when it comes to the new tracks compared to the situation of only Fitty and me writing the songs. I can say that I'm totally satisfied with the new songs on the album.
MHMB: If I reflect on the album I have to say that it sounds fresher and more homogenous than the last ones. I guess this is based on having the line-up again completed.
Udo: Right. Looking back to "Steelhammer" it was mainly me and Fitty who wrote the tracks and Andrey has recorded everything on his own. Compared to that the starting point for the new album was a totally different one. We have with Kasperi and Andrey two new guitarists that have been involved in the songwriting. Both had also a very good cooperation. This led to a very good guitar sounds on the album which is exactly what I have expected. I have to say that I'm very proud for the two new guys.
MHMB: You said already the the new album is a bit more melodic and harder than "Steelhammer". How would you in general describe the differences?
Udo: The melody comes back much more in the chorus' of the songs. This will lead to a higher recognistion of the songs and allows also an easy sing-a-long. And there are the songs like "Speeder" and "Under your skin " that are really fast and much harder than what we did on "Steelhammer".
MHMB: When I listened to those track I had the feeling that they sound even a bit more oldschool - meant in a positive way. I was remined to the earlier days of U.D.O.
Udo: That might be. Of course we didn't start the song writing with an approach like 'Let's do it like...' or 'Let's do it like on this album'. Things just happened and there are the right clicks between all of us in the band. This created a certain feeling like in the earlier days of U.D.O.. Andrey and Kasperi are both big U.D.O. fans and this of course led to influences from the earlier days of U.D.O. which are reflected in the new songs.
MHMB: One song that is standing out a bit is "Mystery". It sounds a bit more complex than the other tracks and has that witch-like vocal sample. Can you tell us a bit more about the track?
Udo: We have written this song in a very spontanious way. It is a kind of 'psycho song'. It's about a manic running around. And true, it stands out a bit from the other ones.
MHMB: And I can say that this vibe is really transported very well by the song. Another song is called "Untouchable". When I was listening to the lyrics of the track it seemed to me that the song has some autobiograhic background. Is that right?
Udo: Yes and no. It is a general song about believing in yourself and not going for everything other people tell you. But of course being 'untouchable' and 'unbreakable' can be also seen as something for us as a band. We do what we want and what we think is best for the band; regardless of who tells us what.
MHMB: Talking about the lyrics. From where do you take all the inspiration for the lyrics?
Udo: I'm a person that needs to be informed about what's going on in the world. Therefore I need to see the news once or twice a day. That gives me already a lot of ideas for song lyrics. Let's take for example "Rebel of the night". The lyrics are based on the experience we made when we were travelling this year through the Ukraine. There we have seen all the demonstrations and so on. That's now the base for the song. Or "House of fake" - also a song that is based on things I experienced. There are a lot of recommendations and good advise, but in the end nothing really happens. "Pain", as another example, is based on the all the bad situations right now in this world. As soon as you turn on the news you will hear about another bombs exploded somewhere, that there was another shooting at a school, there is war in several areas of the world and so on. The question in the song is, how much pain can we still take? So all in all the lyrics are about things which are happening in the here and now.
MHMB: You played live at the Metal Hammer Paradise festival last weekend. Have you used the show to test already the one or the other new song to see the fans reaction?
Udo: No. This is something we haven't done. The show was the last one of the "Steelhammer" tour and we focus in those 90 minutes also on the "Steelhammer" songs. It was a great closing of the tour and now we start to think about the "Decadent"-tour.
MHMB: Are there already some ideas and maybe even plans for the "Decadent"-tour?
Udo: The plan is to start with the tour beginning of March 2015 and I think it will become the longest tour in U.D.O.'s history. I think that we will be on the road till the end of 2015. We haven't thought about the setlist. But of course there will be a lot of the new songs that we will play live together with some "Steelhammer" stuff. And the rest is the agony of choice about which of the other songs should we play.
MHMB: Hopefully the tour brings you also to Holland. U.D.O. haven't been here that often.
Udo: Let's see. Nothing is final yet. In the past we played shows in e.g. Tilburg and Kerkrade, but the possibilities are limited. I can't really tell you why. It's just how it is.
MHMB: Udo, you are in the meantime 43 years in the music business. And always with the same passion and dedication. How do you motivate yourself to work on another new album, go on another tour,...?
Udo: The answer is simple. It is the fun and the pleasure in what we are doing. When I get the question from time to time if I have already a date in mind when will stop I always answer with 'no'. The only reason to stop would be the moment when I get the feeling of not having fun in what I'm doing. And I think that 'fun' is a pretty important factor in what you're doing.
MHMB: And after all those years you're still standing with both feet on the ground. There is still a kind of humbless and no rockstar thing at all. What keeps you so down-to-earth?
Udo: I never was and wanted to be rockstar guy. I always try to keep a certain distance between private and stage. That means that I'm using my spare time to relax and life a pretty normal live. I appreciate to not talk about music that much in my private time and also focus on other things. This distance is very healthy for me.
MHMB: What kind of music do you actually listen to when you're at home?
Udo: Honestly, when I'm not busy with U.D.O. I enjoy turning on the radio. So it's not like you might think, that I listen than also to all kind of metal stuff.
MHMB: Is there something you want to mention which we haven't taked about yet.
Udo: The only thing I hope is that the fans like the record and that they will come to our shows. For the rest it is 'keep on rocking'.
MHMB: Udo, thanks for taking sometime for Markus' Heavy Music Blog.
Udo: Thanks for having me.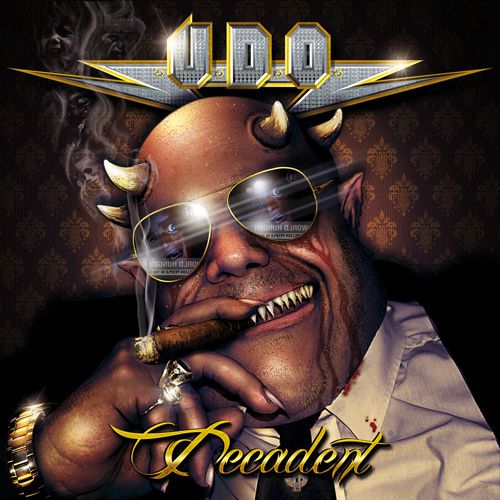 PS.: Tour dates haven't been announced when I had the interview. In the meantime they are published and here they are:
Mar 06, 2015 D-Würzburg - Posthalle
Mar 07, 2015 D-München - Backstage
Mar 10, 2015 D-Franfurt - Batschkapp
Mar 11, 2015 D-Hamburg - Markthalle
Mar 13, 2015 D-Kiel - Pumpe 6
Mar 14, 2015 DK-Kolding - Godset
Mar 15, 2015 D-Bremen - Aladin
Mar 18, 2015 D-Bochum - Zeche
Mar 19, 2015 D-Losheim/Saarland - Eisenbahnhalle
Mar 20, 2015 D-Andernach - JUZ
Mar 21, 2015 D-Memmingen - Kaminwerk
Mar 22, 2015 D-Ludwigsburg - Rockfabrik
Mar 25, 2015 D-Nürnberg - Hirsch
Mar 26, 2015 D-Berlin - C Club
Mar 27, 2015 D-Leipzig - Hellraiser
Mar 28, 2015 D-Regensburg - Airport
Mar 30, 2015 CH-Pratteln - Z7
Apr 01, 2015 BE-Kortrijk - De Kreun
Apr 02. 2015 GB-Sheffield - O2 Academy
Apr 03, 2015 GB-Nuneaton - Queens Hall
Apr 04, 2015 GB-London - O2 Academy
Apr 09, 2015 E-Madrid - Sala Caracol
Apr 10, 2015 E-Valladolid - Polideportivo
Apr 11, 2015 E-Zaragoza - CC Delicias
Apr 12, 2015 E-Barcelona - Sala Salamandra
Apr 16, 2015 E-Valencia - Sala Rock City
Apr 17, 2015 E-Zaragossa - CC Delicias
Ape 19, 2015 A-Dornbirn - Conrad Sohm
Apr 23, 2015 S-Stockholm - Klubben
Apr 24, 2015 S-Borlänge - Liljan
Apr 25, 2015 S-Gothenborg - Trädgårn
Apr 26, 2015 S-Malmö - KB
Apr 30, 2015 N-Oslo - Vulkan Arena
May 01, 2015 N-Haugesund - Karmoygeddon Festival
May 02, 2015 N-Trondheim - Byscenen
May 07, 2015 FIN-Helsinki - Nosturi
May 08, 2015 FIN-Vaasa - Leipaetehdas
May 09, 2015 FIN-Lahti - Finlandia Klubi
May 20, 2015 S-Brunflo - Beast Of Rock 2015
July 09, 2015 CZ-Vizovice - Masters Of Rock
July 30, 2015 D-Wacken - Wacken Open Air