Guitarist Terry Gorle has started a Kickstarter project about remixing Heir Apparent's classic album "Graceful inheritance". Here are some facts a bout the project:
"In August of 2013, I recovered the original 24-track master tapes from the Graceful Inheritance recording sessions of 1985, as well as the demo recordings of 1987. The tracks have been successfully transferred to digital format. We now have the opportunity to take one of the most highly acclaimed underground power metal albums of all time, add bonus material, and give it a modern professional treatment none of us could have imagined was possible until now.
We have been approached by world-renowned engineer/producer Neil Kernon to take on this project, and we are incredibly flattered and excited to hear what can be done to bring these tracks into the digital age.
We also look forward to what the future will provide in performing to support the final product of this effort in its 30th anniversary.
With a goal of simply breaking even on the expenses and rewards, we want to take advantage of this amazing opportunity Neil Kernon has offered us to finally realize what this album can be for our incredibly dedicated fans."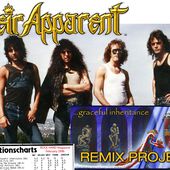 HEIR APPARENT - Graceful Inheritance REMIX Project
Terry Gorle is raising funds for HEIR APPARENT - Graceful Inheritance REMIX Project on Kickstarter! The highest rated album in the 30 year history of Germany's Rock Hard magazine, re-mixed by ...
https://www.kickstarter.com/projects/terrygorle/heir-apparent-graceful-inheritance-remix-project