Life is about making choices. This also goes for the evening of December 4 in Holland. As a metal fan you had an extended metal menu to choose from. Life Of Agony played a show in Haarlem, the mighty Machine Head have stopped in Utrecht for a gig and there was another thrash package in Holland as well.
Sharp before Christmas a thrash metal avalanche rolled over The Netherlands. Kreator, Arch Enemy, Sodom and Vader teamed up and went on a tour through Europe. On December 4 they stopped in Tilburg to play a show in the 013.
It was Vader's role that night to enter the stage first and warm up the crowd. Unfortunaltely I had just the 'pleasure' to only listen to their music only from CD while being trapped in the Dutch evening traffic jam. Really bad luck, but however. There was much more to come that night.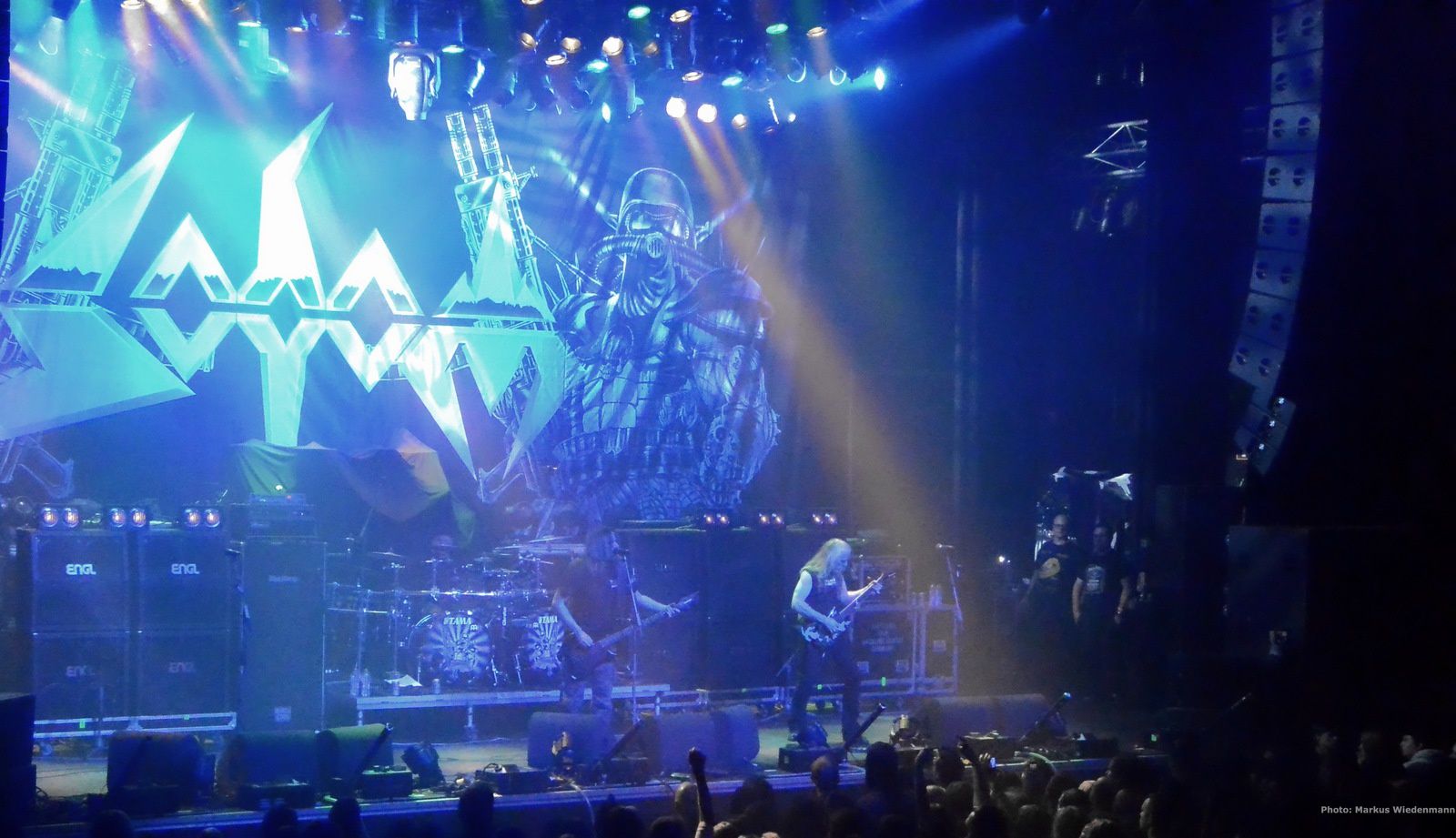 After a short break the Ruhrpott legends from Sodom took over the baton. Having 14 records in the backpack and many great songs I guess it was tricky to choose which one should end up on the setlist. In the end it was a great mix of new stuff, like from the recently released "Sacred warpath" EP, and older stuff like the mighty "Tired and red " and "The saw is the law".
The center of the band is doubtless Tom Angelripper. Not just that he is the frontman and bassplayer, it's also his passion combined with experience that makes him standing out. Sodom is driven by Tom Angelripper and he stands in an authentic way for raw and unpolished oldschool thrash. Sodom is for me a kind of Motörhead of thrash metal.
Sodom really warmed-up the crowd and the first smaller mosh pits started. As mentioned, the setlist covered a lot of band highlights. Funny note was that Tom did all the announcements in German. Quite unusual for being in Holland and he also noticed that half-way. But who cares. He continued in German and the fans just had fun with it. Tom Angelripper can do such a thing.
After a powerful and solid thrash show Bernemann actually wanted to leave the stage and handed back his guitar already. But Tom reminded him that there are actually three more minutes - time enough for a straight-forward version of "Blasphemer". Cool guys, cool show.
The crowd was already pretty enthusiastic when Swedish Arch Enemy entered the stage. I was curious to see the band live since I haven't had that experience since they have with Alissa White-Gluz a new singer on board. The latest album "War eternal" has proven that she has an excellent voice, but it was more to see how she's running a live show.
I must say that I was impressed by the performance - of her, but actually from the entire band. It is amazing where Alissa White-Gluz takes all the energy from. The short metal lady spreads so much energy and uses the entire stage for her performance.
The other new things was seeing Jeff Loomis replacing Christopher Amott in the band. He was fully intergrated in the band and it was great to see him back on stage. With this line-up we can still expect a lot from the five-piece.
The 60 minutes they got just flew and it felt like being in the middle of a metal tornado. Songs like "War eternal" but also the mighty "Nemesis" from the "Doomsday machine" record, for me still the best track they have written, have been highly appreciated by the fans. The melodic death metal of Arch Enemy fitted perfect into the line-up and the stage was prepared for the headliner.
And the journey continued. We had Poland (Vader), we had Sodom (Gelsenkirchen, Germany) and we had Arch Enemy (Sweden). Now the last stop on this trip brought us to the headline - Kreator from Essen, Germany. I don't think that I have to introduce you to the thrash metal dinosaurs.
They are around already since 30 years and never disappointed their fans in all those years. Yes, they might had one or two weaker records in the 90's, but looking on the last four longplayers in this century I must say that they are better than ever. The last time I have seen them live was a few years ago, when they have been on tour together with Celtic Frost - I think that was in 2007. In the meantime two more longplayers have been released and since the last show I have seen was an impressive one I was looking forward to see the Ruhrpott quartet again on stage.
Kreator exceeded my expectations. From the very first moment on they spread an energy that was amazing. They had the 013 with them from the very beginning till the last note. Mille is the great frontman of the band that has a lot of charisma. And the songs are doubtless excellent thrash metal anthems. A mix of old and new was celebrated by band and fans. To highlight even some of the songs is almost impossible. But I was happy that they had, as expected, "Phobia" and "Pleasure to kill" on the setlist. The last mentioned one led to a quite big mosh pit that was impressive to see.
The show was also supported by a cool video projection, some fire and even a confetti canon shot. That was a bit unusual for a thrash metal show, but it rounded off the great performance.
It was an impressive thrash metal night in Tilburg that Thursday with four excellent bands that inflamed a thrash inferno that has Championsleague level. Loud, fast and heavy - that's how it was. And it was a lot of exhausted, but happy fans that have been released into the Tilburg night.
Setlist Kreator:
In the year 2025 (intro)
The patriarch
Violent revolution
Civilization collapse
From flood into fire
Extreme aggression
Phobia
Enemy of God
Voices of the dead
Awakening of the Gods (intro)
Endless pain
Suicide terrorist
Mars Mantra
Phantom antichrist
Impossible brutality
Hordes of chaos
Pleasure to kill
The number of the beast (Encore)
Warcurse (Encore)
People of the lie (Encore)
Flag of hate / Tormentor (Encore)
Setlist Arch Enemy:
War etenral
Ravenous
My apocalypse
You will know my name
Bloodstained cross
Under black flags we march
As the pages burn
Dead eyes see no future
No Gods, no masters
We will rise
Nemesis
Fields of desolation
Setlist Sodom:
Final bullet
Agent orange
In war and pieces
Surfin' bird / The saw is the law
Outbreak of evil
City of God
Tired and red
Sacred warpath
Stigmatized
Sodomy and lust
Blasphemer
Setlist Vader:
(feel free to add them in the comments)