Swedish 'newcomers' Avatarium had a great year 2014. Their debut album was received very well by the metal community. Also the EP, that was released a few weeks ago, got a lot of positive feedback. And last but not least Avatarium played also quite some enthusiastic shows in 2014. That included their first gigs in Sweden as well as in Europe.
Since Avatarium had published the new EP and due to the fact that they will be on the road together with Amorphis between Christams and New Year it was the right moment for getting some further insights from Marcus Jidell, guitarist of the band. Enjoy reading.
MHMB: Hi Marcus. Great to have you on the phone. How are you?
Marcus: Thanks. Good to be here. I'm fine, eventhough it's pretty dark and rainy here in Stockholm.
MHMB: End of the year Avatarium is coming back to Tilburg - the city where you have played the first show outside of Scandinavia. I guess coming back is something special for you.
Marcus: Indeed. It is a nice thing coming back to Tilburg. We all, except Jennie-Ann, have played there many times before and the 013 is a very nice venue. Therefore it's a great thing to come back. And since last time it was one of our first shows we ever played, I hope that we will do an even better one this time.
MHMB: I think it was already a pretty good concert that you guys played as part of the Roadburn. I enjoyed it a lot.
Marcus: Yes, that's right. It was quite OK, but we can do better. We always try to improve ourselves. We are still a new band and every show helps us to get better. We can see already at that stage a bigger improvement comparing the latest shows we did with the one in Tilburg from spring this year. For Avatarium it was on the one hand something very exciting to play already quite big shows in the beginning. But there is also the flipside of being new and maybe not having all the details perfectly in place.
MHMB: And it was a nice extra to find three songs from the mentioned Roadburn show on the EP.
Marcus: It was done by purpose. We wanted to show that Avatarium is not only in the studio – we are a live act. For us it is important to perform the songs and they are always a bit different when we play them live. Doubtless, we are playing our songs, but there are constantly some details here and there that make them sound slightly different. We don't want to play them exactly the way they are on the album. It is fun for us to 'experiment' a little bit around with the music and we hope that it is entertaining for the audience too. We are a real live band that enjoys being on stage. We always try to give our best and if we get the energy back from the fans we become even more enthusiastic.
MHMB: Avatarium was very well received by metal fans from all over the world. I guess you guys have been really overwhelmed by this feedback.
Marcus: Yes, right. With both, the album and the EP, we did what we enjoyed and what we liked. Of course we have been thinking about how fans will receive it. That's why we have been very happy; but also surprised by the huge amount of positive reaction from people. Almost every review I read was a positive one and that was something very unexpected. Then we worked on the EP and we have been curious what the fans will think about the two new songs, since we tried a few things that are a bit different. And again we got a great feedback.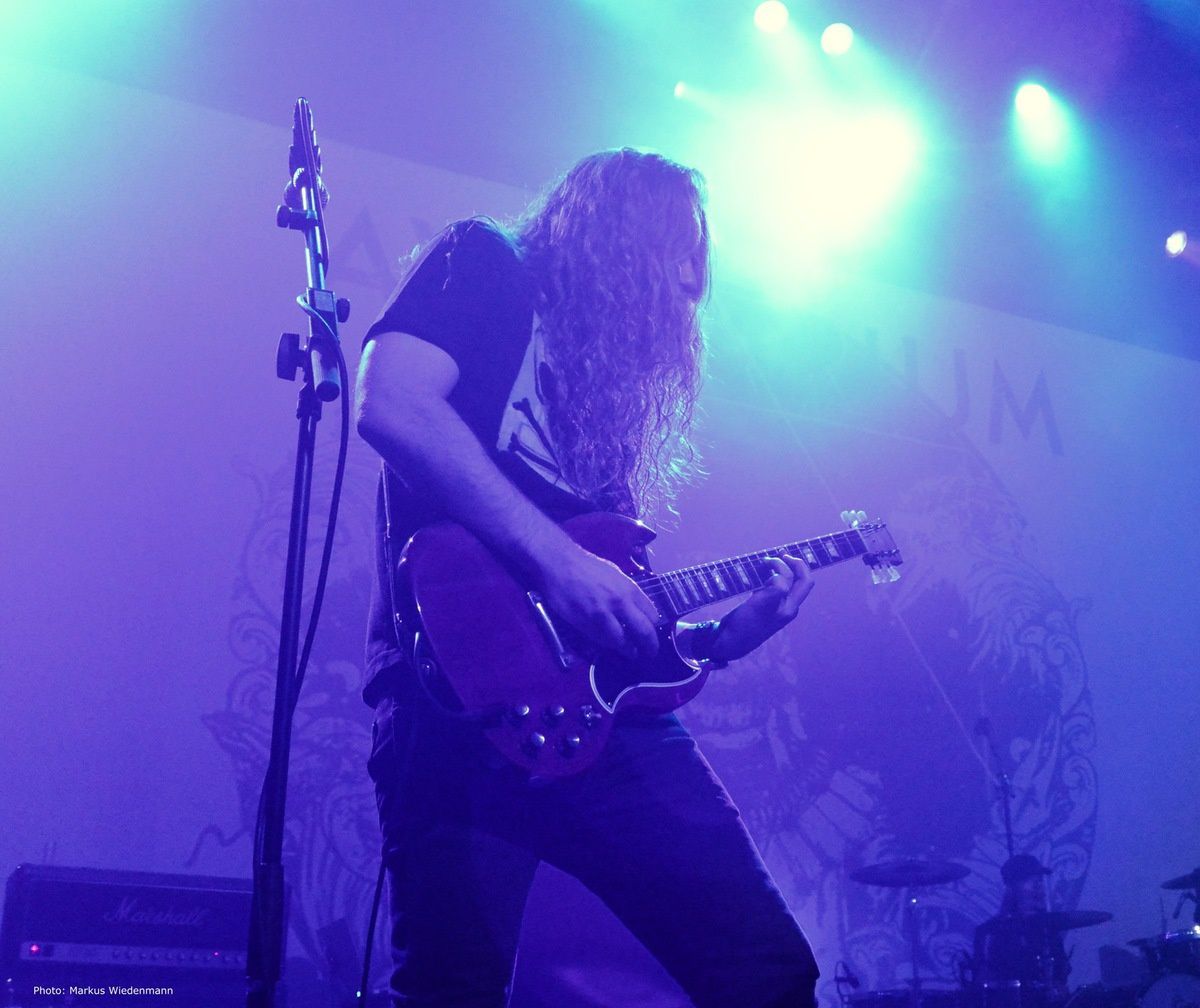 MHMB: You mentioned that a few things are slightly different on the EP. When I heard the new songs the first time I had the feeling that they are more classic rock, while the debut went more towards doom metal with mighty riffs. The new songs are for me more inspired by bands like Deep Purple and Rainbow. A scream from Jennie-Ann on "All I want" reminds me to Ian Gillan and some parts of "Deep well" sound like from the early Rainbow times.
Marcus: As said already, we wanted to try something that is a bit different. But it wasn't that we said like 'hey, let's write a Rainbow song'. It was more that when I heard the last guitar solo on "Deep well" with Jennie-Ann singing I had all of a sudden the feeling of 'wow, this sounds like Rainbow'. So it was something totally unplanned - and I like it, esp. since I love Rainbow. It was in the end a good thing that we experimented a bit, because it gave us the chance to see how much we like these little twists and also see how the fans will perceive it.
MHMB: You guys have a very special sound. Avatarium can be easily recognized and I was thinking about where it comes from. Is it the very diverse influences each of you brings into the band? Leif coming with the Candlemass experience, you having played in bands like Evergrey and Jennie-Ann has a total different musical background. Is this the secret of the band's sound?
Marcus: Right. I think it is like that. We all have a few bands in common that we like. But we also want to bring in our personalities into the music. The songs need to be 'us'. But it's also the way Leif writes the songs. He's thinking about my way of playing guitar and also about Jennie-Ann's vocals. He is thinking about how I could continue working on the songs and how Jennie-Ann could. Leif is a very clever songwriter. Another thing is the fact that Jennie-Ann puts so much effort and energy into the vocals. She wants those to become her own. She tries to put all the feelings and emotions into the songs.
MHMB: How did the success story with Avatarium actually start?
Marcus: I was jumping in for Lars Johansson in Candlemass and also played with Krux for a few times. That's how Leif and I found out that we have a lot in common when it comes to music and personality. Leif contacted me at a certain moment in time to work on a few song ideas. That was the start of Avatarium. The next step was that I asked Jennie-Ann if she could give it a try to do the vocals for Avatarium. We actually contacted also few other singers like for example Doogie White before we asked Jennie-Ann. No one had time at that moment and when we tried out with Jennie-Ann we had the feeling of listening to something we have never heard before. Her voice opened the door for us to write new music since she is very different from other singers. As said, she adds a lot of emotions and feeling to the music of Avatarium. You can feel the music.
MHMB: Is it also Jennie-Ann who is writing the lyrics of the songs?
Marcus: No, it actually is Leif that writes most of the lyrics. Jennie-Ann just did some of them like for e.g. "Deep well".
MHMB: The songs and the lyrics have that kind of melancholic vibe. Where does this come from?
Marcus: Honestly, I don't really know. Some people say that if you live up North with the all the darkness during winter time you get into this melancholic mood. You will also feel this special atmosphere by listening to Swedish folk music. However, we are happy people and what might help us is to put all the melancholy into the music.
MHMB: We mentioned Leif a few times. How is he doing right now?
Marcus: He is getting better. He is not 100% back yet, but we are working on new songs already. Live we still have Anders Iwers supporting us and that works very good.
MHMB: Looking on the success you have as a band, do you feel an extra pressure put on the band when it comes to the next album?
Marcus: I don't think like that. Of course there is a certain pressure if you get such a great response, but we try to focus in what we want to do. We try to be as good as we can while staying honest to ourselves and our music. Our aim is to do another great album followed by another great album and to be able to tour in between.
MHMB: While you mention a new record from Avatarium – can you tell us already a bit on what to expect?
Marcus: We are right now in the beginning phase for the new album. We recorded two tracks that are in an early demo level. It's basically that we have the foundation for the tracks done. So I can't tell a lot about it at that stage. I guess it will be kind of mix between the debut and the EP when it comes to the sound. But it's too early to say more about it.
MHMB: That sounds already very positive. Good to hear that there is a new album in the pipeline. I'm very much looking forward to it. I would like to say thank you for your time and I'm looking forward to see you on tour end of December together with Amorphis.
Marcus: Thanks for having me and thanks for supporting us.