Norwegian classic rockers Audrey Horne released a new album a few days ago. MHMB wanted to know a bit more about "Pure heavy". I was talking to singer Toschie some days ago and he gave some new insights into the album and also a preview on the upcoming tour in autumn. Here you go:
Markus Heavy Music Blog: Hi Toschie. Great having the chance to talk to you. How are you?
Toschie: I'm good, thanks.
MHMB: Are you in Bergen right now - and is it raining (note: Bergen has a lot of rain due to geographical circumstances)
Toschie: No, actually we had a great summer this year. But there is a lot of rain supposed to come during the weekend.
MHMB: Something more pleasant is the fact that you guys have a new album up and running. How does it feel?
Toschie: It's always a great feeling. It is something you work on for a long time, you develop it, you 'polish' it' and you want it to be as good as possible. So when a new album is being released it is very exciting since there is the curiosity about how people will perceive the record. It's about the question if the fans like the new stuff or if it's only us who likes it.
So far we have received really good reviews on our album and this gives us of course a good feeling.
MHMB: I have to say that I like it too. And I can see some development during the last albums. It seems that you guys have taken away the melancholic parts in your songs.
Toschie: That's right. It just happened. We never really planned to change our music. But we adjusted the way we wrote music and we also recorded differently. On the first two albums we had the situation that Arve was sitting at his place and wrote some music. Thomas was doing the same thing. Than I actually came over to both of them and added the melody lines and the lyrics. After that we went into the studio with those finished songs, which we actually haven't really played so far. During time we recognized that something is missing. We had the feeling that this typical live atmosphere isn't on our albums. That was the kickstart for changing the way of how we wrote music. We began to work on new stuff all together in the rehearsal room and also tried to record live - all together. By doing this we had the idea to get the right attitude and energy on the album.
This way of working had an impact on our music. It is something different if you sitting at home with your guitar in your lap compared to the new approach. That's one reason why the album lost the melancholy from your earlier releases.
MHMB: Classic rock got a bigger focus on "Pure heavy". The alternative metal trademarks of the first albums are almost gone over time. Was this also due to the new way of working?
Toschie: The before said also had an influence on the more classic rock approach on the new album. It is basically the fact that all of us has listened to the same bands when we were young. Since we worked all togther those influences came more up to the surface again and had an impact on our music..
MHMB: This might also added a certain ease to "Pure heavy". It feels like you guys did what you wanted to do instead of recording what you had to record.
Toschie: Yeah, it's that, but it's also the we are became older. And if you get older you start to care less. Things that have been really important when we started twelve years ago are less important today. We have chosen the approach of 'let's go out and focus on something that we enjoy'. The rest doesn't matter.
MHMB: If you compare "Youngblood" and "Pure heavy", where do you see the biggest differences?
Toschie: In the end it is very much the same. We wrote "Pure heavy" in the same way as we did "Youngblood", we recorded it in the same way and we also taped it live. The difference is that on the new record we wanted to use the benefits of the recording studio. We wanted to make the sound a bit bigger. We did some more overdubs, we used some samples and played around with some ideas regarding the sound. So "Youngblood' is much more of a band playing live while the new album added another dimension to it. This is something which we always do. We don't want to repeat ourselves constantly. We want to bring it to the next level.
MHMB:"Pure heavy" has in the middle of the album an intermezzo called "Diamond". It's a full acoustic song and my thought was: Are you trying out if a ballad also would work for Audrey Horne?
Toschie: We started to write songs for "Pure heavy" quite shortly after releasing "Youngblood" and all the new material was meant to be on the new album. One exception: "Diamond". This track is actually out of the "Le fol" session. We wanted to do a slow song at that time. But for the one or the other reason we never finished it. While working on the new record we came across "Diamond" and we recognized that it's a pretty good song. So we sat down and finished the track. We kept it there, as you said, as an intermezzo and we realized that it shouldn't be too long. It's enough to keep it short and acoustic. It actually was Jørgen, the producer, who convinced us based on the lyrics to keep it on vocals and guitars onl. And it works pretty well.
MHMB: Toschie, I heard a rumor regarding "Tales from the crypt'.Is it true that you guys wanted to record the song together with Joan Jett?
Toschie: This is true. When we wrote the song we noticed that the guitars on that song are kept very simple and to the point. I just said, that it feels like a song Joan Jett should sing on. So we contacted our manager and asked him to try to get hold of her to see, if she is interested in doing something. But we couldn't get in touch with her and we had to go to the studio. Time was running at that time. So we it was a good idea, but we did the song for ourselves.
MHMB: My personal highlight on the album is "Holy roller". This song just blew me a way when I heard it the first time. I hope you guys have it on the setlist for the coming tour.
Toschie: Oh believe me - it will be there since we love to play this song live.
MHMB: Talking about the tour. Audrey Horne will be on tour this autumn in Europe. You're supported by '77 and Pet The Preacher. Do you know those guys already?
Toschie: I never met them so far but of course I heard their music. Pet The Preacher was fairly new to me while I knew about '77. I think it will be great tour since all bands are really good ones and fit perfectly together in a rock package. After touring with different bands like Enslaved and Solstafir in the past it's this time more a 'good time hardrock' combination.
MHMB: Toschie, is there something more from your side for the fans?
Toschie: Not that much, but I want to say to all the readers that they should check our new album "Pure heavy" and that they should come to our shows. As you mentioned we will have a tour now during autumn, but we are also planning an new tour in the beginning of 2015 to visit even more cities.
MHMB: That's good news. Thanks a lot for your time and we'll see each other on tour.
Toschie: Thanks for having me.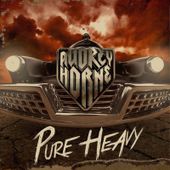 CD review AUDREY HORNE "Pure heavy" - Markus' Heavy Music Blog
(8/10) The new album from Audrey Horne means 45 minutes of pure fun and rock'n'roll entertainment. The continuity of the high quality level of the band from Bergen, Norway is amazing. What started ...
http://mwiemetalblog.over-blog.com/2014/09/cd-review-audrey-horne-pure-heavy.html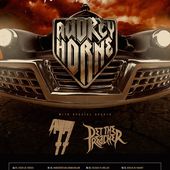 AUDREY HORNE is one tour is on tour - Markus' Heavy Music Blog
Norwegian classic rockers Audrey Horne are on tour this autumn. Their support is 77 from Spain and Pet The Preacher. Sounds like a cool package. Here are the dates: (8/10) Pet The Preacher are ...
http://mwiemetalblog.over-blog.com/2014/09/audrey-horne-is-one-tour-is-on-tour.html