Threshold stands for high level prog metal since many years. The new album is almost ready to be shipped and here is a first song from the next album "For the journey". Sounds like a successful continuation of their journey.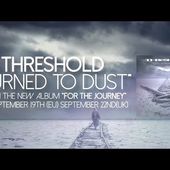 THRESHOLD - 'Turned To Dust' (OFFICIAL LYRIC VIDEO)
Uploaded by Nuclear Blast Records on 2014-09-02.
Source: YouTube