Russell Allen and Jorn Lande didn't stand still and worked on a new album entitled "The great divide". There is a first song's out to stream. "Come dream with me" is a typical track of the two ambitious singers. Here it is: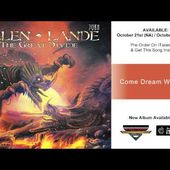 Allen/Lande - Come Dream With Me (Official Track)
Order THE GREAT DIVIDE on Amazon: http://geni.us/AllenLandeAMZ and iTunes: http://geni.us/AllenLandeGreatDivide NOW!
http://www.youtube.com/watch?v=pQdJlvzBl1Q&list=UUBLAoqCQyz6a0OvwXWzKZag
Source: YouTube