Exodus released a new song as lyric video. The tune is called "Salt the wound" and feat. Exodus founding member and Metallica guitarist Kirk Hammett.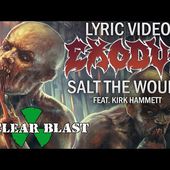 EXODUS - Salt The Wound feat. KIRK HAMMETT (OFFICIAL LYRIC VIDEO)
Exodus lyric video for "Salt The Wound" from Blood In, Blood Out. Guest guitar solo by Kirk Hammett (Metallica). Order at: http://smarturl.it/EXODUS-Blood SUBSCRIBE to EXODUS: ...
Source: YouTube