Audrey Horne hooked up with Johan Hegg from the mighty Amon Amarth for the new video of the Norwegian hardrockers. The song is called "Out of the city" and is a pretty good one. But the video is even better. A hilarious one.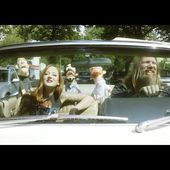 AUDREY HORNE - Out Of The City (Official Video) | Napalm Records
Pre-order "Pure Heavy" now: http://shop.napalmrecords.com/audreyhorne #PureHeavy One may mourn the Seventies, miss the glorious Eighties and consider the Nineties as a particularly undervalued ...
Source: YouTube