Here comes the new lyric video from thrash legend Exodus. The song is entitled "Salt the wounds", feat. Kirk Hammett. The six stringer from Metallica hooked-up with his old fellows from Exodus for a guest appearance.
Secondly the song is great since former sinher and Hatriot founder Zetro Souza is back on board. The album seems to become a great one and I hope that Gary Holt doesn't focus on Slayer too much. Exodus is the future.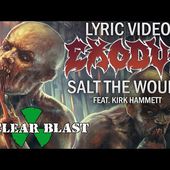 EXODUS - Salt The Wound feat. KIRK HAMMETT (OFFICIAL LYRIC VIDEO)
Exodus lyric video for "Salt The Wound" from Blood In, Blood Out. Guest guitar solo by Kirk Hammett (Metallica). Order at: http://smarturl.it/EXODUS-BloodIn SUBSCRIBE to EXODUS: ...
http://www.youtube.com/watch?v=CMs9yNlBp4c&list=PLB4brr7vf-P4zaBq7duea0Z9-wwFgMZUK