Here comes the new video from Deadlock. It's the 2014 version of "Awakened by sirenes" from the 2005 album "Earth.Revolt".
DEADLOCK - Awakened By Sirens 2014 (official video)
You can now order the album here: iTunes: http://smarturl.it/iTUNES-Re-ArrivaI EMP: http://smarturl.it/EMP-CD-SHIRT-DL Amazon: http://smarturl.it/AMAZON-Re-ArrivaI Impericon: ...
Source: YouTube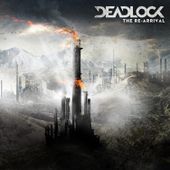 CD review DEADLOCK "The re-arrival" - Markus' Heavy Music Blog
(8/10) I was following Deadlock from the &Manifesto& days on. In the beginning I had my issues with the band. For one or another reason I never really found my way into Deadlock's music. This ...
http://mwiemetalblog.over-blog.com/2014/07/cd-review-deadlock-the-re-arrival.html