After quite a while Swedens dark metal band Katatonia decided to go on tour again. I think it is the first time since 2011 that the band plays a few shows. In the meantime things changed, last but not least even the line-up of the band. In a renewed constellation the five guys had a look into their songs and decided to re-arrange some of them. They made semi-accoustic versions which they present now live on this tour. So you can say that it is a logical continuation of what they have started last year with the fantastic "Dethroned and uncrowned" album.
If I look on Katatonia's development I see parallels with Anathema. Also they started with death metal influenced dark metal, before their sound became more and more relaxed, partly accoustic with a bigger prog rock orientation.

However, the evening in Amstelveen, Holland started with the UK rockers from Messenger. The five guys play a melange out of prog rock, some smaller folk element and some psychedalic influences. Their sound fitted perfect and listening to them was entertaining. Not more and not less.

After a short break the highlight of the evening was ready to go. Katatonia entered the stage for a 15 songs long set with some real highlights. Encased in sphereful blue and red light the band started with "In the white" into the evening. While talking about the light; the stage was done very basic, as it should be for an accoustic show. The focus was on the music, which was good. The only extra from a visual point of view have been the obligatory candles on stage and some light bulbs from the ceiling. That was it.
These unplugged shows have been very special for the band. Jonas Renske and Anders Nyström mentioned a couple of times that they have been nervous before the show, since it was just the second accoustic gig. But the little stagefright was not recognisable. A bit introvert and reflecting the band created a magic atmosphere of vulnerability and melancholia. It shows the potential of the songs that they can be re-arranged in such a way.
A look on the setlist also shows that Katatonia played tunes which they haven't played ever live, like "Gone" and "The one you are looking for is not here". Next to these two tracks the guys from Stockholm also added songs to the show which they haven't played live for many years. The last time songs like "Day" and "A darkness coming" have been performed was many years ago. Time was flying and it was far too early when Renske announced the last song. But the fans have been fascinated by the performance and demanded an encore. Katatonia came back for one more song. But after the final note of "The one you are looking for is not here" was played the light went on and the moment of magic was over. 70 minutes was definitely too short for such a show. That was a real downer. You could see this also in the faces of the fans. This time it was quality instead of quantity. Maybe next time it is both.

To sum up. It was a cool and chilling evening with very sphereful music from two good bands. A succesful experiment which can be done more often. But of course Katatonia also should not forget to rock ;o)

Katatonia continues the tour with a few more shows in Germany, Switzerland, France and UK. All concerts will take place at special locations which emphasis the ambience. Check it out.
Setlist:
In the white
Ambitious
Teargas
Gone (live premier)
A darkness coming (first performance since 2004)
One year
Racing heart
Tonight's music
Sleeper
Undo you
Lethean
Day (first performance since 1997)
Idle blood
Unfurl
The one you are looking for is not here (live premier)
Location: P60, Amsterlveen, The Netherlands
Genre: Rock (semi-unplugged)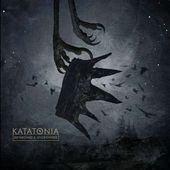 CD review KATATONIA "Dethroned & uncrowned"
Swedens metalheads Katatonia re-arranged their successful album &Dead end kings& and release this new version under the name &Dethroned & uncrowned&. All songs are completly extracted and brought ...
http://mwiemetalblog.over-blog.com/cd-review-katatonia-dethroned-%26-uncrowned