UDR records re-issued Annihilator's latest album "Feast". In this review I want to focus on the extras of the re-issued version. The details about the original release can be found in the link further down on this page.
Compared to the original album the new release comes with an extra DVD which shows the show in Wacken 2013. This means that the whole package grows to a 3 disc package - 2 CD's and one DVD. The whole package is coming in a nive ecolbook version with a 3D cover. Zombies get alive and the feast becomes real. A cool idea for the cover.
The DVD comes with 11 songs - all recorded during the show in Wacken 2013. The list of songs can be seen as a journey through the entire Annihilator history - from old classics like "Alison hell" from the debut to newer tunes of the band. The Canadian thrasher have been in a really good mood and obvisoulsy enjoyed playing on one ofEuropes biggest metal festivals. Understandbale, considering the fact that the last time they played Wacken was then years ago. The energy of the band also infected the crowd. A lot of circling hair in front of the stage proves, that Annihilator has still a huge fan base.
The sound quality is very good and the same goes for the footage. The whole DVD contains a professional recording.
All in all a nice new version with some extras. If you don't have "Feast" yet and you want to go for it take the re-issue. For all die hard fans and collectors also something to consider. A cool package which provides you with a lot of Annihilator.
Tracklist DVD:
Smear campaign
King of the kill
No way out
Clown parade
Set the world on fire
Welcome to your death
Funpalace
I am in command
No zone
Fiasco
Alison hell
Label: UDR records
Genre: Thrash Metal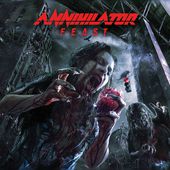 August 23 is the release date for the new Annihilator album. The good thing with Annihilator nowadays is, that the line-up seems to be more stable than in the past which definitely contributes to ...
http://mwiemetalblog.over-blog.com/cd-review-annihilator-feast