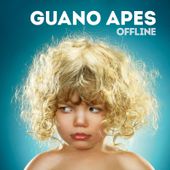 CD review GUANO APES "Offline"
(8/10) If you have not been stranded on a desert island for the last two decades you know the Guano Apes. Actually is was 20 years ago that the band from Göttingen, Germany started their success ...
http://mwiemetalblog.over-blog.com/2014/05/cd-review-guano-apes-offline.html
Three years after the Guano Apes released their 'reunion' album "Bel Air" it's time for another record. The band from Göttingen, Germany wrote ne material and recorded the album "Offline" which will be released in May this year.
According to singer Sandra Nasic the band tried to let loose from the past. According to het the new album should be again more rough and rocking. Let's see/hear what this means as soon as the album is out. The new single "Close to the sun" sounds promising.
Guano Apes also plans to go on tour with the new album. They will play a small Russian tour and some festivals during summer. The band will be than on a bigger European tour in autumn.
PS: Don't miss the review (see link)